Yeezus Talks.
Whether you love him or hate him, it's undeniable that Kanye West is a constant source of entertainment. Although he rarely grants interviews these days, between his reality television girlfriend, outrageous rants and paparazzi encounters, Kanye seems to have no trouble making headlines almost daily.
After a very public Twitter feud with Jimmy Kimmel—because that's how people settle their differences these days—Kanye went on the show to set the record straight. With no other guests booked, what ensued was a 22 minute interview that covered everything from his frustrations with celebrity culture and being marginalized by the fashion world to the sources of his creative inspiration.
While Kimmel was noticeably on his toes, Kanye did not hold back. And in true Kanye fashion provided a number of classic quotes that could only come from one of the most polarizing figures in pop culture.
Below we've collected some of our favourite moments in quote format from the interview:
The 20 Best Kanye West Quotes From Jimmy Kimmel Live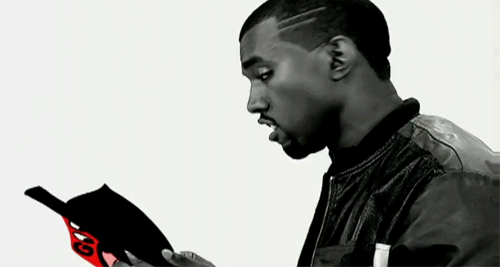 On why he exploded over Twitter:
1) "When I saw the skit — which I didn't even watch all the way through, because I didn't want to be infuriated — I said, well, this is the one person I know, so I can go and let out everything that I feel about every single bogus weekly cover, every single bogus skit, every single rumor in barbershop, everything that people feel is OK to treat celebrities like zoo animals or act like what they're saying is not serious or their life is not serious or their dreams are not serious."
On self confidence:
2) "For me, I'm a creative genius. There's no other way to word it.
3) "I'm totally weird, and I'm totally honest, and I'm totally inappropriate sometimes. And the thing is, for me to say I wasn't a genius, I would just be lying to you and to myself."
4) "I know you're not supposed to say that about yourself, and I say things the wrong way a lot of times, but my intention is always positive."
On the importance of cool products:
5) "I spent two of my checks in telemarketing when I was 18-years-old on my first pair of Gucci slippers, and this was before there was H&M and Zara. You couldn't just find cool stuff when you were growing up, and, for me, I care about cool stuff. It means something to me."
On why he has no filter
6) "I'm not running for office. I'm just here to make good music."
On why he's actually not a rapper:
7) "I wouldn't even say that I'm a rapper. I'd say I'm more of a messenger. So when you say 'rap beef' it sort of undermines it."
On Kim Kardashian being snubbed:
8) "I want to shout out to the stars on the Walk of Fame because they said something about they're not going to put my girl on the Walk of Fame because she's a reality star. People are so so dated and not modern. There's no way Kim Kardashian shouldn't have a star on the Walk of Fame."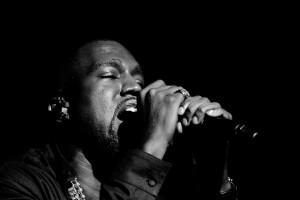 On why he hates the paparazzi:
9) "The way paparazzi talk to me and my family is disrespectful. We bring something of joy to the world. When people hear my music, they have a good time. And I should be respected as such when I walk down the street."
10) " Don't ask me a question about something you saw in the tabloids, don't try to antagonize me, because you know what, it's not safe for you in this zoo. Don't think that I'm not from Chicago for one second."
On how the paparazzi could be better:
11) "Never think that I'm not from Chicago for one second and think you can walk up and disrespect me and my family constantly. People say, 'Well, you signed up to be a celebrity, blah blah blah,' and I understand you gotta get your money, it's hard out here, but let's have respect for each other. You do help me get money, paparazzi, you show people how fresh my outfit is."
On Tweeting:
12) "I do everything I can to break media."
On inspiration:
13) "Taste, culture, art, just the quality of life, this is what I'm here to do. So when I compare myself to Steve Jobs, Walt Disney, Howard Hughes, David Stern, Michelangelo, da Vinci, Jesus, whoever it is, I say these are my heroes, these are people that I look up to, this is the type of impact I want to make on the Earth."
On whether sitting on the toilet is a source of inspiration:
14) "Yes, that's where I think of my best sh*t."
On standing your ground as a creative:
15) "Creatives have gotten beat up my entire life. And there's moments where I stood up to drug dealers in Chicago and said, "You can't have my publishing. Come and kill me. Do whatever you're gonna do, but you're not gonna bully me. You're not gonna stop me, because my mother told me to believe in myself."
On why celebrity culture is out of control:
16) "People feel like it's OK to treat celebrities like zoo animals and or act like what they are saying isn't that serious and their life isn't that serious."
On getting snubbed by the fashion industry:
17) "Who do you know that is known more for clothes than me?"
On the infamous Leather Jogging Pants:
18) "There's people who made whole careers off of creating leather jogging pants, it became like a phenomenon over the past three years . . . I would sit with Hedi Slimane who is now the head designer of St. Laurent and he'd say, 'Stop giving these big brands your ideas.'"
On classism being the new racism:
19) "It's not about racism anymore, it's classism. Paula Deen, she was old school with it—this classism is what they do to try and say well, you're a rapper, or, your girl is on a reality show. So you're not up here with us, we're old money—I'm not into all that snobbery."
On why it's better to be Muhammed Ali
20) "My grandfather loved Ali until he died and my grandmother hated Ali until she passed. So you're going to love me or you're going to hate me, but I'm going to be me."
Have any other Kanye quotes that we missed? Let us know in the comments!
images via: madame thursday, kennyysun,  quicheisinsane