No matter how you slice it: it's easy to hate Adam Levine. He's a wildly successful singer for the band Maroon 5, he's a popular host on the hit TV show The Voice, and he's been linked to a string of Victoria's Secret models–including his current fiancee–Behati Prinsloo. It's safe to say, life is pretty dam* good for the rockstar.
But of course, that wasn't enough.
Today, People magazine announced he would be honoured with the title of "Sexiest Man Alive". Based on their very scientific data gathering, this achievement can simply be described as yet another feather in an otherwise full cap. 
It's difficult to not be just a little jealous, but for the sake of professionalism, I will keep calm and carry on blogging.
Below, we've gathered some of our favourite quotes–ranging from the insightful to wildly narcissistic– to honor the man who apparently has it all.
Sexiest Man Alive: The 25 Best Adam Levine Quotes
On Why He's Slept With So Many Women:
1) "There are two kinds of men. There are men who are f**king misogynist pigs and then there are men who really love women, who think they're the most amazing people in the world. And that's me. Maybe the reason I was promiscuous and wanted to sleep with a lot of them, is that I love them so much."
On His Clothing Optional Philosophy:
2) "I spend most of my life naked. In fact, I often have to be told by the people around me that it's inappropriate to be as naked as I am. But I live in California, where it's always warm, so why not?"
On The Right Time For Marriage:
3) "The most important thing about marriage is understanding that it might not be the right time, regardless of what your friends are doing. Peer pressure is a motherf*****. Peer pressure plays a huge role in people's desire to get married."
On His Ego:
4) "I have a high self-opinion – I don't need to hide that. I don't need to be self-deprecating."
On Being Smart, But Not Too Smart:
5) "I'm intelligent enough to survive happily and be compassionate. If I were too smart, I would realize all the ills of the world."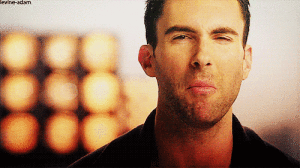 http://thousands-of-gifs.tumblr.com/post/26074475509/adam-levine-gifs
On The Benefits Of Yoga:
6) "Let's face it, I only practice yoga because the classes are always packed with beautiful women."
On Finding Other Men Attractive:
7) "I'm extremely comfortable in my sexuality, so I can think, Oh, that's a good-looking dude. Acknowledging that someone's attractive and wanting to f*** a dude are two different things."
On Attention:
8) "I love attention. I can't stand not having it. It just has to be the right kind."
On His Pre-Performance Ritual:
9) "Before I go on stage I pretend that everyone loves me."
On Whether Or Not He Actually Has Moves Like Jagger:
10) "Do I really have moves like Jagger? F**king A, no, I don't. But I was going to tell everybody that I did and hoped they believed me."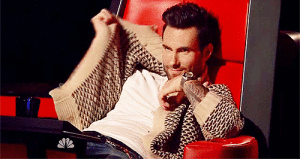 http://thousands-of-gifs.tumblr.com/post/26074475509/adam-levine-gifs
On Having It All:
11) "Nobody has it all, but for me to even come close is amazing."

On Deserving His Success(es):
12) "I do believe that I deserve what I have. I don't think I'm entitled to it. That's a big difference."
On Why He Really Dates Models:
13) "I don't date my girlfriend because she's a model. I date her because I love her."
On More Sexual Songwriting:
14) "Not every song has to be about love and tenderness, sometimes you have those strictly physical feelings for somebody and it's okay to have those feelings."

On Being In Touch With His Feminine Side:
15) "In real life, I am emotionally confused, which enables me to write songs. I'm a Pisces, and they say that Pisces are very sensitive. If men were just honest with themselves, they would see that they all have that side."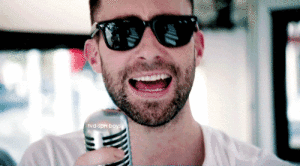 http://thousands-of-gifs.tumblr.com/post/26074475509/adam-levine-gifs
On Acting:
16) "I don't want to be an actor, but why not take these opportunities when they come to you? I'm not killing myself auditioning, chasing that dream."
On The Importance of Being Obsessed With Women:
17) "Men need to live and breathe women."
On His Irrational Fear Of Flying:
18) "I hate flying. Know why? Because no one really understands how planes actually work."
On Independence:
19) "I'm fiercely independent, but I'm also terrified of being alone."
On Being An Intelligent Pop Star:
20) "As a pop star, you don't have to be that smart for people to think you're intelligent."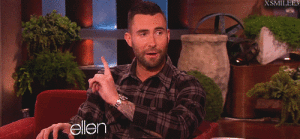 http://thousands-of-gifs.tumblr.com/post/26074475509/adam-levine-gifs
On His Reputation:
21) "I felt like people only knew me as a singer who dated pretty girls."
On The Path Towards A Music Career:
22) "Music was a way of rebelling against the whole rah-rah high school thing."
On Achieving An Athletic Looking Body:
23) "Yoga takes what you have and molds and sculpts it, which is a much more natural way to look and feel."
On Other Reality TV Shows
24) "Seriously, 'Honey Boo Boo' is the decay of Western civilization. Just because so many people watch the show doesn't mean it's good."
On Being Crowned The "Sexiest Man Alive":
25) "As a musician, you have fantasies that you want to win Grammys, but I didn't really think that this was on the table. I was just amazed and stunned and it almost seemed like they were kidding, but they weren't, so that's cool."
Do you have any Adam Levine Quotes we may have missed? Let us know in the comments.
image via: Jazills