Super Bowl 50 is just around the corner and the hype for this year's matchup is only growing. It's going to be an epic battle of the Denver Broncos' formidable defense clashing with the sizzling offense of the Carolina Panthers.
The entertainment off the field will be just as big with guests like Coldplay, Bruno Mars and Beyonce all hitting the stage at half-time. There's also a slew of fantastic commericals that have already been released.
Whether you've put your money on Cam Newton or Peyton Manning to lead their respective teams to victory, we've lined up some of our favorite quotes to help you celebrate the win.
Super Bowl Quotes: 18 Sayings To Help You Celebrate Now
1. On retirement:
Everybody is going to be excited to play in a Super Bowl. When you still enjoy the preparation and the work part of it, I think you ought to be still doing that. I think as soon as I stop enjoying it, if I can't produce, if I can't help a team, that's when I will stop playing. – Peyton Manning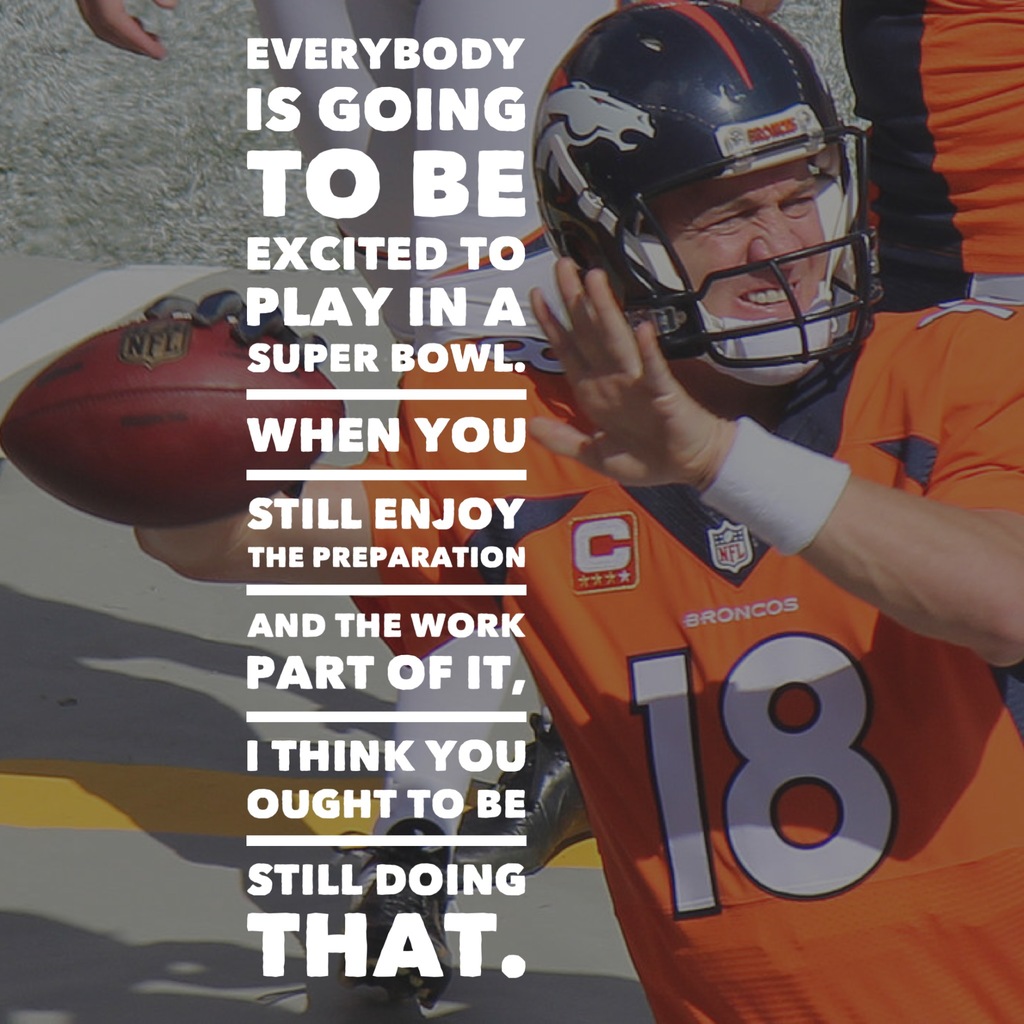 2. You always want to have good balance. That's the key to winning a Super Bowl. You look at the teams who have won championships, you got to have balance. So, to be able to run the ball effectively and throw the ball effectively is what gives you the chance to win a world championship. – John Elway
3. On what it means for a quarterback:
As a quarterback, there's no better way to finish your year, in winning a Super Bowl, than with a touchdown pass. The chances of that happening, by the looks of most of the Super Bowls, is a very rare chance. Fortunately for me, I had an opportunity. – Joe Montana
4. On winning and losing:
You may not win the Super Bowl. Your kids may not go on to be doctors and lawyers and everything may not go perfectly. That doesn't mean it was a bad plan or the wrong thing. It's just like a football season. Everything's not going to go perfect. – Tony Dungy
5. On winning:
You don't go into the game to compete. You go into each game to win. – Cam Newton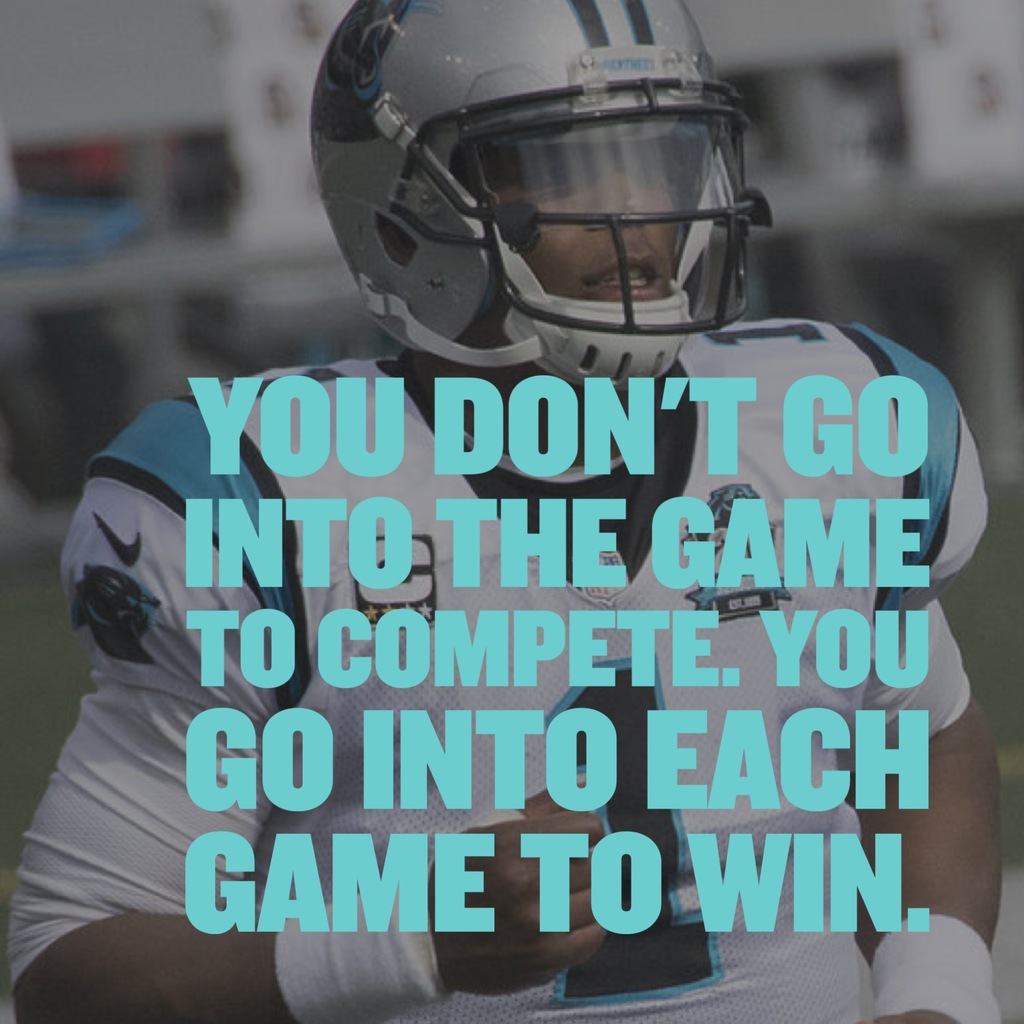 On missing the game:
The Super Bowl. No one misses this game, Jack; not the big one; not if you're an American. You are riveted every minute to this game. People are betting a million bucks a minute you are. Wealthy people selling insurance, beer, car batteries, beer, automobiles, beer, and beer. – Robert Klein
6. On getting one:
There's always an asterisk behind somebody's name who hasn't won the Super Bowl. There shouldn't be, but that's kind of the way history works. – John Elway
7. On sponsors:
The Super Bowl is a kind of corporate Woodstock. – Michael Ruby
8. On predictions:
We're going to win on Sunday. I guarantee it. – Joe Namath
9. On attitude:
Most American football players are temperamental. That's 90 percent temper and 10 percent mental! – Doug Plank
10. On essential skills:
Speed, strength, and the inability to register pain immediately. – Reggie Williams
11. On why women don't play:
The reason women don't play football is because eleven of them would never wear the same outfit in public. – Phyllis Diller
12. On motivation:
You have to play this game like somebody just hit your mother with a two-by-four. – Dan Birdwell
13. More than football:
The truth is the Super Bowl long ago became more than just a football game. It's part of our culture like turkey at Thanksgiving and lights at Christmas, and like those holidays beyond their meaning, a factor in our economy. – Bob Schieffer
14. On losing:
I remember my dad asking me one time, and it's something that has always stuck with me: 'Why not you, Russ?' You know, why not me? Why not me in the Super Bowl? – Russell Wilson
15. On effort:
Every game I've ever played, regardless if it was pre-season or Super Bowl, meant the same to me, and I laid it all on the line. – Brett Favre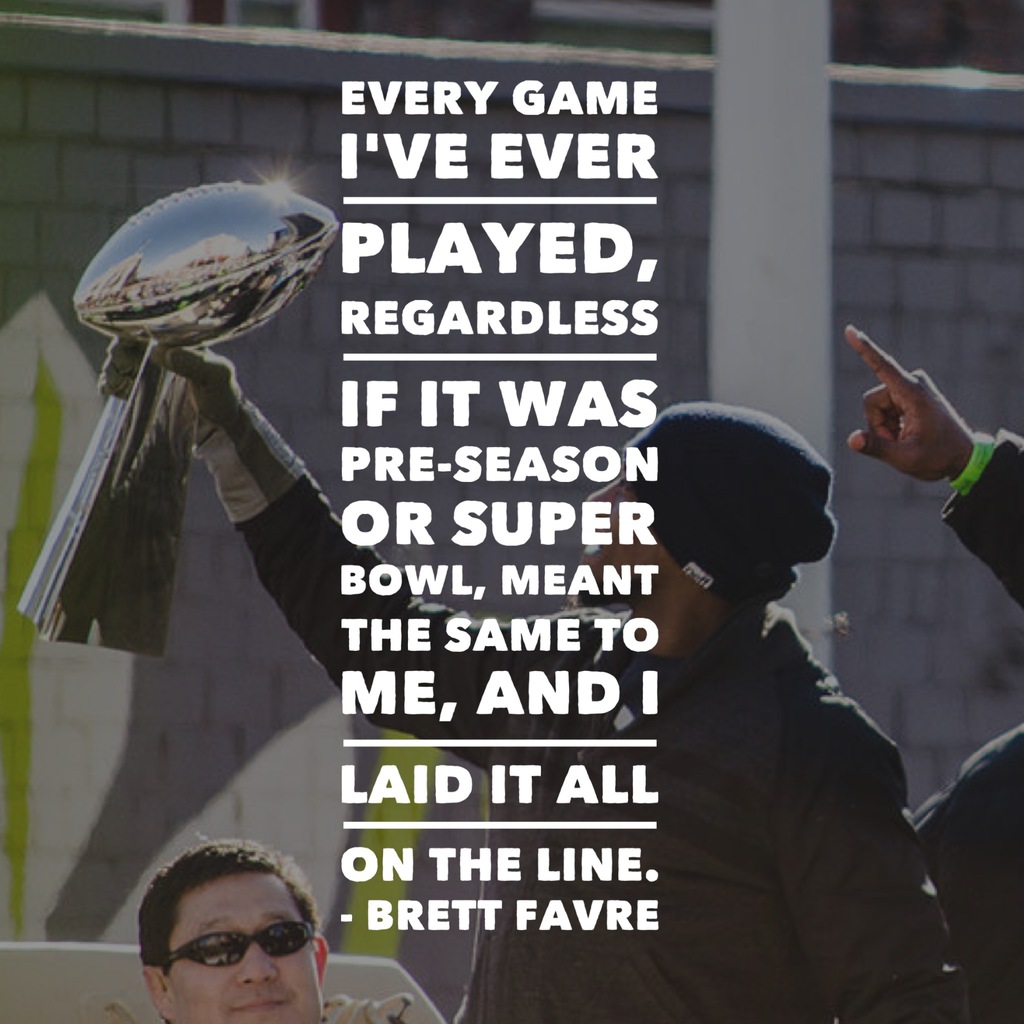 16. On leaving it behind:
The further you go in life, the more you realize what you're going to leave this Earth. It's not going to be, 'It was a great platform. It was great to win the Super Bowl,' but really and truly what you're going to leave on this Earth is the influence on others. – Joe Gibbs
17. On coaching:
If you win a Super Bowl before you're fired, you're a genius, and everyone listens to you. But a coach is just a guy whose best class in grammar school was recess and whose best class in high school was P.E. I never thought I was anything but a guy whose best class was P.E. – John Madden
18. On winning vs. losing
The thing we found out was, when you get to a Super Bowl, both teams are treated the same, talked about in glowing terms. But when the game is over, only the team that won matters. – Don Shula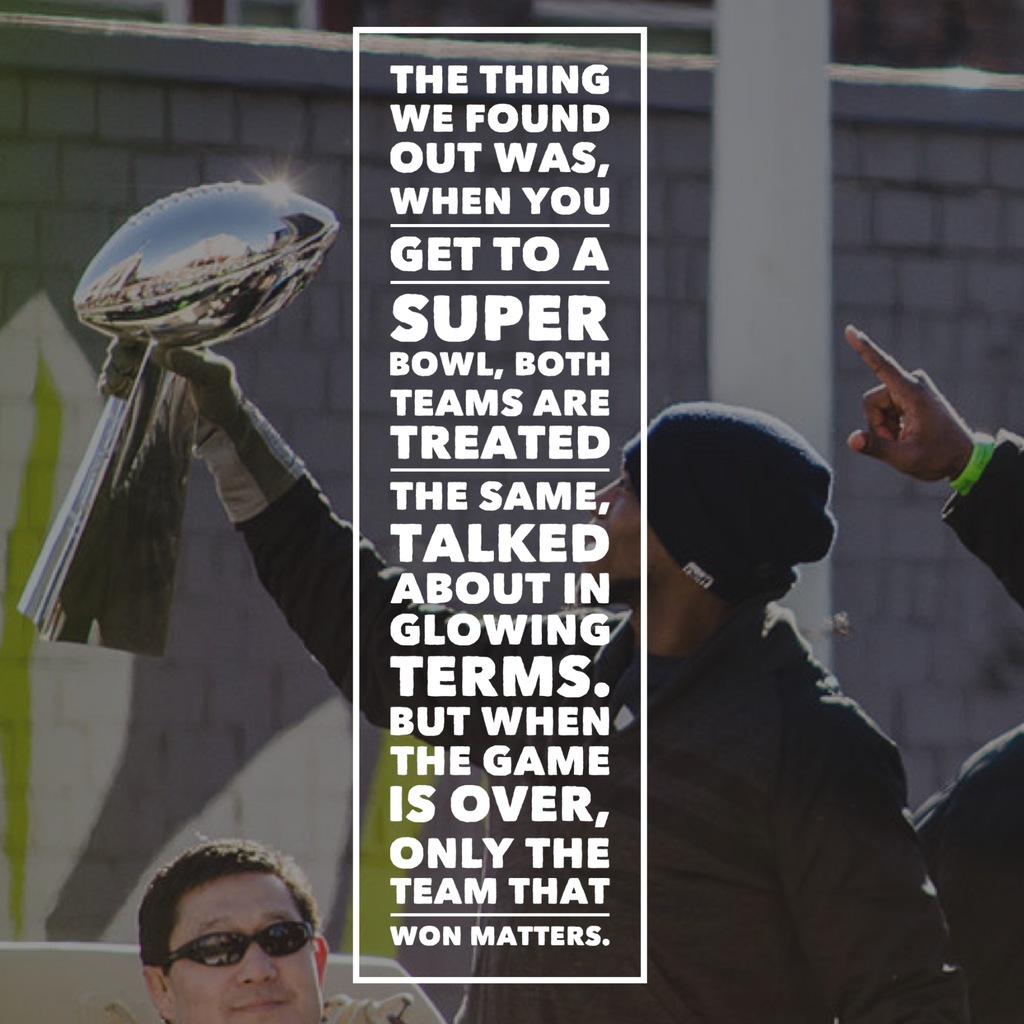 Do you have an classic Super Bowl quotes we might have missed? let us know in the comments.
images via: wikimedia commons, jeffrey beall,Keith Allison, dave sizer