Beyonce pulled a power move this week releasing her self titled "visual" album completely by surprise. It was a bold startegy and a massive risk.
In fact, according to a few sources, the entire strategy was the result of a bitter battle between Beyonce and her record label Columbia. It appears that her previous album 4 was a costly endeavour that ended up being her lowest selling album to date. In addition, Beyonce was given total creative control over the project which made the fact that it bombed her responsibility. Because of this, her label wanted more control over the music, production and marketing of her newest project, and that power struggle delayed the album.
Seeking advice from husband Jay-Z, she reached back out to her label proposing a new plan. Release the album without any promotion and if it succeeds, proceed with a full album rollout. If it failed, the album would be considered a free mixtape and it would be back to the drawing board without any marketing dollars spent.
Within hours of it's release on iTunes it was obvious how brilliant her strategy was. 14 new songs, 17 new videos and huge features from Drake, Jay-Z, Justin Timberlake and more. And it had the entire internet going absolutely crazy.
3 days later and the album is a massive success. It's broken iTunes records selling 828,000+ copies, and is already number 1 in 100 countries.
If there's a lesson to be learned here, it's to always trust your gut.
With that said, we break down some of Beyonce's best quotes and lyrics from the self titled album, as we explore her most successful project to date.
Beyonce Quotes: The 15 Best Lyrics From Her Self Titled New Album
1) Song 1: "Pretty Hurts"
Blonder hair, flat chest/ TV says, "Bigger is better."/South beach, sugar free/ Vogue says, "Thinner is better."
Our Thoughts: Bey takes a moment to comment on the media's obsession with beauty.
2) Song 2: "Haunted"
"You want me? I walk down the hallway/You're lucky…the bedroom's my runway/Slap me!/I'm pinned to the doorway/Kiss…bite…foreplay…"
Our Thoughts: The Carters recreate an episode of True Blood on this track.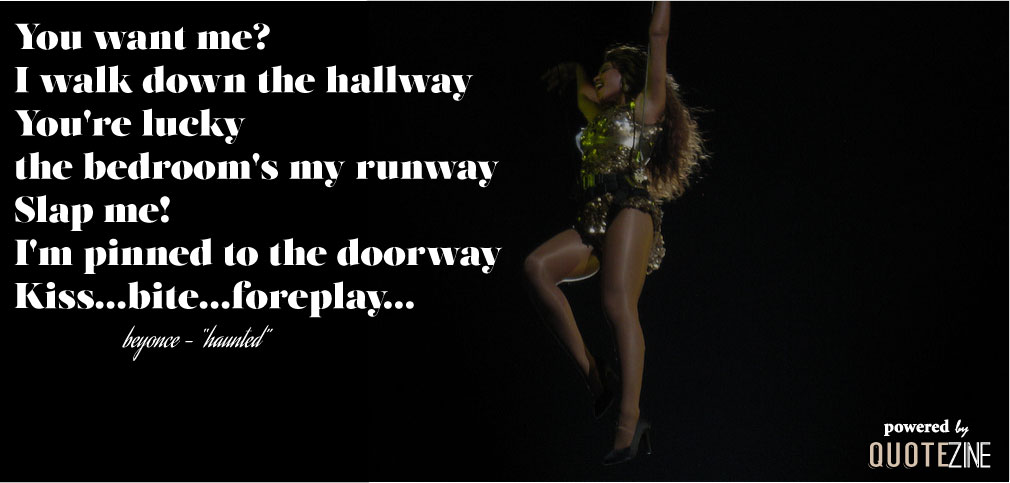 3) Song 3: "Drunk In Love" (Featuring Jay Z)
New sheets, he sweat it out like washed rags, he wet it up/Boy, I'm drinking/I'm singing on the mic 'til my voice hoarse/Then I fill the tub up halfway then ride it with my surfboard…surfboard…surfboard…"
Our Thoughts: Something tells us she's not talking about surfing here.
  http://gty.im/180509994
4) Song 4: "Blow/Cherry"
"You like it wet and so do I (You like it wet and so do I)/I know you never waste a drip/(I know you never waste a drip)"
Our Thoughts: Lubricate to keep the engine running smoothly.
5) Song 4: "Blow/Cherry"
Can you lick my Skittles/That's the sweetest in the middle/Pink that's the flavor/Solve the riddle
Our Thoughts: Something tells me this one isn't about candy.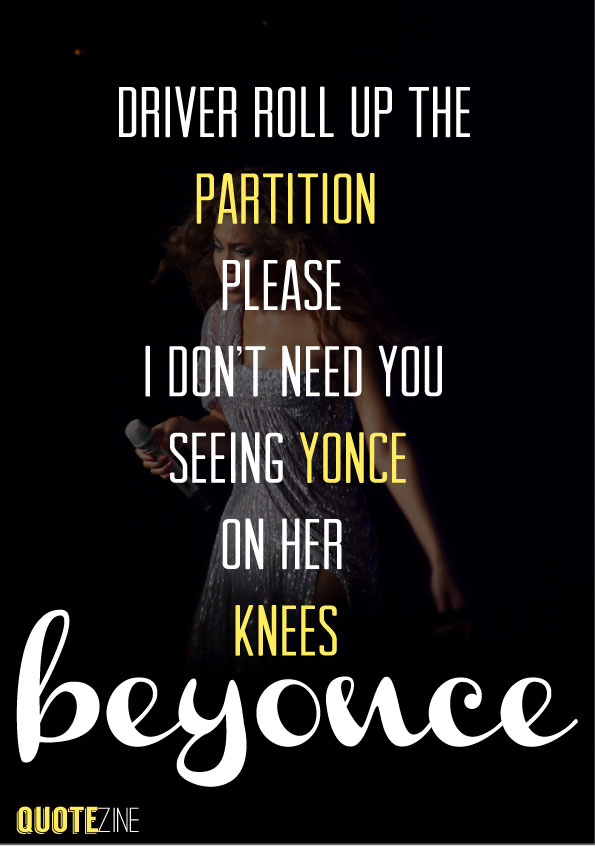 6) Song 5: "No Angel
"First go through my legs, go back on your head/And whatever you want, yeah baby I'll bet…it comes true."
Our Thoughts: Bey proves she's a pleaser on this track.
7) Song 6: Yonce/Partition
"Driver roll up the partition please/I don't need you seeing 'Yonce on her knees…"
Our Thoughts: We're pretty sure she's talking about doing her best Monica Lewinsky impression.
8) Song 6: "Yonce/Partition"
"I sneezed on the beat and the beat got sicker/Yoncé all on his mouth like liquor…"
Our Thoughts: She's bringing that make out music back.
9) Song 7: "Jealous"
"I'm in my penthouse half-naked/I cooked this meal for you naked…"
Our Thoughts: Beyonce might have been taking lessons from the movie Shame on this one. She's turning into quite the exhibitionist.
10) Song 8:"Rocket"
"Punish me…please/Daddy what you gon' do with all this…ass/All up in your face?
Our Thoughts: Beyonce may have just given Jay Z his 100th problem.
11) Song 8:"Rocket"
I do it like it's my profession/I gotta make a confession/ I'm proud of all this space/Lemme put it in your face
Our Thoughts: Beyonce may have just given Jay Z his 100th problem.
12) Song 9: "Mine" (Featuring Drake)
Been having conversations about breakups and separations/I'm not feeling like myself since the baby/Are we gonna even make it?/ Oooh/Cause if we are, we're taking this a little too far.
Our Thoughts: In a rare moment, she opens up about possible post partum depression, and it's effects on their new marriage.
13) Song 10: XO
We don't have forever/Baby daylight's wasting / You better kiss me/Before our time is run out
Our Thoughts: Shut up and kiss the one you're with.
14) Song 11: Flawless (Featuring Chimamanda Ngozi Adichie)
Momma taught me good home training/My Daddy taught me how to love my haters/My sister taught me I should speak my mind/My man made me feel so God damn fine (I'm flawless!)
Our Thoughts: Bey doles out for key self esteem boosters from her inner circle.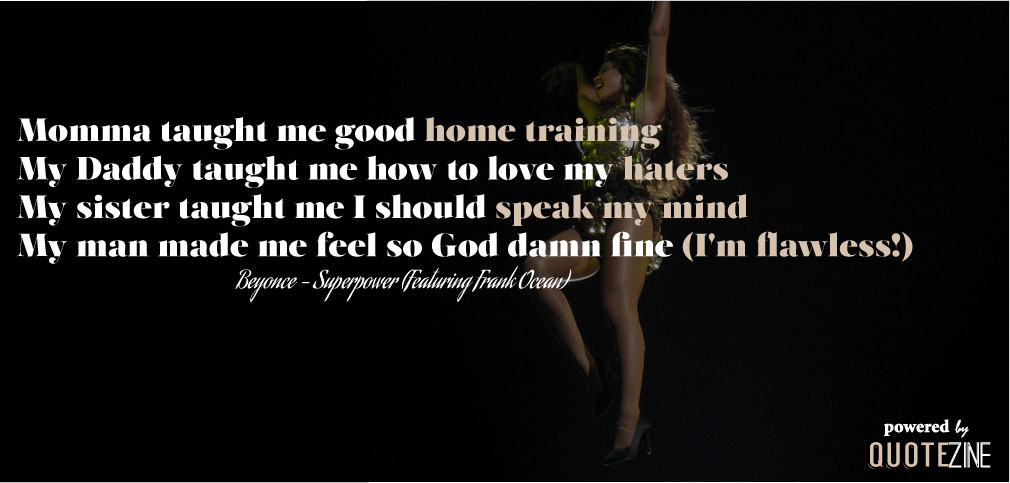 15) Song 12: Superpower (Featuring Frank Ocean)
And when I'm standing in this mirror after all these years/What I'm viewing is a little different/From what your eyes show you/I guess I didn't see myself before you
Our Thoughts: This one sounds like a realization you come to after a long and fruitful relationship. Sometimes others help us really see ourselves.
16) Song 13: Heaven
We laughed at the darkness/So scared that we lost it/ We stood on the ceilings/You showed me love was all you needed
Our Thoughts: Another personal moment that hints at the grief upon losing an unborn baby.
17) Song 14: Blue (Featuring Blue Ivy)
Each day I feel so blessed to be looking at you/Cause when you open your eyes, I feel alive/My heart beats so damn quick when you say my name/ When I'm holding you tight, I'm so alive/Now let's live it up
Our Thoughts: After suffering a terrible loss, this one feels like the perfect way to end the album by celebrating Blue Ivy as she begins to grow.
  http://gty.im/463300906
Update: Self-Titled Visual Album Documentary
If you also haven't gotten your fix of the album, the companion documentary has recently surfaced on youtube. Check out part one below.
Check
Do you have any other favourite Beyonce Quotes from the new album? Let us know in the comments.