Along with fellow Canadian Drake, Abel Tesfaye aka The Weeknd, continues to dominate the global music scene with his brooding lyrics, soulful melodies and memorable lines.
Since debuting on the music scene with House of Balloons, The Weeknd has since released a slew of chart topping singles and albums. His first three mixtapes, House of Balloons, Thursday and Echoes of Silence were critical hits; Kissland debuted at number 2 on the Billboard music charts upon it's release and his newest singles have proven to be his biggest yet, with "Earned It", " Can't feel my face" and "The Hills" all dominating radio stations at the moment.
Now, with the chart topping release of his latest album, "Beauty behind the madness", we've gathered 25 of the best quotes, lines & lyrics on life, love, and success. We like to think of these as the 25 times the weeknd kept 100.
The Weeknd Quotes: The 25 Best Lines & Lyrics On Love
When I'm f***** up that's the real me.
The classic sober feelings vs intoxicated feelings debate.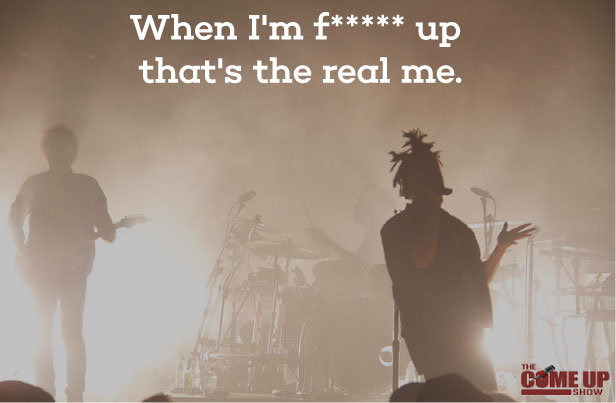 2. This the shit I live for, with the people I die for.
When you're with the people that matter most.
3. You're gonna hate him, then you'll want me, then you'll miss him, then you'll hate me.
When you're dealing with indecisiveness in relationships.
https://www.instagram.com/p/BGdlGC8QkxH/?taken-by=abelxo&hl=en
4. Everything I said I'd do I did, I'm good.
When you feel like you've put everything into a relationship.
5. Baby I'm a pro at letting go, I love it when they come and go.
When you're on the rebound or going through that player phase.
6. I ain't scared of the fall. I've felt the ground before.
When you're bracing yourself for some really bad news.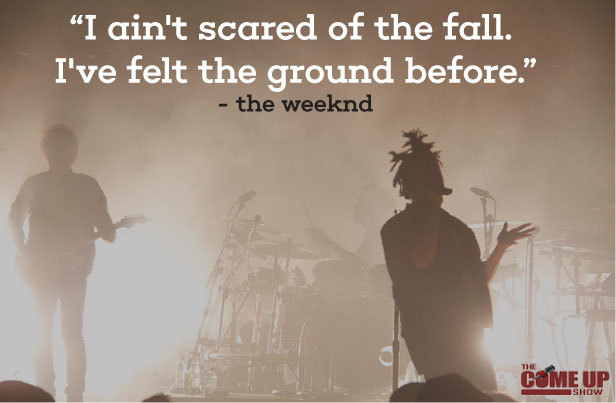 Related: Drake Quotes: The 28 Best Lines & Lyrics On Life, Love and Success
7. I'm so used to being used. So I love when you call unexpected, Cause I hate when the moment is expected.
When you settle for something less than you deserve.
8. Don't you fall in love, don't make me make you fall in love. Nobody needs to fall in love.
When you just really want to keep it casual.
https://www.instagram.com/p/BGc2PD6QkxM/?taken-by=abelxo&hl=en
9. I'm the drug in your veins, just fight through the pain.
When you've fallen for the wrong person.
10. He's what you want. I'm what you need.
When competing for someone's attention.
Related: Beyonce Quotes: The 17 Best Lyrics From Her Self Titled New Album
11. So you're somebody now, but what's somebody in a nobody town?
When the person you're into starts getting cocky.
https://www.instagram.com/p/BFuwGiTwk4y/?taken-by=abelxo&hl=en
12. We'll find our love in the sky.
When things start to go too well.
13. I love, You love, This love… We're professional.
When you're keeping it casual and both sides keep their cool.
14. If you try to play your luck, ain't nobody gunna care enough to catch you fall.
A simple warning that's so accurate.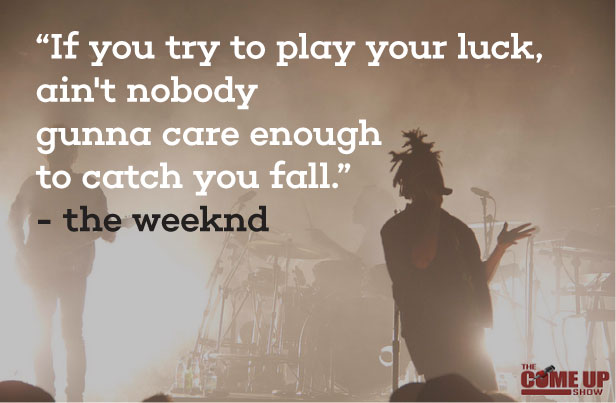 Related: Frank Ocean Quotes: 20 Powerful Lyrics and Lines To Live By
15. When I'm faded I forget, I forget what you mean to me. I hope you know what you mean to me.
Post breakup moments of clarity.
16. Good girls go to heaven, bad girls go everywhere.
A little Marilyn Monroe influenced realness.
17. It won't be long before she falls out of love.
When you're dealing with flakiness.
https://www.instagram.com/p/BFuUL6UQk5g/?taken-by=abelxo&hl=en
18. Well here comes the sun, You're in my arms. my denial keeps me on the edge of the chance that you'll stay through the night.
Those late nights and early mornings without any definitions.
19. They say they want heaven; They say they want god. I say I have heaven, I say I am god.
When your confidence is at 100.
20. Tell me you love me, even tho you don't love me.
When you know it isn't real.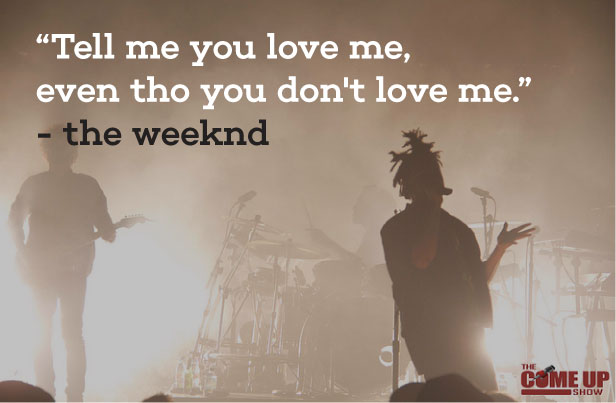 Related: https://www.quotezine.com/20-best-kanye-west-quotes-jimmy-kimmel-live/
21. So baby don't go home, I don't wanna spend tonight alone.
When you're fighting the loneliness.
22. Happiness exists when you don't know a thing.
When you hit that blissful ignorance phase.
23. I don't care about you, why you worried about me?
When your ex starts to get annoying.
https://www.instagram.com/p/BFt_WN_Qk39/?taken-by=abelxo&hl=en
24. I'm always getting high cuz my confidence low.
When you're reeling from a bad relationship and starting to spiral.
25. I chose the life, then I realized she might have been the one, I let her go for a little fun.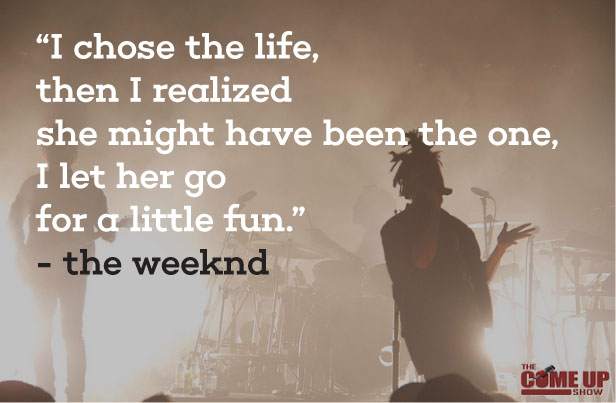 When you finally realize what you had after it's gone.
You May Also Like:
What are your favorite weeknd quotes? Anything we missed that you find inspiring or relatable? Let us know in the comments.
images via: the come up show