You can cut all the flowers but you cannot keep Spring from coming.
It's official: the first day of spring is here! Finally. Although winter seems to want to hang on, and the weather doesn't always feel like it, spring has arrived. We can all finally emerge from the hibernation that the north east winter weather forces. It's a time of new beginnings, and everyone around just seems to be happier (maybe it's the anticipation of summer or maybe everyone's seasonal affective disorder is finally wearing off). We can finally get motivated again to do the things that we kept putting off till "tomorrow".
Now we've all heard the rhyme "April shower bring May flowers" reminding us that even unpleasant situations can have beautiful outcomes. So here's to muddy boots, cloudy gray days, spring cleaning, and spring showers. And even as crappy as those may sound, we still think they're a lot better than the bitter cold of winter.
In light of the new season, we thought we would create a companion to our winter quotes article by compiling a list of inspiring and hopeful sayings about spring.
So shake off that winter coat, open the windows to get some fresh air, put on some music while you clean, and enjoy our favorite quotes below.
Spring Quotes: 12 Inspiring Sayings About Starting Fresh This Season
1) On beating the winter blues:
"The promise of spring's arrival is enough to get anyone through the bitter winter." – Jen Slelinsky
Our thoughts: Spring signifies better things to come. Knowing this can help you get through anything, even the cold.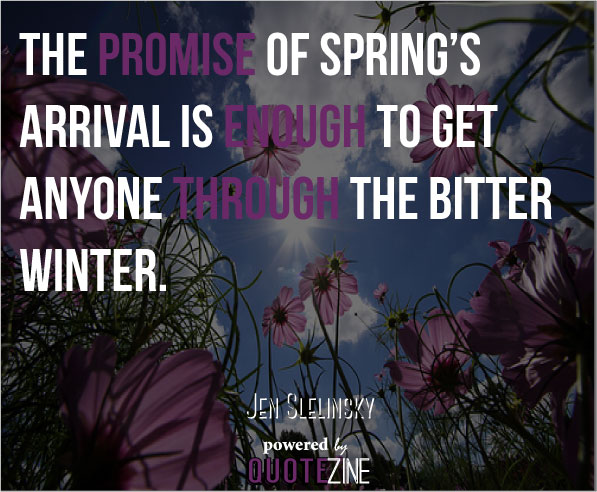 More: Winter Quotes: 10 Clever Sayings To Beat The Cold
2) On embracing Spring when it finally arrives:
"No winter lasts forever, no spring skips its turn." – Hal Borland
Our thoughts: As bad as stuff may seem at the time, nothing last forever, and things can only get better.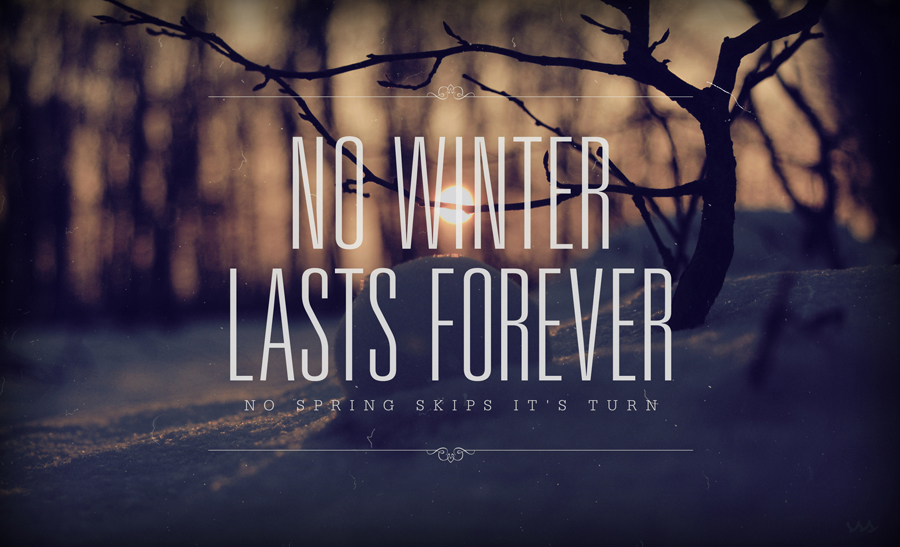 via: pinterest
3) On spring cleaning:
"Have nothing in your house that you do not know to be useful, or believe to be beautiful." – William Morris
Our thoughts: Solid advice. Getting rid of clutter always makes us feel better and more productive. It's therapeutic. We have a lot of work to do.
4) On being happy:
"Spring is when you feel like whistling even with a shoe full of slush." – Doug Larson
Our thoughts: Wonderful. No matter how messy spring can be, we still have a little more spring in our step. Did you catch that? It was very punny.
5) On spring being A celebration:
"Spring is nature's way of saying, 'Let's party!'" – Robin Williams
Our thoughts: Who doesn't love a good party? Break out the decorations! In the form of spring flowers perhaps?
[WPGP gif_id="1641″ width="600″]
6) On the beauty of the season:
"Can words describe the fragrance of the very breath of spring?" – Neltje Blanchan
Our thoughts: Our answer is no. You just have to experience it. And ignore the mud smell.
7) On it being wonderfully messy:
"The world is mud-luscious and puddle wonderful." – E.E. Cummings
Our thought: We love the world mud-luscious. There is something beautiful about the messiness. Like being a kid again, and not caring about getting dirty.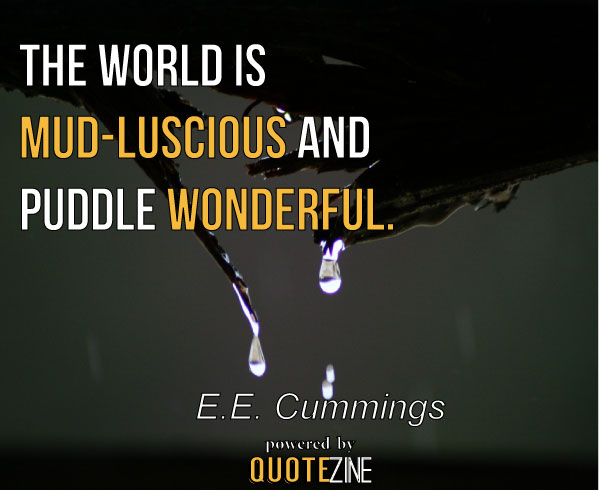 8) On breaking free of that cabin fever:
"Spring won't let me stay in this house any longer! I must get out and breathe the air deeply again." – Gustav Mahler
Our thoughts: We are so enthused to dust ourselves off and break out of hibernation. The cabin fever was making us crazy!
9) Regardless of the forecast:
"Despite the forecast, live like it's spring." – Lily Pulitzer
Our thoughts: Spring does take a long time to fully set in. However, no matter how cold it is outside, let's revel in the fact that spring has officially come. It's a time for optimism.
10) On new beginnings:
"Springtime is the land awakening. The March winds are the morning yawn." – Lewis Grizzard
Our thoughts: Wake up, stretch out, and shake off those winter layers. Start something new. Maybe even go for a run. Or is that too ambitious for the first day?
11) On the poetic side of spring:
"She turned to the sunlight and shook her yellow head, and whispered to her neighbor: 'Winter is dead'." – A.A. Milne from When we were very young.
Our thoughts: A great poem that more eloquently says: so long old man winter.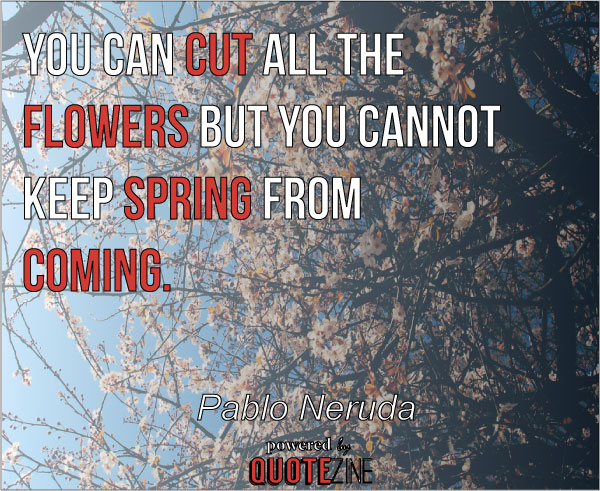 12)  On the inevitability of Spring:
"You can cut all the flowers but you cannot keep spring from coming." – Pablo Neruda
Our thoughts: The greatest part about spring is the fact that for as long as it may take to come, there's no stopping it when it finally arrives.
Do you have any more spring time quotes we may have missed? Let us know in the comments.
images via: alphageek, play4smee, Andrew Taylor, GollyGforce, Josiah Mackenzie