After secretly releasing her self-titled album last year, we compiled a similar list of the best Beyonce quotes from that album. Now, The bey-hive is being bestowed with another gem by the queen herself.
Beyonce's Lemonade The Visual Album, is being described as
A conceptual project based on every woman's journey of self knowledge and healing.
It premiered on HBO at 9pm April 23rd and is executive produced by Beyoncé Knowles Carter along with key collaborations from Diplo, Ezra Koenig, Jack White, James Blake, Kendrick Lamar and The Weeknd.
You can stream the album exclusively on TIDAL at:
Narrowing this down to a few quotes – on an album that is getting better by the second – was a huge challenge.
Below, you'll find our favorite lyrics and lines – from an album filled with anthems – in the order on the album.
Beyonce Quotes: The Best Lyrics and Lines From Lemonade
1. PRAY YOU CATCH ME
Beyoncé
Produced By Beyoncé & Kevin Garrett
You can taste the dishonesty it's on your breath
as you pass it off so cavalier.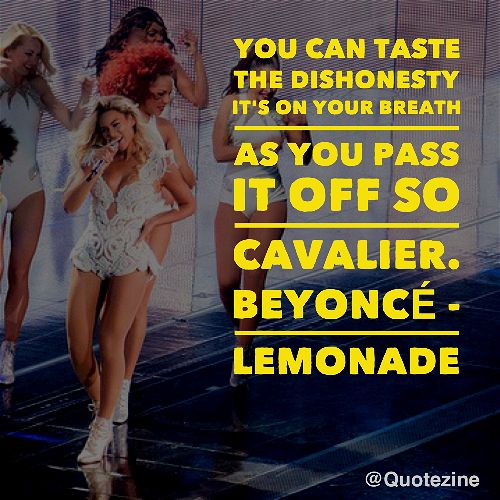 Constantly aware of it all, my lone ear pressed against the walls of your world
Prayin' I catch you whispering, I'm prayin' you catch me listening
Nothing else ever seems to hurt like the smile on your face
When it's only in my memory
2. HOLD UP
Beyoncé
Produced By Ezra Koenig, Beyoncé & Diplo
Something don't feel right
because it ain't right
especially coming up after midnight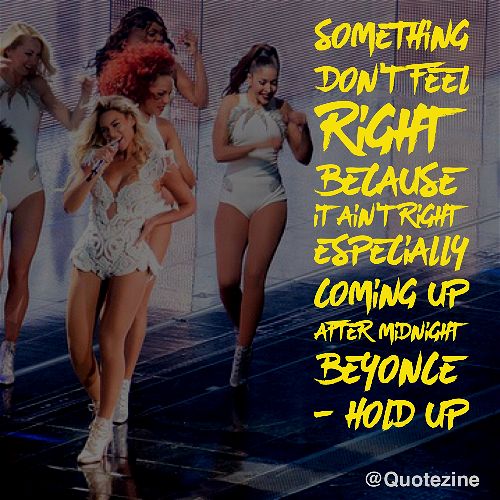 What's worse, looking jealous or crazy?
Jealous or crazy?
More like walked all over lately, walked all over lately, I'd rather be crazy.
I smell your secret, and I'm not too perfect, to ever feel this worthless
Can't you see there's no other man above you, what a wicked way to treat the girl that loves you.
How did it come down to this, going through your call list?
I don't wanna lose my pride but I'ma f*** me up a b****.
Know that I kept it sexy and know I kept it fun
There's something that I'm missing maybe my head for one
It's such a shame, you let this good love go to waste.
3. DON'T HURT YOURSELF
Beyoncé Featuring Jack White
Produced By Beyoncé & Jack White
Who the fu** do you think I am?
You ain't married to no average bi***, boy.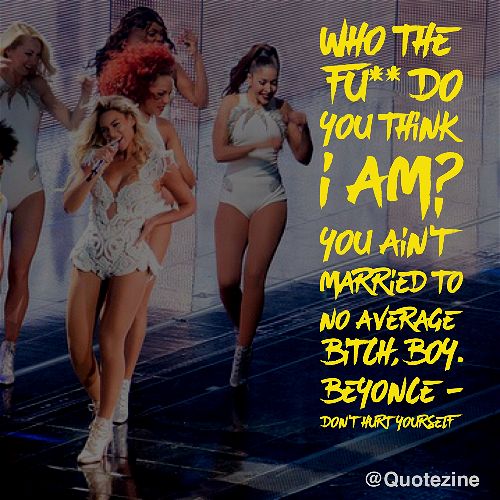 And keep your money, I got my own – get a bigger smile on my face being alone
Fu** you hater, you can't recreate her.
I am the dragon breathing fire, beautiful man, I'm the lion, beautiful man, I know you're lying.
I smell that fragrance on your Louis V, boy, just give my fat ass a big kiss, boy Tonight I'm fuc**** up all your shi*, boy.
But I leave your love, I fu*** with you
'Til I realize, I'm just too much for you
This is your final warning, you know I give you life, if you try this shit again, you gon' lose your wife.
4. SORRY
Beyoncé
Produced By Wynter Gordon, Beyoncé & MeLo-X
He trying to roll me up, I ain't picking up
Headed to the club, I ain't thinking 'bout you.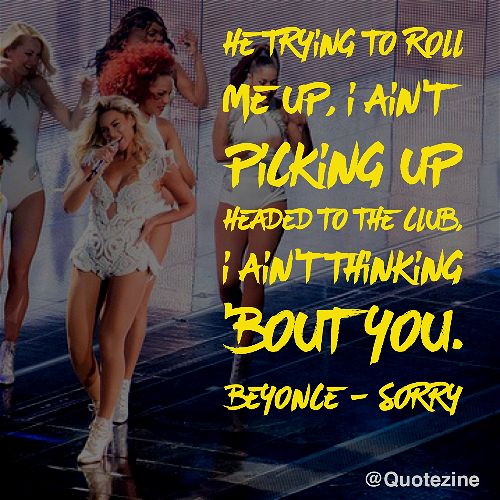 Looking at my watch, he shoulda been home.
Today I regret the night I put that ring on.
He always got them fucking excuses.
I pray to the Lord you reveal what his truth is.
He only want me when I'm not on there.
He better call Becky with the good hair.
5. 6 INCH
Beyoncé Featuring The Weeknd
Produced By boots, Beyoncé, Ben Billions & Danny Boy Styles
She love the way it tastes, that's her recipe
Rushing through her veins like it's ecstasy, oh no – The Weeknd
She too smart to crave material things
she pushing herself day and night.
She grinds from Monday to Friday works from Friday to Sunday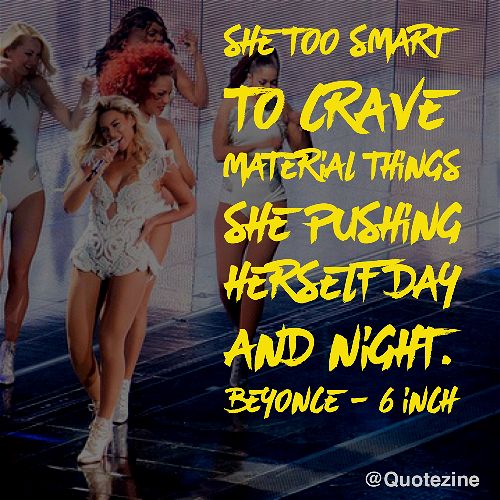 Oh, stars in her eyes
She fights and she sweats those sleepless nights
But she don't mind, she loves the grind
She grinds from Monday to Friday
Works from Friday to Sunday
6. DADDY LESSONS
Beyoncé
Produced By Beyoncé
Came into this world, Daddy's little girl and daddy made a soldier out of me.
With his gun, with his head held high
He told me not to cry
Oh, my daddy said shoot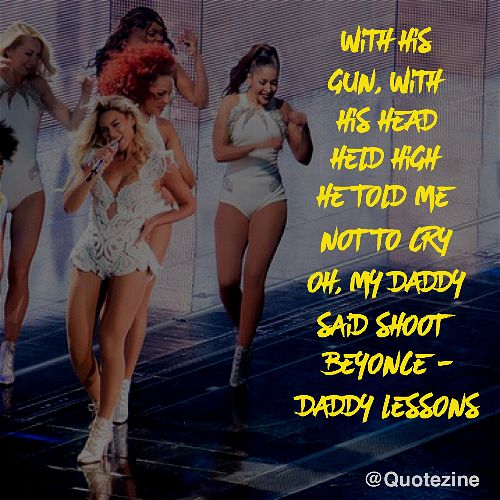 Daddy made me fight
It wasn't always right
But he said girl it's your second amendment, oh, oh, oh
He always played it cool
But daddy was no fool
And right before he died he said remember
My daddy warned me about men like you
He said, "Baby girl, he's playing you."
7. LOVE DROUGHT
Beyoncé
Produced By Beyoncé & Mike Dean
Ten times out of nine, I know you're lying
But nine times outta ten, I know you're trying
So I'm trying to be fair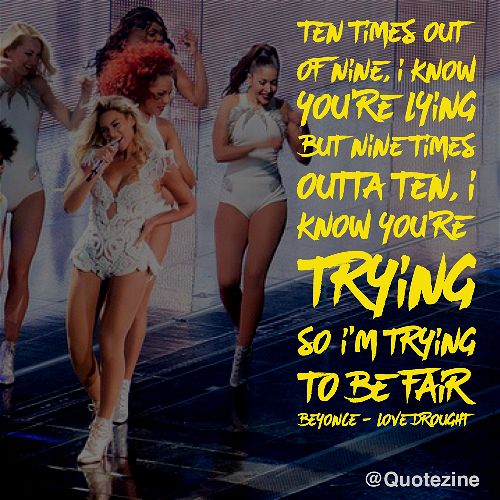 It's just floating in the air, lookie there
Are you aware you're my lifeline, are you tryna kill me?
I don't care about the lights or the beams
Spend my life in the dark for the sake of you and me
Only way to go is up, skin thick, too tough
Nine times out of ten, I'm in my feelings
But ten times out of nine, I'm only human
Tell me, what did I do wrong?
I always paid attention, been devoted
Tell me, what did I do wrong?
Oh, already asked that, my bad
But you my lifeline, think you tryna kill me?
If I wasn't Bey, would you still feel me?
8. SANDCASTLES
Beyoncé
Produced By Vincent Berry II & Beyoncé
We built sand castles that washed away
I made you cry when I walked away
And although I promised that I couldn't stay, baby
Every promise don't work out that way, oh, babe
Dishes smashed on my counter from our last encounter
Pictures snatched out the frame
Bitch, I scratched out your name and your face
What is it about you that I can't erase, baby?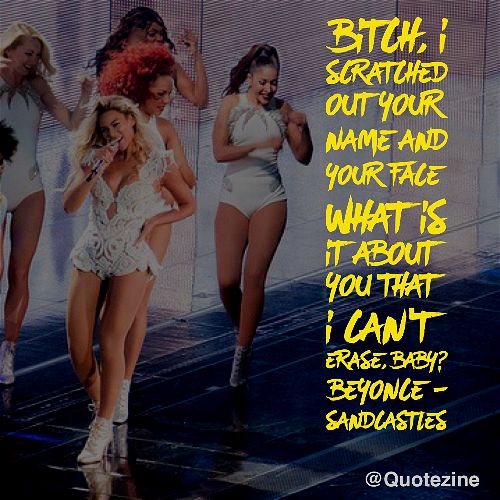 9. FORWARD
Beyoncé
Featuring James Blake
Produced By Beyoncé & James Blake
Best foot first just in case
When we made our way 'til now
It's time to listen, it's time to fight
I love you more than this job please don't work for me
Go back to your sleep in your favorite spot just next to me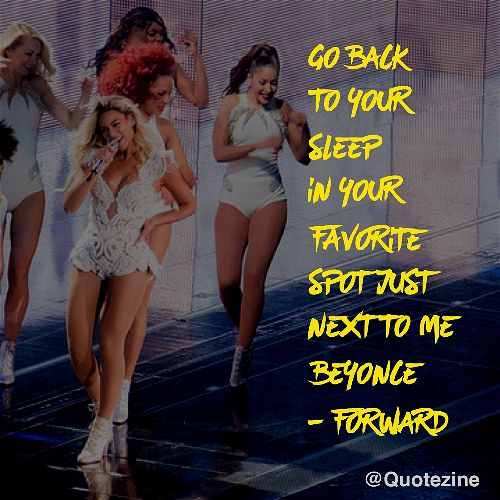 10. FREEDOM
Beyoncé
Featuring Kendrick Lamar
Produced By Just Blaze, Beyoncé & Jonny Coffer
Lord forgive me, I've been running
Running blind in truth
I'm telling these tears, "Go and fall away, fall away"
May the last one burn into flames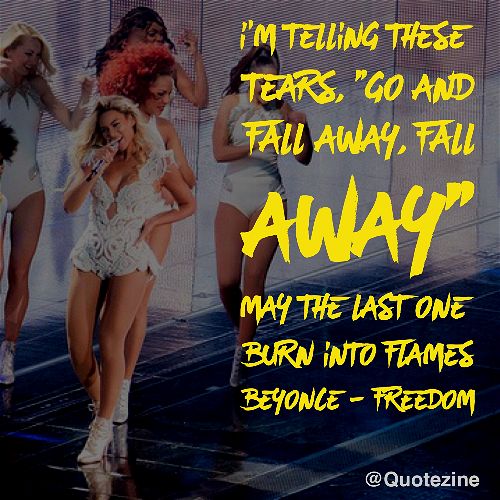 I break chains all by myself
Won't let my freedom rot in hell
Hey! I'ma keep running
Cause a winner don't quit on themselves
Eight blocks left, death is around the corner
Seven misleadin' statements 'bout my persona – Kendrick Lamar
But mama don't cry for me, ride for me
Try for me, live for me
Breathe for me, sing for me
Honestly guidin' me
I could be more than I gotta be – Kendrick Lamar
I had my ups and downs, but I always find the inner strength to cool myself off. I was served lemons, but I made lemonade – Hattie Mae White
11. ALL NIGHT
Beyoncé
Produced By Beyoncé & Diplo
Found the truth beneath your lies
And true love never has to hide
True love never has to hide
I'll trade your broken wings for mine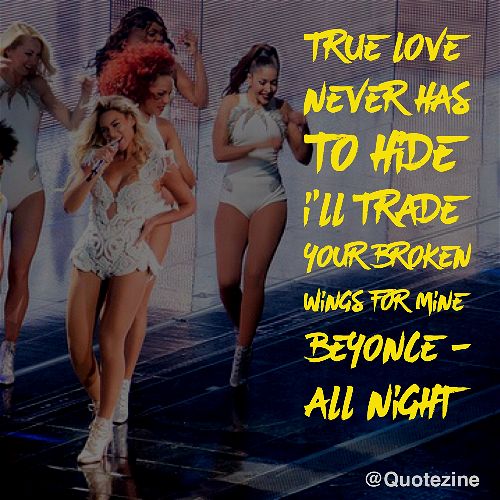 I've seen your scars and kissed your crime
Our love was stronger than your pride
Beyond your darkness, I'm your light
They say true love's the greatest weapon
To win the war caused by pain, pain
But every diamond has imperfections
But my love's too pure to watch it chip away
Oh nothing real can be threatened
True love breathes salvation back into me
12. FORMATION
Beyoncé
Produced By Beyoncé & Mike WiLL Made It
Bitch, I'm back by popular demand
I like my negro nose with Jackson Five nostrils
Earned all this money but they never take the country out me
I got a hot sauce in my bag, swag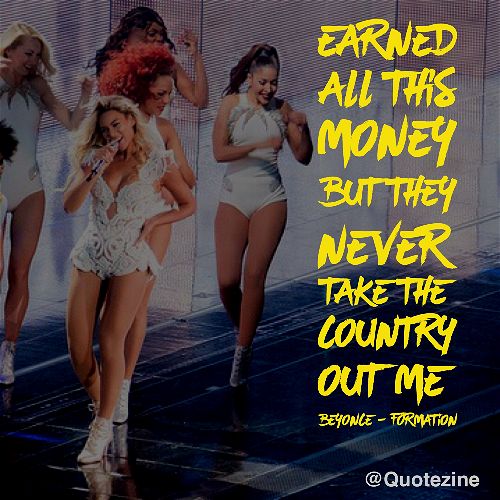 If he hit it right, I might take him on a flight on my chopper, cause I slay
Drop him off at the mall, let him buy some J's, let him shop up, cause I slay
I twirl on them haters, albino alligators
El Camino with the seat low, sippin' Cuervo with no chaser
More Beyonce:
You may also like:
What are your favorite Beyonce Knowles quotes, lyrics or lines from lemonade?
[WPGP gif_id="1769″ width="600″]
Let us know in the comments.
Images via: noodles and beef