The original bad gyal Robin "Rihanna" Fenty, has had some very memorable quotes and lyrics over the years. Over 5 albums in 10 years, she's spoken on everything from being in an abusive relationship to giving relationship and sex advice.
In this collection, we breakdown some of the most unapologetic words of wisdom from the good girl gone bad.
I don't do things for the response or for the controversy. I just live my life. – Rihanna
If someone is right for you, you'll know it. – Rihanna
Must be love on the brain / That's got me feeling this way / It beats me black and blue but it fucks me so good / And I can't get enough – "Love on the Brain" – Rihanna
If I cry, it's because I'm very angry and I can't do anything about it because I've run into a dead end. That's when the tears would come down. — Rihanna
I always keep my guard up with guys and I guess that can get in the way sometimes. I can make them go through hell. – Rihanna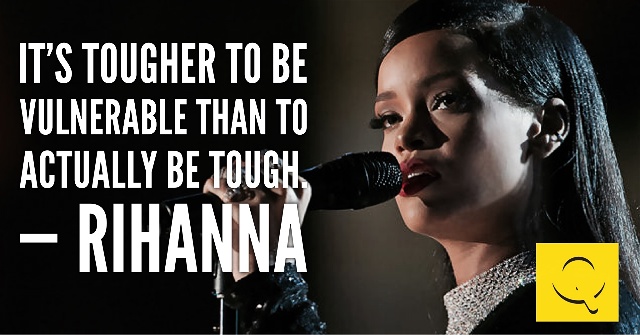 You don't want to live your life and then meet someone. You want to share your life with someone. That's what I'm missing right now. – Rihanna
The bottom line is that everyone thinks differently. — Rihanna
I'm crazy and I don't pretend to be anything else. – Rihanna
You know how to love me hard. I won't lie, I'm fallin' hard. Yep, I'm fallin' for you, but there's nothin' wrong with that.
Baby, we meant to be. You got me smilin' all the time. Cause you know how to gimme that. You know how to pull me back when I go runnin' runnin' tryin' to get away from lovin' ya. — Rihanna
You da one that I dream about all day. You da one I think about always. You are da one, so I make sure I behave. – Rihanna
My knees on the ground, dear father, don't let me break, please make me stronger. – Rihanna
It's tougher to be vulnerable than to actually be tough. – Rihanna
Just gonna stand there and watch me burn. But that's alright Because I like the way it hurts. Just gonna stand there and hear me cry. But that's alright Because I love the way you lie. — Rihanna
Ride this beat-beat-beat like a pony. — Rihanna
Don't even recognize the ways you hurt me, do you? It's gonna take a miracle to bring me back and you're the one to blame. — Rihanna
And I'll never give myself to another the way I gave it to you. – Rihanna
And all of a sudden, you went and left. I didn't know how to follow. It's like a shock that spun me around and now my heart's dead. I feel so empty and hollow. – Rihanna
When we first met, I never felt something so strong. You were like my lover and my best friend all wrapped into one with a ribbon on it. – Rihanna
If you want it, you can get it for the rest of your life. – Rihanna
Turn up the lights in here, baby. Extra bright, I want y'all to see this. – Rihanna
S&M is my favorite video that I've ever, ever, ever done. I can't wait to keep making more incredible videos. – Rihanna
I'd love to date somebody cool, fun, funny — Rihanna
You just want something else that someone else has, but that doesn't mean what you have isn't beautiful, because people always want what you have, and you always want what they have – no one is ever 100 per cent like, 'Yes, I'm the bomb dot com – from head to toe!' — Rihanna
God just has a way of working things out the way he wants to and you have no say in that. — Rihanna
I'm really looking forward to seeing what life brings to me. — Rihanna
Sticks and stones may break my bones, but whips and chains excite me.
Feels so good being bad. There's no way I'm turning back.
Cause I may be bad, but I'm perfectly good at it.
Out the box, out of line.
So boy, forget about the world, 'cause it's only gonna be me and you tonight.
All in baby, don't hold nothing back. Wanna take control, Nothing wrong with that.
When the whole worlds turning left, it's when I'm going right. I need someone to let me be, just who I am inside.
I think the British flag is the most fashionable flag there is!
Who am I living for? – Rihanna
What started out as a simple altercation, turned into a really sticky situation. – Rihanna
You're so amazing, you took the time to figure me out. That's why you got me, way past the point of turning me on. Your bout to break me, I swear you got me losing my mind. – Rihanna
Hey boy, I really wanna see if you can go long time with a girl like me. Hey boy, I really wanna be with ya, 'cause you're just my type — Rihanna
I lick the gun when I'm done 'cause I know that revenge is sweet. – Rihanna
This fragrance is about my passion for individuality being expressive and empowering – but also emotional and intriguing. – Rihanna
Visions in my mind of the day that we met. You showed me things that I'll never forget. – Rihanna
Release me now, cause I did my time, of this cold case love. – Rihanna
And my runway never looked so clear. But the hottest bitch in heels right here. – Rihanna
So I surrender, to every word you whisper. Every door you enter, I will let you in. – Rihanna
My fans like my flaws and imperfections, and that I'm rebellious. – Rihanna
Oh lord oh mercy now, I am a criminal, man down, tell the judge please give me minimal. – Rihanna
I never play the victim, I'd rather be the stalker. – Rihanna
Don't tell me you're sorry, 'cause you're not. When I know you're only sorry you got caught. — Rihanna
And the award for the best liar goes to you for making me believe that you could be faithful to me. Let's hear your speech, oh. – Rihanna
I'd like to think that I'm pretty normal. I laugh, I get mad, I hurt, I think guys suck sometimes, but when you're in the spotlight, everything seems good. – Rihanna
Success for me isn't a destination it's a journey. Everybody's working to get to the top but where is the top? It's all about working harder and getting better and moving up and up. – Rihanna
When I purchase an album, I like an album where I don't have to skip any songs, That's the kind of album I tried to make. There's something on there for everyone, up-tempos, mid-tempos, some ballads, some old-school reggae. – Rihanna
There's nothing that I say 'I have to make this decision'. We all make our decisions together. I'm new to this industry and these are people who have experienced it and been here and seen it all. – Rihanna
Janet Jackson, Destiny's Child, Whitney Houston, they were definitely the people who motivated me to do this. Who I idolized and looked up to and said, 'I want to be like them, I want to do that one day, I want to back videos, make music and have CDs. That started the dream and it just went from there, and became a reality. – Rihanna
On Chris Brown:Before that, I was just a little girl from the island, singing pop music. "It was easy to think I was shallow and I had everything. It seemed like I had no problems in the world. And all of a sudden, boom! Everybody realizes I do have problems. I have too much pride. I would rather put on a face. I would never let anyone see me cry. And I'm not like, 'Please cry for me, I've been in a bad relationship'. I hate that you know that and I don't want you to remember me for that. That's the defensive part of me. – Rihanna
Yes, I have met some of them and it's really, really strange. I still look at Mariah Carey and I'm a fan, I remember Vision of Love when I was repeating every night every move in that video.- Rihanna
Beyoncé just put the level of female entertainment all the way up there. She does acting, she has a beautiful voice and that's really the person I look up to that type of entertainer.
I want to give people a taste of the Caribbean, and show them the fun side of me. – Rihanna
Told you I'll be here forever, said I'll always be a friend. Took an oath I'ma stick it out till the end. You can stand under my umbrella. – Rihanna
People think, because we're young, we aren't complex, but that's not true. We deal with life and love and broken hearts in the same way a woman a few years older might. – Rihanna
Eating ice cream late at night is so bad, but I love it! – Rihanna
All humans are born with the ability to be attracted to both sexes. I mean, I could see myself in a relationship with a girl.
Megan Fox would play my girlfriend hands down. She's yummy. She's hot. – Rihanna
Even if I feel really bad about a situation, I put up that wall so hard that I almost believe myself that I don't care.
On Chris Brown: It was a situation I always told myself I would never allow myself to be in. It's something I would force girlfriends to get out of. But there I was, sitting in it. I witnessed physical abuse happening to my mum and I always said I would never let that happen to me, and then it was happening to me. Now, when I look back at it, it just bugs me out that I couldn't see it for what it was. – Rihanna
On Chris Brown: It's embarrassing that I fell in love with that person. He was my first big love and the more in love we became, the more dangerous we became for one another. — Rihanna
You got the keys. Now, shut up and drive. — Rihanna
I'm crazy and I don't pretend to be anything else. — Rihanna
Over the holidays, and even during filming, I realized that I actually like my body, even if it's not perfect according to the book. I just feel sexy. For the first time, I don't want to get rid of the curves. I just want to tone it up. My body is comfortable, and it's not unhealthy, so I'm going to rock with it. — Rihanna
You don't want to live your life and then meet someone. You want to share your life with someone. That's what I'm missing right now. — Rihanna
I don't do things for the response or for the controversy. I just live my life. — Rihanna
Single life is so overrated. — Rihanna
Life, Single, Overrated I am a child but I have to think and act like a woman, this business forces you to. – Rihanna
Business, Woman, Child My mother would kill me if I posed nude! My mother raised me with certain standards. — Rihanna
I drink a lot of coconut water. It balances out all the other toxic stuff I put into my body. — Rihanna
Related: