Drake just might be the king of rap quotes. And and after almost three years of waiting, it's finally here: his fifth solo album VIEWS.
Originally titled VIEWS from the 6, there's been hints of it's impending release for months. Singles like "One Dance", Pop Style, Summer Sixteen and Hotline Bling set the tone along with this quote from Episode 19 of OVO sound radio:
"It's something that I've been working really hard on, myself and 40… Trying to craft a lifestyle track, a sound for our city. Views From The 6 won't be a short ting. There's a lot of music on there. You'll have your full share of Drake music for the summer and for the year. Forever."
Then, of course, he dropped this trailer to let us know it was real:
4/29/16 #VIEWS pic.twitter.com/kHa2rerRyV

— Drizzy (@Drake) April 10, 2016
And now it's here.
Below, are the absolute best lyrics and lines from Drake's biggest album yet: Views.

And listen to the album below on spotify
Drake Quotes: The Best Lyrics and Lines from Views
1. Keep the Family Close
Drake
Produced By Maneesh
Album: Views
Even when it's business with you, it's personal, again.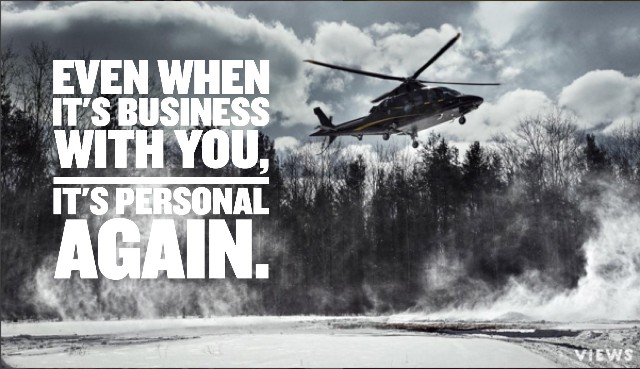 All of my "let's just be friends" are friends I don't have anymore/
How do you not check on me when things go wrong/
Guess I should've tried to keep my family closer/
Much closer.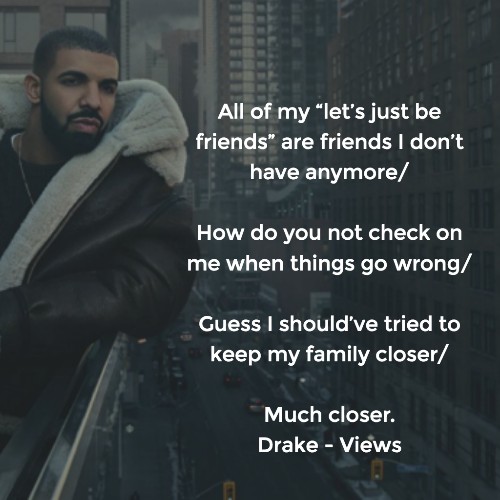 Always saw you for what you could've been/
Ever since you met me, like when Chrysler made that one car that looked just like the Bentley"
If I ever loved you I'll always love you, that's how I was raised.
2. 9
Drake
Produced By Brian Alexander Morgan, Boi-1da & Noah "40" Shebib
Album: Views
I made a decision last night that I would die for it/
Just to show em what it's like to be alive for it.
And I can't sleep these days unless I take one/
If they don't have a story these days, they'll make one
6 upside down, it's a 9 now
Like Manny – like Stunna-man sh** is big time now.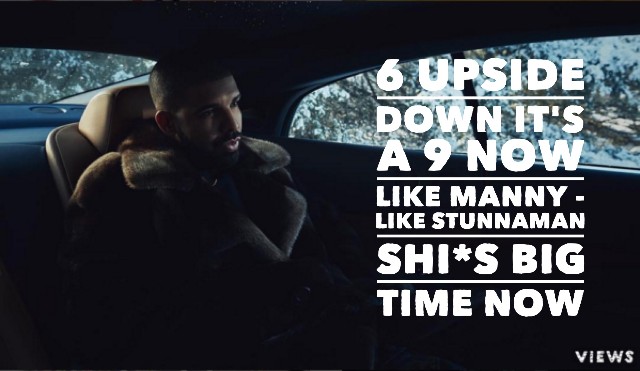 MJ in every way, I just don't fade away
I got it right now so I'm everybody's friend/
If I ever lose I bet we never speak again
3. U With Me?
Drake
Produced By Noah "40" Shebib & Kanye West
Album: Views
You tell I'm confusing/
More immature than Marques Houston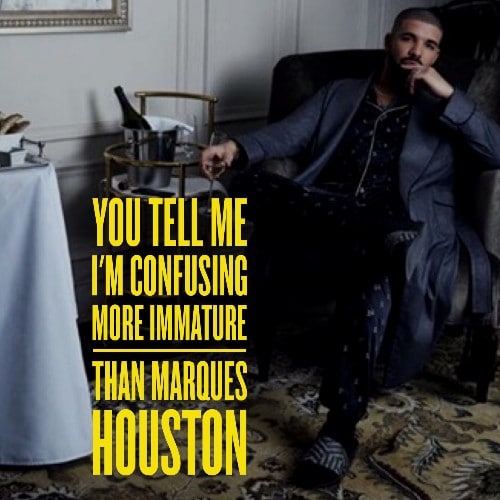 I know you heard that my pool parties like Mardi Gras/
I know you heard that my girl is sponsored by Audemars/
That's why she's always correctin' me when my time is off
I wanna know how much time you spend when you get at me/
All that grey in our conversation history, you
How's that for real/
You toy-ing with it like Happy Meal/
3 dots you thinking of a reaction still/
You like to slide on a late night/
You send the "are you here?" text without an invite/
That's that sh** that I don't like"
 4. Feel No Ways
Drake
Produced By Jordan Ullman
Album: Views
You got something that belongs to me/
Your body language says it all/
Despite the things you said to me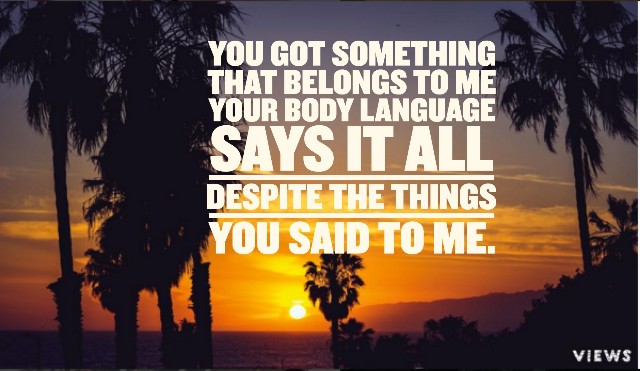 I was only gone for the last few months/
But you don't have the time to wait on me?
I tried with you/
There's more to sleeping in and getting high with you.
I had to let go of us to show myself what I could do/
And that just didn't sit right with you.
5. Hype
Drake
Produced By Nineteen85 & Boi-1da
Album: Views
09 they was bidding on me but I'm Young Money got it written on me.
Chasin' women a distraction/
They wan' be on TV right next to me/
You cannot be right here next to me/
Don't you see Riri right next to me?"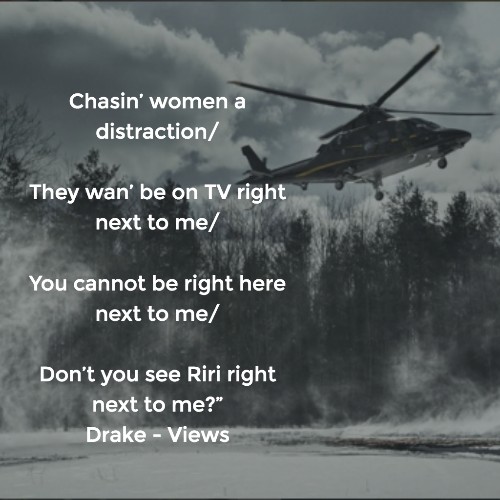 "6 cold like Alaska/VIEWS already a classic"
I can not give you the recipe
You know the game is sold separately
They love to talk, me, I'm just done-ing the hype.
6. Weston Road Flows
Drake
Produced By Stwo & Noah "40" Shebib
Album: Views
"I'm lookin at they first week numbers like what are those/
I mean you boys not even coming close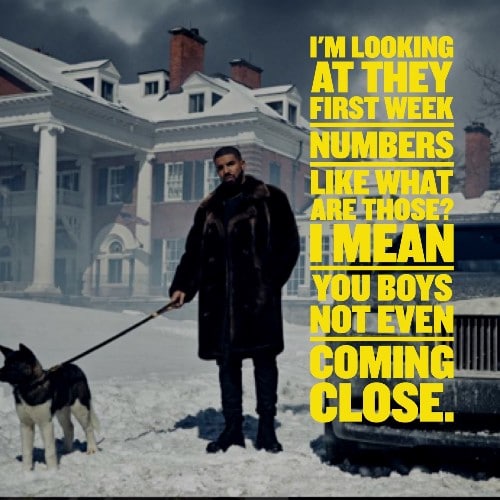 Lookin' in the mirror I'm closer than I really appear/
Creepin' like Chilli without the tender, love, and care
The only thing I did to get here was put the work in.
Used to have secret handshakes to confirm my friendships/
Nowadays they just shakin' my hand to hide the tension
The most successful rapper 35 and under/
I'm assumin' everybody's 35 and under/
That's when I'm planning to retire – it's already funded.
Weston Road flows, my confidence level gettin' settled/
Don't get hyped for the moment then start to backpedal
Now the talk at the corner store is I'm TBE –
The best ever don't ever question you know better
But shi* aint always how it seams when it's sewed together.
First take Drake, you know I rarely have to take two it/
And they still take to it
7. Redemption
Drake
Produced By Noah "40" Shebib
Album: Views
I rather listen to someone else/
I gave your nickname to someone else.
I miss the feeling of you missing me
Relationships slowin' me down, they slow down the vision/
Guess I'm not in a position to deal with commitment.
Not having closure it take a lot out of me
This year for Christmas I just want apologies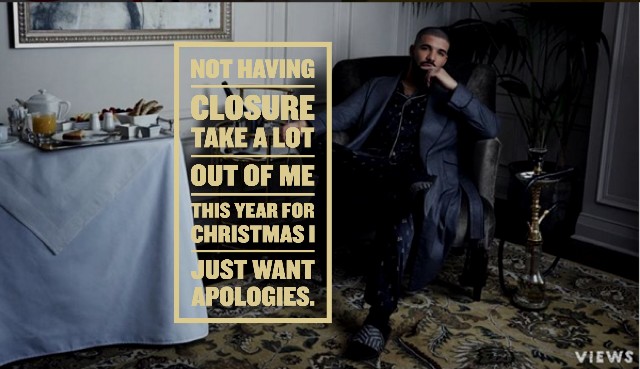 Who's gonna save me when I need savin'?/
Since Take Care, I've been caretakin.
8. With You
Drake Featuring PARTYNEXTDOOR
Produced By Murda
Album: Views
Looking for things you can find
Just so you can have something you can bring up when it's time.
Mixing vodka and emotions, tapping into your emotions/
Dry cry cause I'm hopeless
9. Faithful
Drake ft. Pimp C & dvsn
Produced By Noah "40" Shebib
Album: Views
You hit me like 'I know you're there with someone else'/
That pu*** knows me better than I know myself.
Having you coming all summer like a season pass
Cause you talk like you got what I need/
You talk like you got the juice and the squeeze"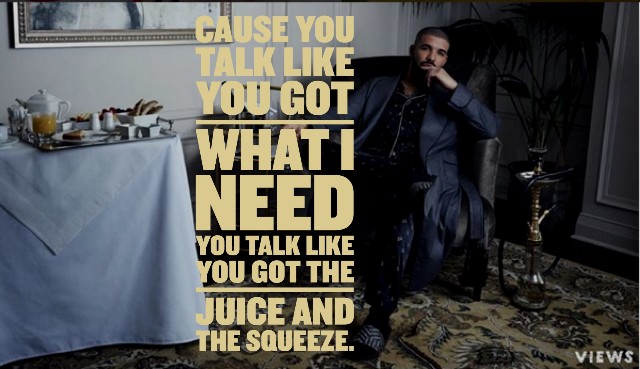 10. Still Here
Drake
Produced By Daxz
Album: Views
Did it, did it, did it by myself/
Blew up and I'm in the city, still.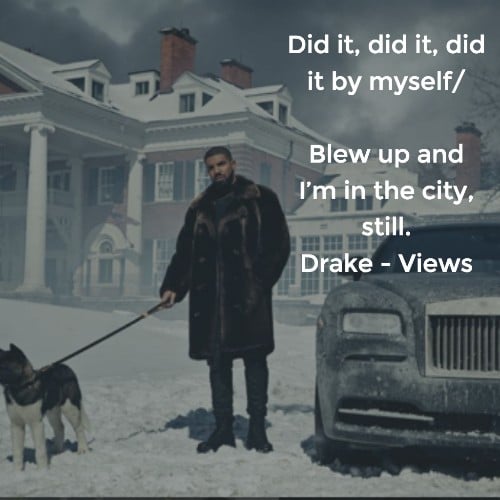 And I see your girl all the time, all the time, though/
I can't tell you if she's yours or mine, but I do know.
I gotta talk to God even though he isn't near me/
Based on what I got it's hard to think he don't hear me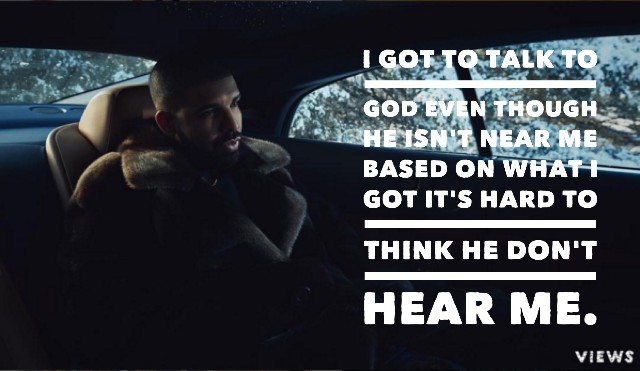 11. Controlla
Drake Featuring Beenie Man
Produced By Boi-1da
Album: Views
I thank God you came/
How many more days could I wait?
You can't just diss and tell man, "sorry"
You can't listen to me talk then go tell my story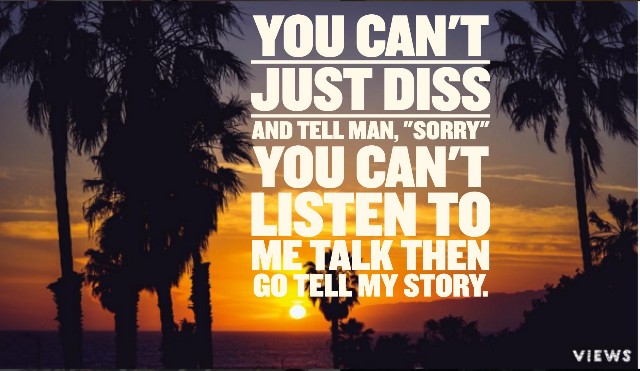 12. One Dance ft. Wizkid and Kyla
Drake Featuring Kyla & Wizkid
Produced By Nineteen85
Album: Views
"Strength and guidance/
All that I'm wishing for my friends"
You know you gotta stick by me
Soon as you see the text – reply me.
13. Grammys ft. Future
Drake Featuring Future
Produced By Noah "40" Shebib & Southside
Album: Views
"Most ni***s with a deal/
Couldn't make a greatest hits/
Y'all a whole lot of things/
But you still ain't this"
I pull up in Yachts so big they try to hit me with boat fines/
Hype Williams Big Pimpin, yeah, just like the old times.
OVO we a gold mine/
We going gold in no time.
14. Childs Play
Drake
Produced By Noah "40" Shebib
Album: Views
You don't want to fall in love, I know/
I'm not someone you should trust, I know/
I give Chanel out like a hug, I know.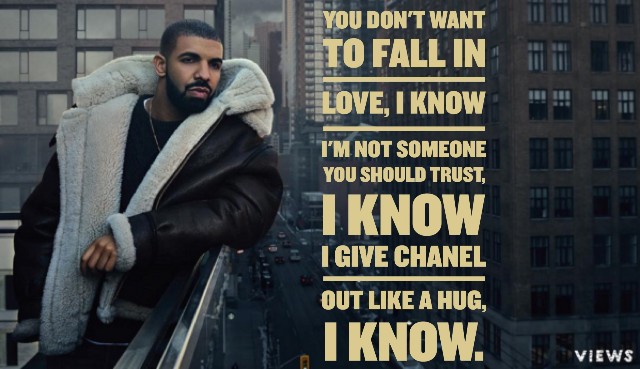 Lie-ing to protect you, I be doing that a lot
Might pass check-ing like the Louis you just got.
My city love me like a college runningback.
15. Pop Style
Drake
Produced By Sevn Thomas & Frank Dukes
Album: Views
Tell my mom I love her if I do not make it/
Got so many chains they call me Chaining Tatum.
Cannot be me I'm a one of one/
Schooling yo ass like a one on one.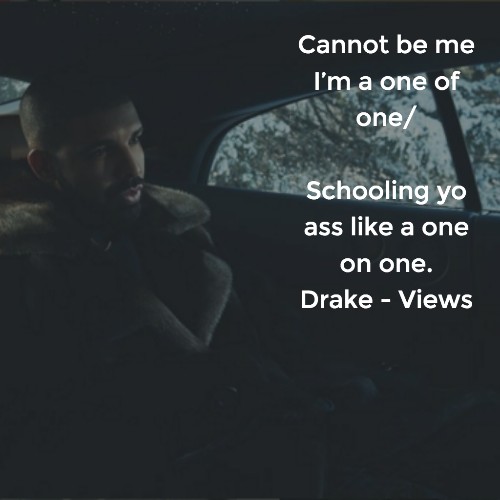 See me putting in the hard work now/
Momma doesn't have to call work now/
I decide when I start work now.
"Even next season looking like a breeze/
Lot of y'all ain't built for the league, yeah/
Trade you off the team while you in your sleep, yeah/
Y'all showed me that nothing's guaranteed"
16. Too Good ft. Rihanna
Drake Featuring Rihanna
Produced By Nineteen85
Album: Views
My friends always feel the need to tell me things/
Seems like they're just happier than us these days.
Years go by too fast/
I can't keep track/
How long did we last?
I feel bad for asking.
17. Summers Over Interlude
Drake Featuring Majid Al Maskati
Produced By Maneesh
Album: Views
Days in the sun and nights in the rain/
Summer is over simple and plain.
18. Fire & Desire
Drake
Produced By Noah "40" Shebib
Album: Views
Tell me if I should cut these other girls right out of my life/
Cause we never decided/
You a real ass woman and I like it.
We both a different breed/
I'm followin' your lead, I ask you what you need/
You say it's guaranteed.
19. Views
Drake
Produced By Maneesh Bidaye
Album: Views
You feel the pressure, man, I know the pressure/
And my wifey is a spice like I'm David Beckham/
And I know who gon take the fall with me/
They right here on call with me/
They all with me.
You could throw curve balls but I got the glove fitted/
They been saying it's love, but it isn't love, is it?
Fu** being all buddy, buddy with the opposition/
It's like the front of the plane, ni**a, it's all business/
But I haven't flown with y'all boys in a minute.
Look, they'd rather run up on me than towards they goals/
My ni**as still hit the club when it's 20 below/
Who you think running the show?/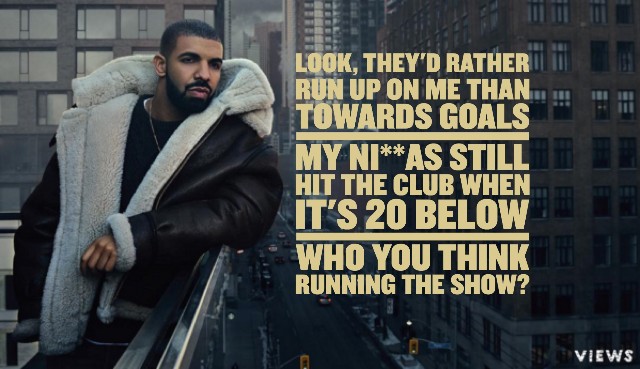 You saw it in me at 20 years old
The lingo starting to sound like we talking in code.
Now me and Kobe doing shots the night before the game/
Still drop 40 with liquor in my system.
Niggas quick to double cross like both of us Christian
Lamborghini got me feeling like I'm Christian Bale/
And I'd never bend my morals for the ticket sales.
Like it's going in the trunk/
I'm put it all behind us.
I keep it 100 like I'm running a fever.
20. Hotline Bling
Drake
Produced By Nineteen85
Album: Views
Cause ever since I left the city, you
Started wearing less and goin' out more
Glasses of champagne out on the dance floor
Hangin' with some girls I've never seen before
These days, all I do is/
Wonder if you're bendin' over backwards for someone else/
Wonder if you're rolling up a Backwoods for someone else/
Doing things I taught you, gettin' nasty for someone else.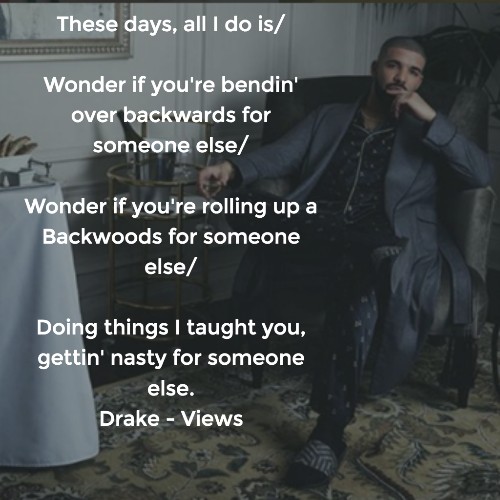 You may also like:
What are your favorite lyrics and lines from Drake's new album Views. 
Let us know in the comments.