This year marks the 28th birthday of one of our favorite quotable artists, Drake. Whether you were a fan of his from the Degrassi days, or have found yourself dancing hypnotically to the lyrics of one of his 10+ number 1 singles, there's no denying the guy has serious talent.
Since breaking out in 2006 with his mixtape, Room For Improvement , we've watched him grow to dominate radio and collect accolades and awards along the way.
In addition to being a talented actor and musician, our favorite thing about Drake is his ability to craft poignant, memorable lyrics that become some of our favorite quotes. He even lets a few go on his Twitter page @Drake before each single or album drops just to whet the appetite.
And while there's literally 100's to choose from, we've narrowed this list down to 28 of the best quotes, lines & lyrics on life, love, and success.
Drake Quotes: The 28 Best Lines & Lyrics On Life, Love and Success
1) On Life Lessons: "Live without pretending, Love without depending, Listen without defending, Speak without offending." – Twitter @Drizzy
Our thought: One of our all time favorites. Be true to yourself, love yourself first, don't assume you're being attacked, and be mindful of your words.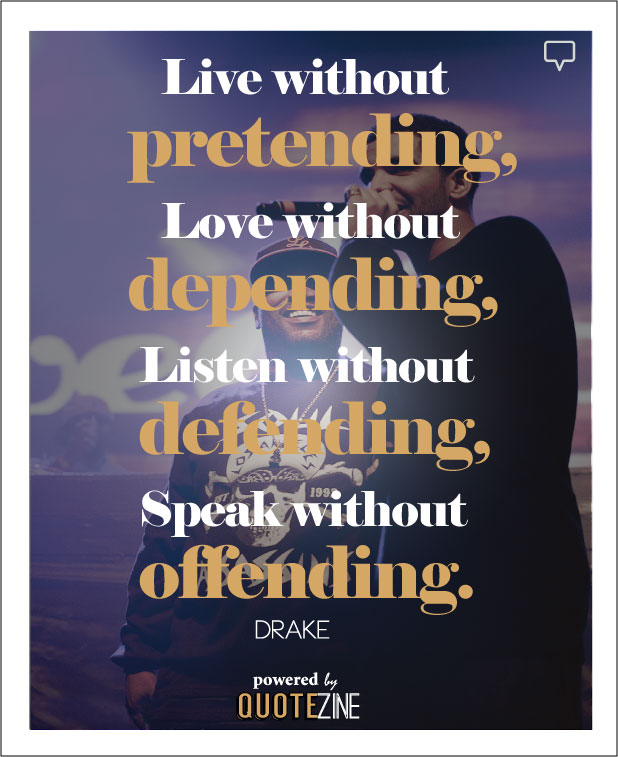 2) On Taking Chances: "You know life is what we make it, and a chance is like a picture, it'd be nice if you just take it." – Un-thinkable by Alicia Keys ft. Drake
Our thought: Don't miss out on things that present themselves. Carpe diem as they say.  
3) On Fairness: "The game ain't always fair and that's the thing though. You can play your heart out, everybody don't get a ring though." – Made by Big Sean ft. Drake
Our thought: First off, who doesn't like a subtle sports reference? Life's not fair sometimes, but that's no reason to pout and give up.
4) On Friendship: "I live for the nights that I can't remember, with the people that I won't forget."– Drake – Show Me a Good Time
Our thought: Times with best friends always make the best memories, or lack thereof.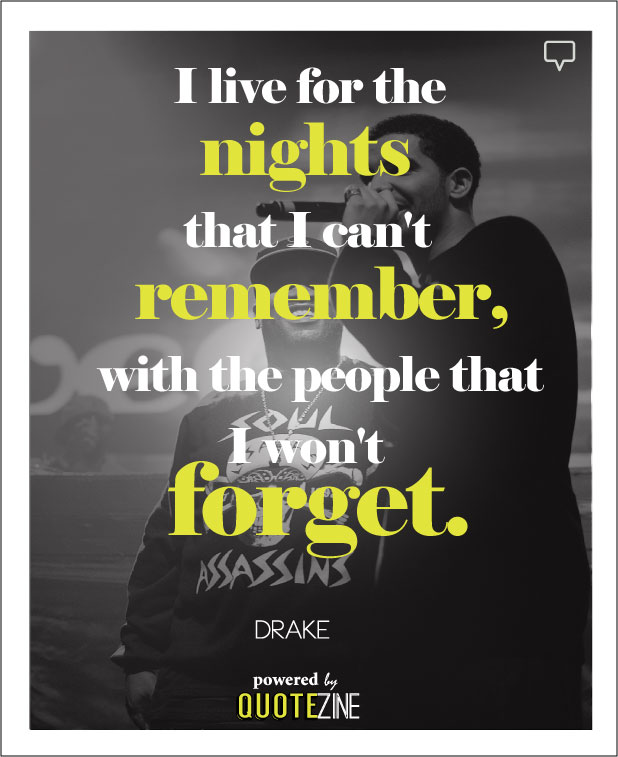 5) On Jealousy: "Jealousy is just love and hate at the same time." – Drake – Over My Dead Body
Our thought: Don't be jealous. It stems from your own insecurities and it's never attractive.  
6) On Being Let Down By Others: "When all is said and done, more is always said than done."– Drake – Club Paradise
Our thought: Actions speak louder than words. And often those who promise the most will deliver the least.  
7) On First Loves: "I know they say the first love is the sweetest, but that first cut is the deepest."– Drake – Karaoke
Our thought: Remember being young and thinking the world was ending after you broke up? So do we. Forgiving doesn't need to mean forgetting.  
8) On Being In Love: "All so convinced that you're following your heart, cause your mind don't control what it does sometimes."– Drake – Take Care
Our thought: Sometimes love is irrational. But that can be the fun part.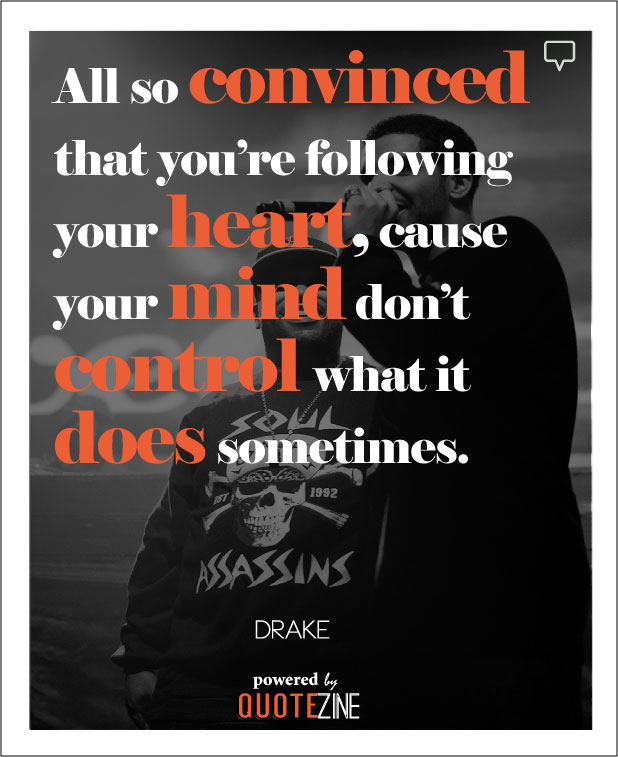 9) On Missing Someone: "Mind in one place, heart in another." – It's Good by Lil Wayne ft. Drake and Jadakiss.
Our thought: Long distance sucks ba**s. True story. 
10) On Being Dumped: "I'm more than just a number, I doubt you'll find another. So every single summer, I'll be the one that you remember."– Drake – Find Your Love
Our thought: Bitter much? But on the other hand, nothing wrong with being confident.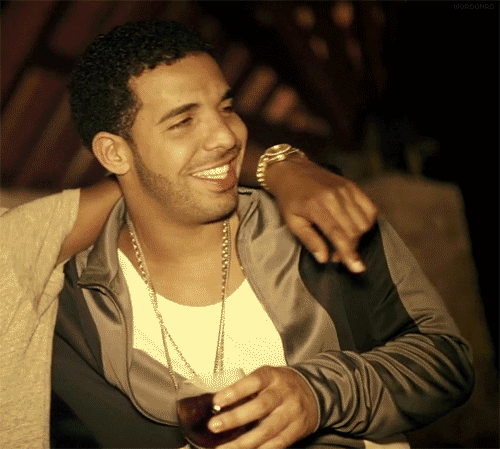 11) On Breakups: "Just as I predicted, here we go again. They always say the hottest love has the coldest end."– Drake – July
Our thought: Ok ok, we know, breaking up sucks ba**s too.  
12) On Exes: "I hate getting messages from you, especially when you say you should've stayed. Fu**s up my whole day, thought all these feelings went away."– Drake – Messages From You
Our thought: Don't toy with people's emotions, it's not nice.
13) On A Toxic Relationship: "The girl that I want to save is like a danger to my health. Try being with somebody that want to be somebody else."– Drake – The Motion
Our thought: Five words: she's just not into you. Walk away dude.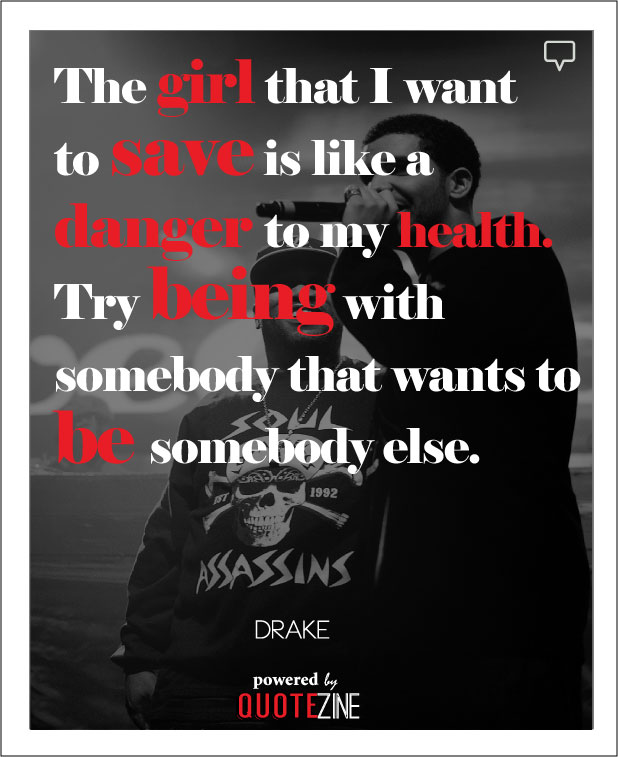 14) On Being Single: "You ain't the only one that's tryna be the only one." – Drake – We'll Be Fine
Our thought: There's nothing wrong with not wanting to be tied down. Just don't play hard to get for the fun of it.  
15) On Staying Single: "I'm good, I don't need no help. Cause I'm better off by myself then to start over with somebody else." – Twitter Drake Quotes
Our thought: Good. Good for you Drake.  Don't let her break that little heart of yours again.
16) On Unrequited Love: "Wish you would learn to love people and use things, and not the other way around."– Drake – Connect
Our thought: Drake! What happened? You were doing so well just a quote ago.
17) On Friends With Benefits: "Looking back on it, at least my pride is intact. Cause we said no strings attached, and I still got tied up in that."– Drake – The Motion
Our thought: That poor heart of his just can't catch a break. Re: No Strings, Never works. Somebody always gets hurt.  
18) On The Good Ones: "The good ones go, if you wait too long. So you should go, before you stay too long."– Drake – Good Ones Go
Our thought: Is he just letting a good one go here? Come on Drake. #dobetter #knowyourself  
19) On Knowing Himself: "You know it's real when you are who you think you are." –– Drake – Pound Cake ft. JAY-Z
Our thought: There's nothing quite like reaching a goal others don't believe you can. Success is the reward for those who believe in themselves.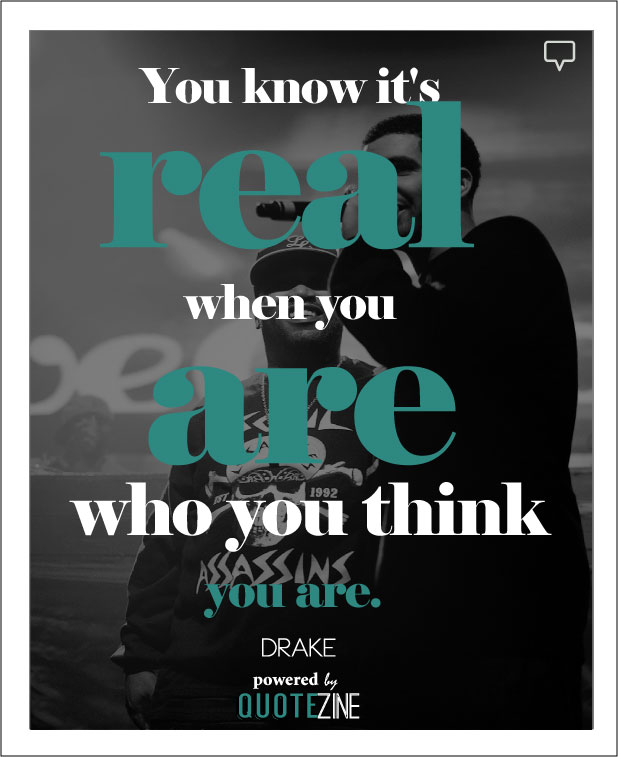 20) On Not Giving A Fu**: "I don't really give a fu**, and my excuse is that I'm young." –– Drake – Trust Issues
Our thought: Is that a good excuse? Of course it is. Because Yolo?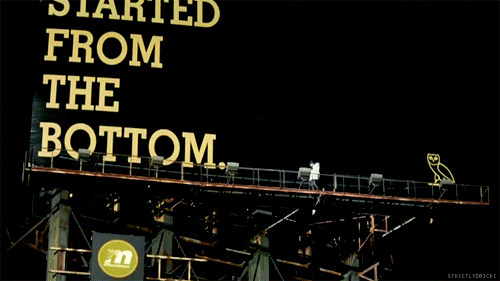 21) On Living It Up: "Lookin' for the right way to do the wrong things."– Drake – Lord Knows
Our thought: Being bad can often feel so so good.  
22) On His Childhood Making Him Stronger:
"Nobody understood what it was like to be black and Jewish… being different from everyone else just made me a lot stronger." – Drake
Our thought: Adversity makes people stronger. Plain and simple.  
23) On The Freedom To Be Himself: "I don't really have a gimmick or a 'thing.' I'm one of the few artists who gets to be himself every day."– Drake – "Why do you hate me so much" – The Guardian
Our thought: Telling the truth means never having to remember a lie. Be yourself it's easier.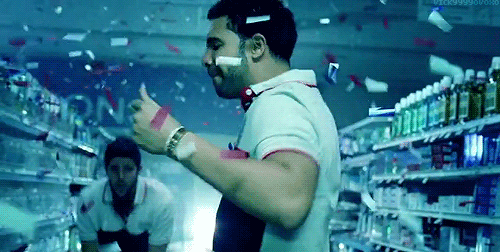 24) On Being Methodical: "I've never been reckless—it's always calculated." – Drake
– How to Drake It in America – GQ Magazine
Our thought: Recklessness is never a good thing. Always have a plan.  
25) On Success: "You got resolutions, we just got reservations."– Drake – Thank Me Now
Our thought: I see what you did there Mr. Drizzy Drake. Smooth. Real smooth.
26) On Staying At The Top: "It's funny when you coming in first but you hope that you're last, you just hope that it last."– Drake – Lust For Life
Our thought: Success can be terrifying. But keeping it is even more frightening.  
27) On Picking The Wrong Person. They keep telling me, 'Don't Save You', If I ignore all that advice, and something isn't right, then who will I complain to?" – Drake The Real Her
Our Thought: This situation is so tough to be in; knowing your friends disagree with your choices and question how stupid it will make you look should this relationship go wrong. So incredibly relatable.
28) On It Being Over Too Soon: "All in all I learned a lesson from it though, you never see it coming you just get to see it go." Drake – Fireworks
Our thought: We saved one of the best for last right here. You have to admit he really nails this one. Life has a funny way of doing that doesn't it, you may make plans, and you may think you're life has become incredibly predictable, but life will always find a way to surprise you.  Good or bad, enjoy the ride. Alright, alright, alright.
Spring Quotes: 12 Inspiring Sayings About Starting Fresh This Season
What are your favorite Drake quotes or lyrics? Any others you think should have been included? Let us know in the comments!
Images via: Shot by Drew, Wikimedia Commons