In another addition of our artist series, we break down the lyrics of Mac Miller. Malcolm James McCormick, who hails from Pittsburgh, got serious about becoming a rapper at the ripe old age of 15.
 "Once I hit 15, I got real serious about it and it changed my life completely"
After signing to Rostrum Records at 17, he began working with Wiz Khalifa, prepping his own release titled K.I.D.S. Since the breakout release of that mixtape and the accompanying tour, he's released a steady stream of chart topping music. Embedded into that music are some thought provoking words of wisdom.
In this collection, we've  narrowed those songs and lyrics down to the 15 best quotes we could find.
If you haven't already, check out other artist articles on Bob Marley, Beyonce, Frank Ocean, Mac Miller, Robin Thicke, Drake
Mac Miller Quotes: 15 Inspiring Lyrics on Life, Love and Family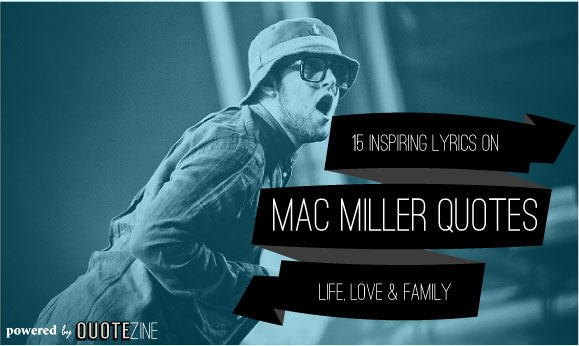 1. On Dreams:
"They gonna try to tell you no, shatter all your dreams, but you gotta get up and go, and think of better things. Live free."
Song: Live Free
Our thought: Don't listen to anyone who doesn't encourage you to pursue your dreams.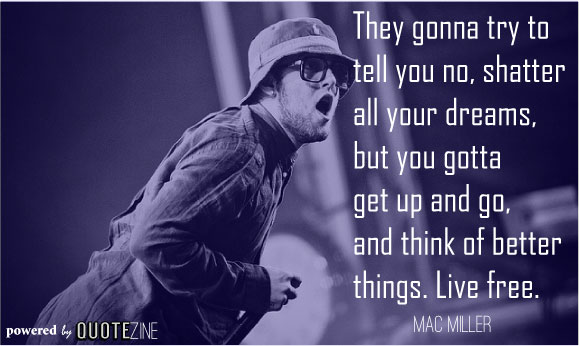 2. On Haters And Doubters:
"I'ma do my thing until the day the reaper come for me. You can keep on grillin', I'ma smile back."
Song: Smile Back
Our thought: Don't worry about what they're saying, just smile and keep going.
3. On Life:
"Enjoy the best things in your life cuz you ain't gonna get to live it twice."
Song: Senior Skip Day
Our thought: Live life to the fullest while you can.
More: Drake Quotes: The 28 Best Lines & Lyrics On Life, Love and Success
4. On Change:
"Sometimes I see the world for how f-ked up it really is. I tell myself I'll be the one to make a change in it. I could die tonight; not make it to the sunrise, then I couldn't hear the pain in it."  
Song: 1 Threw 8
Our thought: Start by changing yourself before trying to change anyone else.
5. On Relationships:
"You said you needed time from my mistakes. Funny how you used that time to have me replaced."
Our thought: It's hard knowing someone you care for is happy with someone else.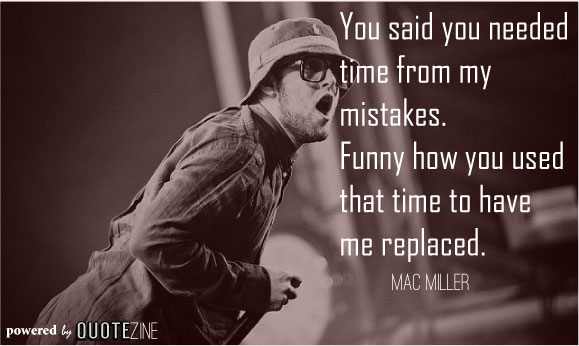 6. On Non Believers:
"I been laughed at, hated on, no one would even play my songs. Wouldn't even listen to anything that my name was on."
Song: So What
Our thought: There will be lots of people who don't believe in you along the way. Believe in yourself.
7. On Stress:
"Someone told me sleep was the cousin of death and followin' the dollar finds nothin' but stress."
Song: 5 O'Clock (feat. Boaz)
Our thought: Don't chase the money, chase your passions.
8. On Change:
"They say I'm so different but it ain't true. Still got the same girl, roll with the same crew."
Song: Life ain't easy
Our thought: Progress might make people uncomfortable. Don't worry if they think you've changed.
More: Bob Marley Quotes: Bob Marley Quotes: 20 Powerful Sayings & Lyrics To Live By
9.On Looking Back:
"Still got my training wheels in the garage."
Song: Kool Aid and Frozen Pizza
Our thought: Never forget how far you've come.
10. On The Grind:
"From the outside looking in it seems that I'm fine. But they don't know sh*t about the everyday grind."
Song: Life ain't easy
Our thought: It's hard for everyone else to really know how hard you're working.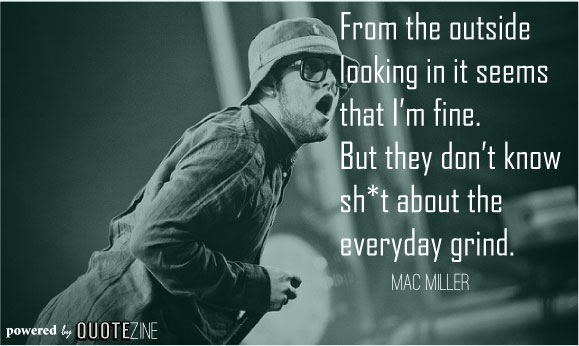 11. On Living for the moment:
"Treat it like your last night. Even if you broke, spend tonight like your cash right."
Song: All Around the World
Our thought: Live each day like your last.
12. On Love:
"They told me never fall in love, It never works out in your favor. You way too young and right now that's just human nature."
Song: All I Want is You
Our thought: People around you may not agree with who you've chosen. Listen to your heart.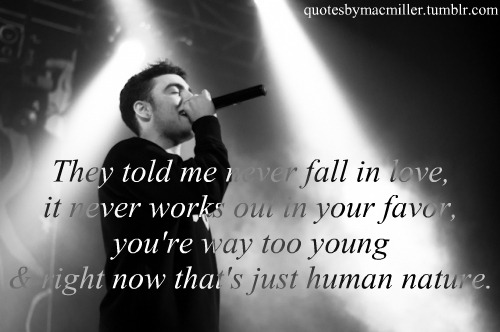 via: tumblr
13. On Family:
"In the quest to be a man, you start to learn you need your family. If it wasn't for them, I'd be way closer to insanity."
Song: I'll be There
Our thought: Sometimes we forget how much we need the members of our family around us.
14. On Happiness:
"life couldn't get better, this gon' be the best day ever"
Song: Best Day Ever
Our thought: Approach everyday with positivity as though it were the best day ever. That is the secret to happiness.
More: Birthday Quotes – 30 Wise and Funny Ways To Say Happy Birthday
15. On Success:
"There's people in the world that are jealous of success. Don't even second guess yourself, step or get left."
Song: Live Free
Our thought: Don't allow the jealousy of others to interfere with your goals.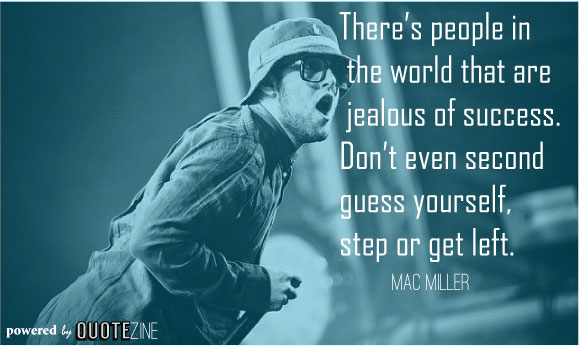 Do you have any other Mac Miller quotes we might have missed? let us know in the comments.