[quote]You say grace before meals. All right. But I say grace before the concert and the opera, and grace before the play and pantomime, and grace before I open a book, and grace before sketching, painting, swimming, fencing, boxing, walking, playing, dancing and grace before I dip the pen in the ink. – G. K. Chesterton[/quote]
For most of us, gratitude is simply being thankful for what you have been given – no matter how small. However, it's easy to take these things for granted. Our lives are filled with so many important milestones; the relationships we need to turn into successful marriages; the families we need to build and raise; the career we need to nurture and all the bells and whistles that we need to have to feel whole.
All of this can make us lose perspective. This collection is for the days when you need a reminder of everything and everyone you have in your life. Use these quotes to give thanks to the most important people in your life.
Here you'll find 15 of the absolute best quotes on being grateful.
Gratitude Quotes: 15 Powerful Sayings On Being Thankful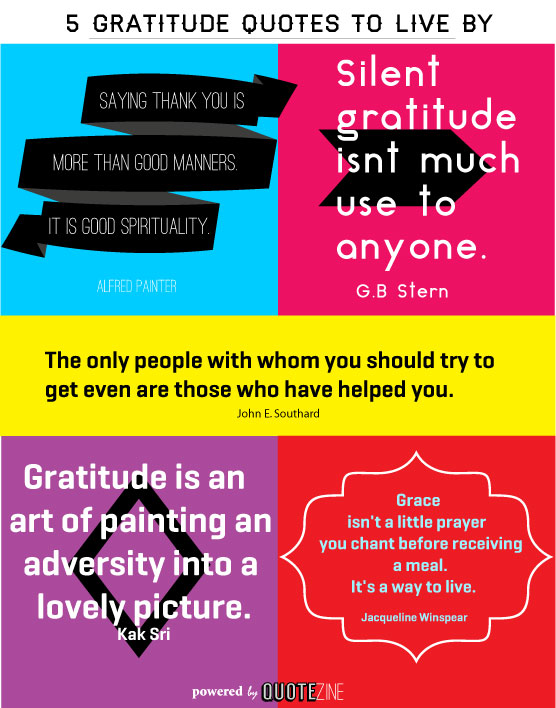 1. On Saying Thank You:
"Saying thank you is more than good manners. It is good spirituality." – Alfred Painter
2. On Silence:
"Silent gratitude isn't much use to anyone." – G.B. Stern
3. On Getting Even:
"The only people with whom you should try to get even are those who have helped you." – John E. Southard
4. On Adversity:
"Gratitude is an art of painting an adversity into a lovely picture." – Kak Sri
5. On Grace:
"Grace isn't a little prayer you chant before receiving a meal. It's a way to live." – Jacqueline Winspear
More: Father, Mother, Grandmother, Birthday.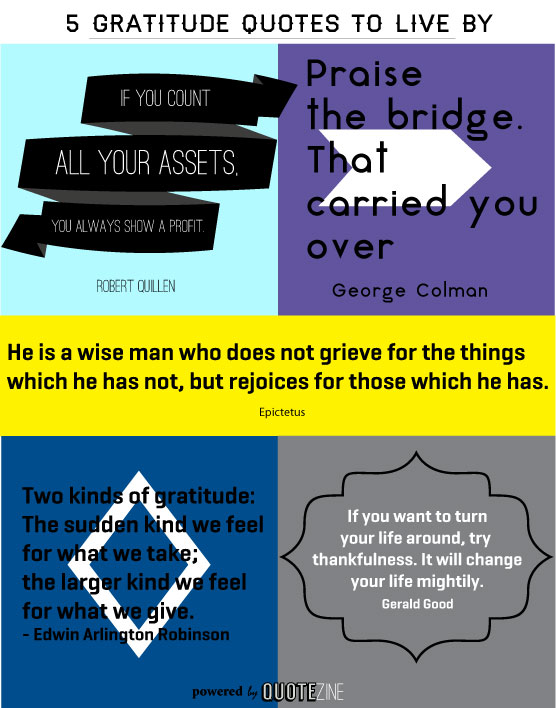 6. On Praise:

"Praise the bridge that carried you over." – George Colman


7. On Wealth:
"If you count all your assets, you always show a profit." – Robert Quillen


8. On Wisdom:
"He is a wise man who does not grieve for the things which he has not, but rejoices for those which he has." – Epictetus
9. On Give and Take:
"Two kinds of gratitude: The sudden kind we feel for what we take; the larger kind we feel for what we give." – Edwin Arlington Robinson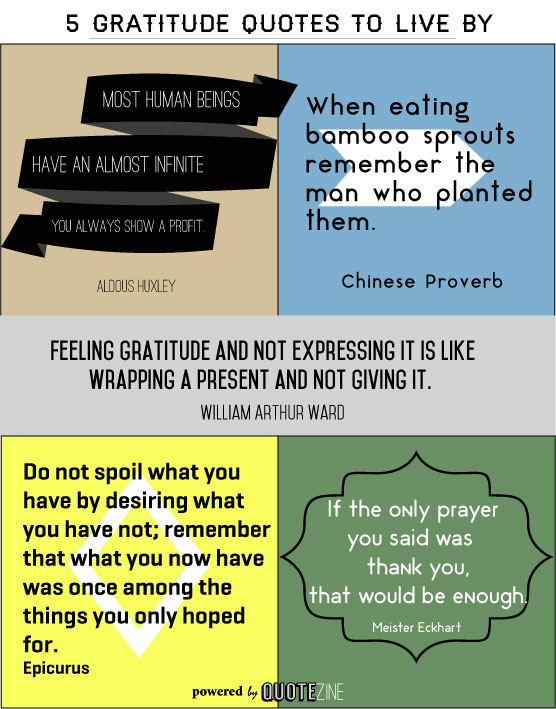 11. On Taking Things For Granted:
"Most human beings have an almost infinite capacity for taking things for granted." – Aldous Huxley
12. On Being Thoughtful
"When eating bamboo sprouts, remember the man who planted them."  – Chinese Proverb
13. On Expressing Your Gratitude:
"Feeling gratitude and not expressing it is like wrapping a present and not giving it." – William Arthur Ward
14. On Desire:
"Do not spoil what you have by desiring what you have not; remember that what you now have was once among the things you only hoped for." ― Epicurus
15.  On Prayer:
"If the only prayer you said was thank you, that would be enough." ― Meister Eckhart
Do you have any gratitude or thankfulness quotations we may have missed? Let us know in the comments.
header image via catlovers