Ok, I have to admit, I was sad to hear this news. Robin Thicke and his wife Paula Patton are ending their marriage after eight and a half years. The two have been together since they were 14 and have been married since 2005 – a long time by anyone's standards, let alone Hollywood's.  Songs like Lost without you, Wanna love you girl, and others always seemed so much sweeter knowing that these two had been together since they were kids.
Needless to say, I was secretly hoping these were all just rumors (I know, such a romantic at heart lol). However, the couple released a statement to People magazine saying "We will always love each other and be best friends, however, we have mutually decided to separate at this time."
The split happens among rumors of cheating (Thicke was photographed snuggling with a mystery woman in a Paris nightclub, and there was an image of his hand inching up Lana Scolaro's skirt after the VMAs) that began since his racy video for Blurred Lines and the scandalous performance with Miley Cyrus at the 2013 VMAs.  Since the announcement, Thicke has been telling everyone that he's trying to get his wife back, even singing Al Green's Let's Stay Together during his concert in Atlantic City. We're hoping that works out for him.
That said, we've put together a collection of epic lyrics and lines we feel celebrate the complexity of Robin Thicke. The quotes cover the naughty, nice and everything in between. Some of these seem a little awkward now that the couple has split, but hey, they'll "always be best friends". Others made us.. .well, wonder.
At any rate, writing this ended up being a lot more nostalgic and hilarious than we thought it'd be.
For more artist quotes check out: Beyonce, Frank Ocean, Mac Miller, Drake
Robin Thicke Quotes: The 15 Wildest Lyrics & Lines
1. On putting it down in the bedroom:
"I got a mean temper banging like an Indian drum, and if you press one of my buttons, I'm gon' do something dumb" – I'm An Animal (2011)
Our Thought: Well we don't think this is a domestic violence thing (hopefully) but more about his bedroom personality. Take notes boys.
2. On sex:
"I guess if we have sex our love will turn to wine" – from Wanna love you girl (2006)
Not entirely sure what's going on there but it sounds smooth as f***.
3. On falling in love with a stripper:
"She got me jerkin in the back, think I'm bout to fall in love, because she make that booty roll, when she coming down the pole " – from Sex Therapy (2009)
Our Thought: Don't feel guilty boys, it happens.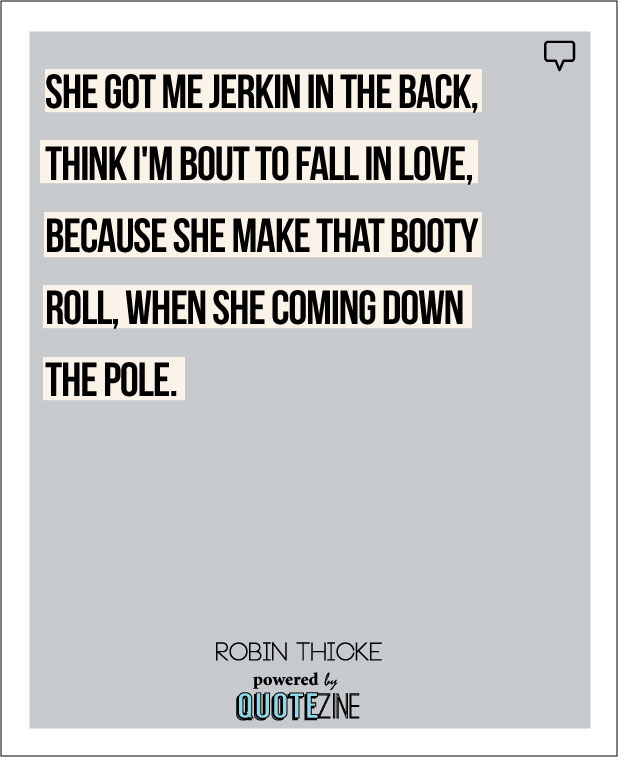 4. On hooking up:
"The way you grab me, must wanna get nasty" – from Blurred Lines (2013)
Our Thought: We know this was controversial, but apparently he's more about cutting to the chase. As long as it's consensual, we dig it.
5. On dancing, we think:
"She lifting up her ass, and she drop it to the beat. She shakin it so fast, for the cash.. ching a ling" – from Shakin' It 4 Daddy (2009)
Our Thought: Robin's got a wonderful way with words, even when it's on the topic of twerking.
6. On love:
"She's the kind of girl you wanna marry, the kind of girl you walk the whole earth for" –from Wanna love you girl (2006)
Our Thought: Well said Robin. This one's a classic.
7. On being "lost" in love:
"I'm lost without you, can't help myself. How does it feel to know that I love you baby?" – from Lost without you (2006)
Our Thought: See that's what I'm talking about.
8. On women's bodies:
"Baby you're the perfect shape, baby you're the perfect weight" – from Lost without you (2006)
Our Thought: File this under: "Things most guys don't say but should way more often"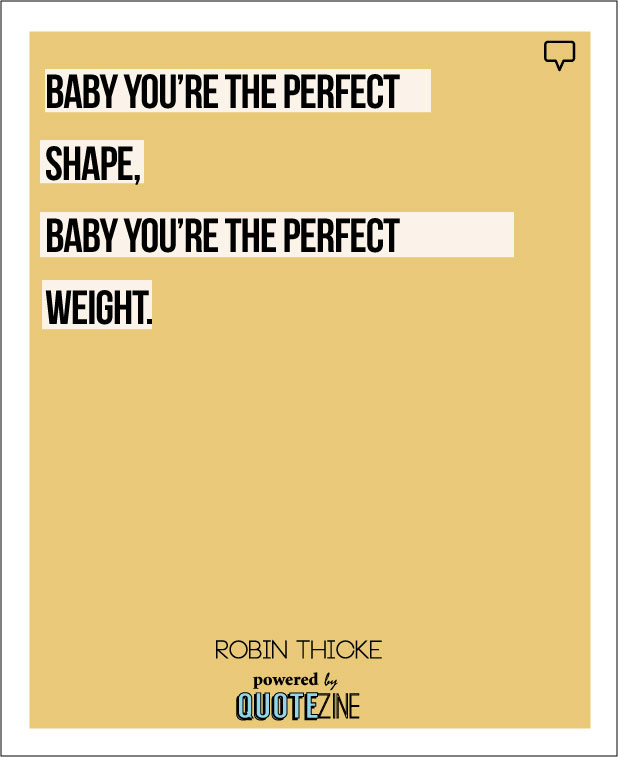 9. On cheesy lines:
"You know you're looking so damn fly. You're looking like you fell from the sky" – from Give it 2 U (2013)
Our Thought: Someone needs to try this and let us know how it works out?
10. On Gifts?:
"I got this for ya, a little Thicke for ya…. Big d**k for ya, let me give it to ya" – from Give it 2 U (2013)
Our Thought: Ladies, if you're into that sort of thing, Mr. Thicke's got a sizeable present for you.
11. On Cocaine:
"Everybody's watching but no one talks about it, right now there's only one name u can't call it" – Cocaine (2006)
Our Thought: What is that one name you can't call it? Anyone? Bueller?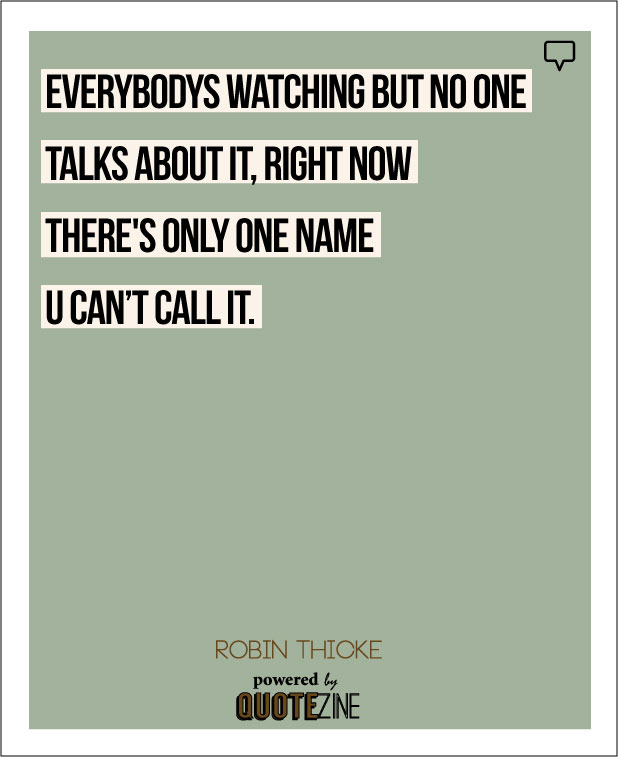 12. On Faith:
"You can be rich when you're poor, poor when you're rich. It can be raining and I can make the sun shine." – Magic ( 2008)
Our Thought: This is a great way to describe that person or thing that you can't live without. It also looks pretty good in a birthday card.
13. On The Perfect Text:
"I wanna give it to you, tonight, and make everything you fantasize come true, ooh baby. I'll make you so so so amazing, I'll give it to you." – Give It 2 U (remix) (2013)
Our Thought: This is all you need to text your significant other to get them in the mood for some action.
14. On the perfect message:
"Every stroke I make is a stroke on your body. Run my mind through your hair, its only you I see."
Our Thought: Once again, this one is text worthy. Use it when necessary boys.
15. About sex, a topic he allegedly knows a lot about:
"Oooh looking at you I got energy up in my pants" – from She's Gangsta (2003)
Is that a banana in your pocket or.. there's something very amusing about this one.
Are there  any other Robin Thicke lyrics or quotes you love, hate, or find hilarious? Let us know in the comments.
Image via: wikimedia commons; 

LouiseFerguson