You may say I'm a dreamer, but I'm not the only one. I hope someday you'll join us. And the world will live as one. – John Lennon
John Lennon was both the leader and founder of the legendary Beatles band. Lennon was the perfect counter balance to the creative Paul McCartney, the goofy Ringo Starr and the quiet George Harrison. Although Lennon was widely considered a rebel for his political views, he frequently preached of non-violence as a method of challenging government and authority.
His reputation as an adult is even more interesting when you consider that he grew up as both a boy scout in St. Peters church, and a choir boy in the 3rd Allerton Boy Scout troop.
He was a complex man filled with contradictions and quirks. He was the lead singer of arguably the most popular band of all time yet he hated the sound of his own voice. He firmly believed in simplicity and tended to shun capitalism yet he loved to play Monopoly.
Like all of us, he was a complex human being. And above all, he was deeply inspirational.
Below you'll find some of his most inspiring lyrics and best quotes on life, love and peace.
1. Time you enjoy wasting, was not wasted. – John Lennon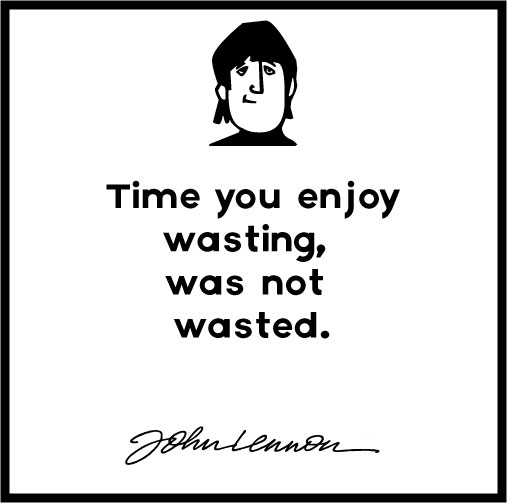 2.  I'm not really a career person; I'm a gardener, basically. – John Lennon
3. Love, Love, Love. All you need is love. Love is all you need. – John Lennon
[WPGP gif_id="1560″ width="600″]
4. A dream you dream alone is only a dream. A dream you dream together is reality. – John Lennon
5. There are two basic motivating forces: fear and love. When we are afraid, we pull back from life. When we are in love, we open to all that life has to offer with passion, excitement, and acceptance. We need to learn to love ourselves first, in all our glory and our imperfections. If we cannot love ourselves, we cannot fully open to our ability to love others or our potential to create. Evolution and all hopes for a better world rest in the fearlessness and open-hearted vision of people who embrace life. – John Lennon
6. I believe in everything until it's disproved. So I believe in fairies, the myths, dragons. It all exists, even if it's in your mind. Who's to say that dreams and nightmares aren't as real as the here and now? – John Lennon
[WPGP gif_id="1562″ width="600″]
7. It matters not who you love, where you love, why you love, when you love or how you love, it matters only that you love. – John Lennon
8. Count your age by friends, not years. Count your life by smiles, not tears. – John Lennon
9. All we are saying is give peace a chance. – John Lennon
10. A mistake is only an error, it becomes a mistake when you fail to correct it. – John Lennon
[frame][/frame]
11. You're all geniuses, and you're all beautiful. You don't need anyone to tell you who you are. You are what you are. – John Lennon
12. If everyone demanded peace instead of another television set, then there'd be peace. – John Lennon
[WPGP gif_id="1564″ width="600″]
13. Creativity is a gift. It doesn't come through if the air is cluttered. – John Lennon
14. There's nowhere you can be that isn't where you're meant to be… – John Lennon
15. Life is what happens to you while you're busy making other plans. – John Lennon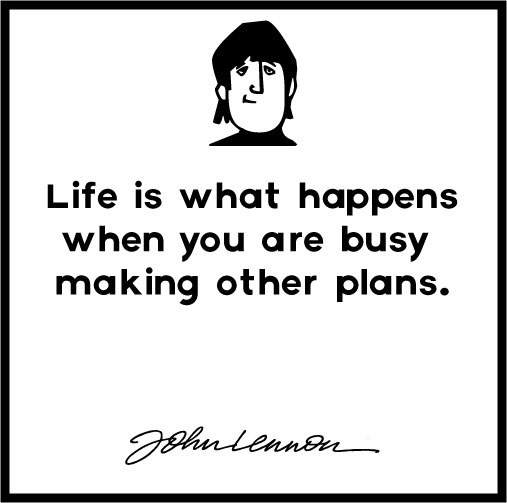 16. If someone thinks that peace and love are just a cliche that must have been left behind in the 60s, that's a problem. Peace and love are eternal. – John Lennon
17. Life is very short, and there's no time for fussing and fighting my friends. – John Lennon
18. When I was 5 years old, my mother always told me that happiness was the key to life. When I went to school, they asked me what I wanted to be when. – John Lennon
19. I grew up. I wrote down 'happy'. They told me I didn't understand the assignment, and I told them they didn't understand life. – John Lennon
[WPGP gif_id="1566″ width="600″]
20. Only by trying on other people's clothes do we find what size we are. – John Lennon
21. I believe in God, but not as one thing, not as an old man in the sky. I believe that what people call God is something in all of us. I believe that what Jesus and Mohammed and Buddha and all the rest said was right. It's just that the translations have gone wrong. – John Lennon
22. We live in a world where we have to hide to make love, while violence is practiced in broad daylight. – John Lennon
23. Produce your own dream. If you want to save Peru, go save Peru. It's quite possible to do anything, but not if you put it on the leaders and the parking meters. Don't expect Carter or Reagan or John Lennon or Yoko Ono or Bob Dylan or Jesus Christ to come and do it for you. You have to do it yourself. – John Lennon
There you have it, the most inspiring John Lennon quotes ever. Do you have any that inspire you that we may have missed? Let us know.
header image via: Roy Kerwood
Beatles Quotes: The Most Witty, Questionable and Insightful Lyrics and Lines
25 Badass Paul McCartney Quotes & Lyrics
The 20 Best Ringo Starr Quotes on Love and Peace
George Harrison Quotes: The 20 Best Lyrics on Life and Music