E.L James fans rejoice, today marks the official release of the long waited Fifty Shades of Grey trailer. If you haven't seen it, you'll find it below.
Anticipation has been steadily building since the announcement a couple days ago. If Twitter reactions are any indication, fans of the series seem to be pretty satisfied with their first glimpse.
In addition to the intense trailer, a new remix of Beyonce's classic "Crazy in Love" was prominently featured – which is an interesting surprise. The soundtrack includes many more singles and covers from Annie Lennox, Ariana Grande, The Weeknd and more.
Unfortunately, the release date for the film isn't until Valentines Day 2015, but this collection of quotes from the trilogy should hold you over. Through our very un scientific polling methods, we've narrowed down the 25 most memorable lines from the two most popular characters in the series.
Also, as most of you already know, you can expect that some of these may be considered NSFW – so keep that in mind!
Fifty Shades Of Grey Quotes: The 25 Steamiest Lines Of The Trilogy
Christian Grey
On Romance:
1. Every time you move tomorrow, I want you to be reminded that I've been here. Only me. You are mine.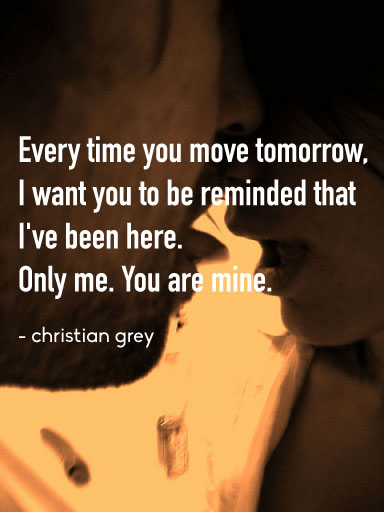 2. "I want to chase the dawn with you
3. "You will not be able to see me or hear me. But you'll be able to feel me."
4. "What is it about elevators?" 
On Sex:
5. "I dont make love, I f***…hard"
6. "I don't know whether to worship at your feet or spank the living sh*t out of you."
7. "I want you sore, baby."
On Love:
7. "I lay awake for hours and watched you sleep…I may have loved you even then."
8. "But I'm a selfish man. I've wanted you since you fell into my office. You are exquisite, honest, warm, strong, witty, beguilingly innocent; the list is endless."I want you, and the thought of anyone else having you is a knife twisting in my dark soul."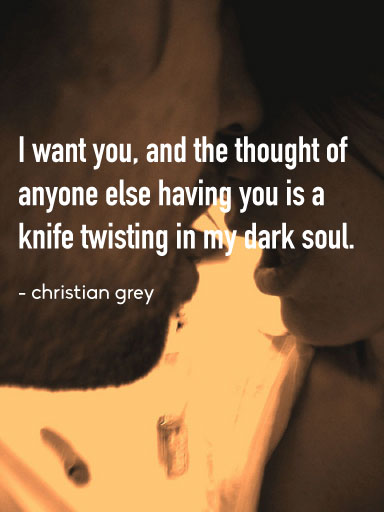 9. "You're the only person I'd fly three thousand miles to see." 
On Beauty
10. "You are not just a pretty face. You've had six orgasms so far and all of them belong to me."
On Life:
11. "We aim to please Miss Steele."
On Trust:
12. "Never trust a man who can dance." 
Anastasia Steele:
On Love:
13. "Christian, you are the state lottery, the cure for cancer, and the three wishes from Aladdin's lamp all rolled into one"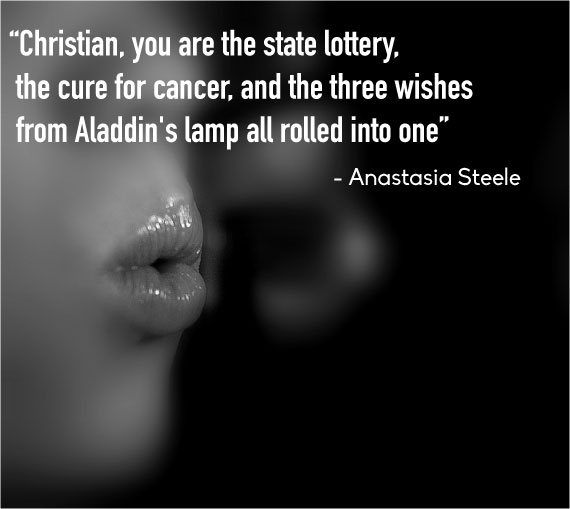 On Regret:
14. Why, oh why have I fallen for someone who is plain crazy—beautiful, sexy as f***, richer than Croesus, and crazy with a capital K?" 
On The Inner Goddess:
15. "My inner goddess sits in the lotus position looking serene except for the sly, self-congratulatory smile on her face."
16. "My inner goddess jumps up and down with cheer-leading pom-poms shouting yes at me."
On Talent:
17. "Some boy scout he must have been to learn these knots."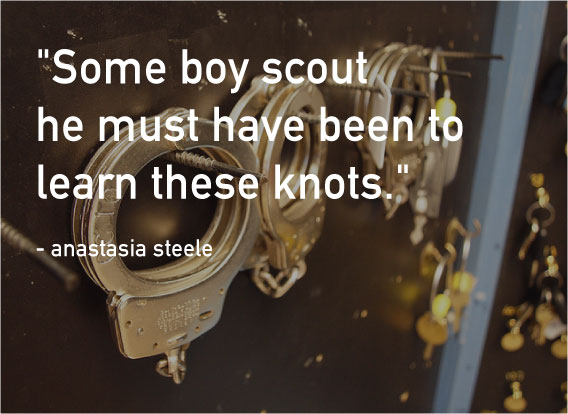 On Oysters:
18. "It slips down my throat, all seawater, salt, the sharp tang of citrus, and fleshiness… ooh. I lick my lips, and he's watching me intently, his eyes hooded."
On Interruptions:
19. "Sh–! It's my mother."
On Sex:
20. "I'm losing all sense of self, every atom of my being concentrating hard on that small, potent powerhouse at the apex of my thighs."
21. "He then starts on my right foot, repeating the whole, seductive, mind-blowing process." "He's going to kiss me there! I know it. And part of me is glowing in the anticipation."
22. "He's my very own Christian Grey-flavored popsicle." 
23. "And then his hand is no longer there … and he hits me—hard."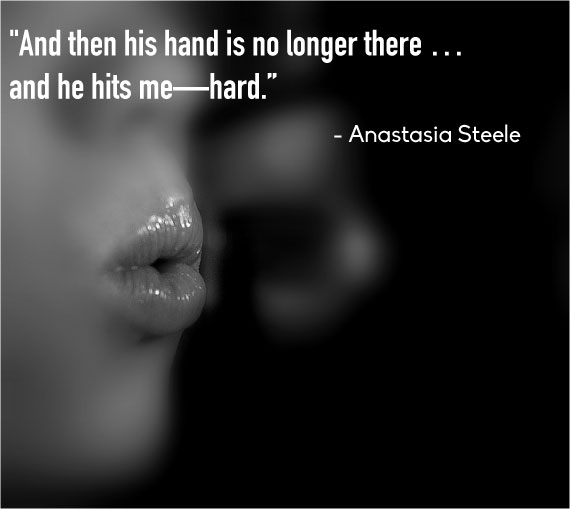 On Romance:
24. "You beguile me, Christian. Completely overwhelm me. I feel like Icarus flying too close to the sun." 
On Transportation:
25. "What is it about elevators?"

Are there any of your favorite 50 shades of grey quotes missing? Let us know!
Images via flickr H.M.K, The Prophet