"I don't make music for eyes. I make music for ears."
After the successes of 19 and 21, Adele is back with her third studio album, 25. In less than one week, the album has made history selling over 3 million copies in the US alone. It has also broken records in the UK and Canada, surpassing Celine Dion, Oasis, NSync and others.
Once again, 25 is loaded with the kinds of power ballads that Adele songs are known for. Singles like "Hello" and "Send My Love (To Your New Lover)"pick up right where others like "Someone like you", "One and only" and "Make you feel my love" left off.
Below, we've collected the best quotes from songs on all three albums, to celebrate the lines and lyrics that have become so memorable.
Adele Quotes: The Best Lyrics and Lines from 19, 21 and 25
Album: "25" (2015)
Hello – Adele
Hello from the outside
At least I can say that I've tried
To tell you I'm sorry for breaking your heart
But it don't matter it clearly doesn't tear you apart anymore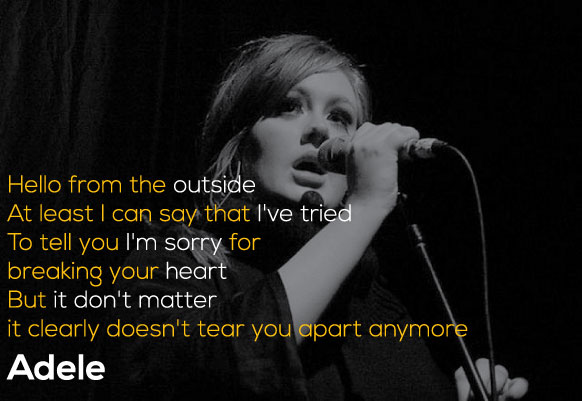 Send My Love (To Your New Lover) – Adele
Send my love to your new lover
Treat her better
We gotta let go of all of our ghosts
We both know we ain't kids no more
I Miss You – Adele
Treat me soft but touch me cruel
I want to teach you things you never knew
When We Were Young – Adele
'Cause I've been by myself all night long
Hoping you're someone I used to know
Remedy – Adele
Right before my eyes I saw my heart it came to life
This ain't easy, it's not meant to be
Every story has its scars
Water Under The Bridge – Adele
And if I'm not the one for you
You've gotta stop holding me the way you do
Why if I'm not the one for you?
Why have we been through what we have been through
River Lea – Adele
I should probably tell you now before it's way too late
That I never meant to hurt you or lie straight to your face
Consider this my apology
I know it's years in advance
But I'd rather say it now in case I never get the chance
Love In The Dark – Adele
Please don't fall apart
I can't face your breaking heart
I'm trying to be brave
Stop asking me to stay
Million Years Ago – Adele
Sometimes I just feel it's only me
Who can't stand the reflection that they see
I wish I could live a little more
Look up to the sky, not just the floor
All I Ask – Adele
No one knows me like you do
And since you're the only one that matters
Tell me who do I run to?
Sweetest Devotion – Adele
When you wonder if I'm gonna lose my way home
Just remember, that come whatever
I'll be yours all alone
Deluxe Edition:
Can't Let Go – Adele
Did you find the note that I wrote?
I hid it in the seam of your coat
It was hard to write, I had a lump in my throat
Do you even know that I can't let go
Lay Me Down – Adele
The words don't come out right when you're right in front of me
Help me baby, won't you turn off the lights
Why Do You Love Me – Adele
How do you keep me coming back for more
After all we've been through
I can't decide if I should run and hide
[WPGP gif_id="1542″ width="600″]
Album: "21" (2011)
Rolling In The Deep – Adele
The scars of your love remind me of us
They keep me thinking that we almost had it all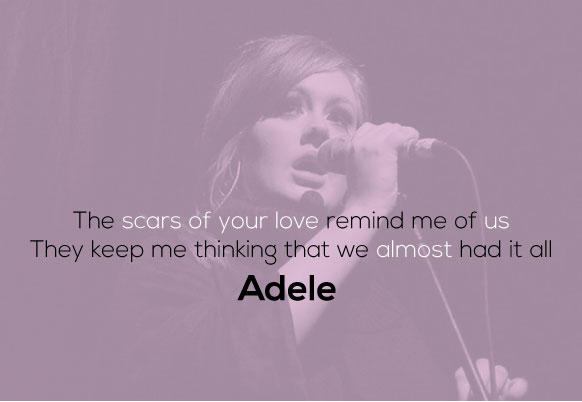 2. Rumour Has It – Adele
I heard you've been missing me,
You've been telling people things you shouldn't be,
Like when we creep out and she ain't around,
Haven't you heard the rumours?
3. Turning Tables – Adele
I can't keep up with your turning tables
Under your thumb I can't breathe
4. Don't You Remember – Adele
But I know I have a fickle heart and a bitterness,
And a wandering eye, and a heaviness in my head,
5. Set Fire To The Rain – Adele
Sometimes I wake up by the door,
That heart you caught must be waiting for you
Even now when we're already over
I can't help myself from looking for you.
6. He Won't Go – Adele
Wake me up, wake me up when all is done
I won't rise until this battle's won
My dignity's become undone
7. Take It All
Still how can you walk away
From all my tears?
It's gonna be an empty road
Without me right here.
8. I'll Be Waiting – Adele
But we had time against us,
Miles between us,
The heavens cried,
I know I left you speechless,
9. One And Only – Adele
I dare you to let me be your, your one and only
I promise I'm worthy to hold in your arms
10. Lovesong – Adele
Whenever I'm alone with you
You make me feel like I am home again
11. Someone Like You – Adele
Nothing compares
No worries or cares
Regrets and mistakes
They are memories made.
Who would have known how bittersweet this would taste?
Bonus Tracks:
12. I Found A Boy – Adele
So, you thought that I'd crumble to my knees
At the first sight of you crawling back to me
13. If It Hadn't Been For Love – Adele
Four cold walls against my will
At least I know he's lying still
Four cold walls without parole
Lord have mercy on my soul
14. Hiding My Heart – Adele
I wish I could lay down beside you
When the day is done
And wake up to your face against the morning sun
15. Need You Now – Adele
Another shot of whiskey, can't stop looking at the door.
Wishing you'd come sweeping in the way you did before.
And I wonder if I ever cross your mind.
For me it happens all the time.
Album: "19" (2008)
Daydreamer – Adele
He would be hard to chase
But good to catch
And he could change the world
With his hands behind his back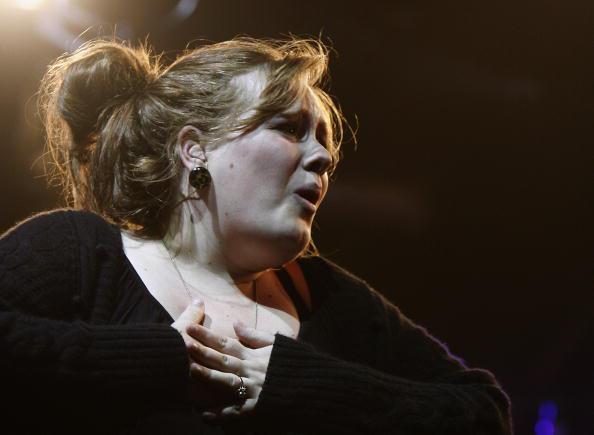 via: tumblr
2. Best For Last – Adele
You should know that you're just a temporary fix
This is not rooted with you it don't mean that much to me
You're just a filler in the space that happened to be free
3. Chasing Pavements – Adele
I build myself up
And fly around in circles
Waitin' as my heart drops
And my back begins to tingle
Finally, could this be it
4. Cold Shoulder – Adele
Do tell me why you waste our time
When your heart ain't admitting you're not satisfied
5. Crazy For You – Adele
And every time I'm meant to be acting sensible
You drift into my head
And turn me into a crumbling fool.
6. Melt My Heart To Stone – Adele
Each and every time I turn around to leave
I feel my heart begin to burst and bleed
So desperately I try to link it with my head
But instead I fall back to my knees
7. First Love – Adele
Excuse me first love, but we're through.
I need to taste a kiss from someone new.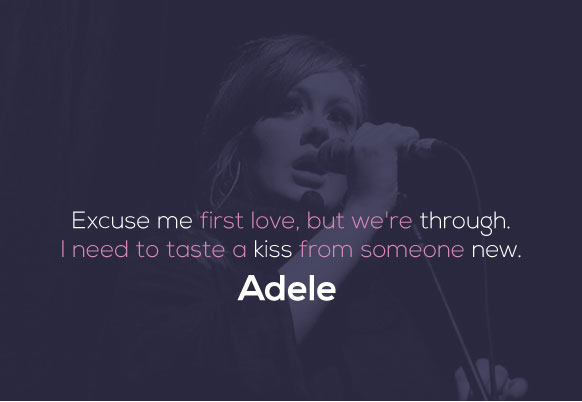 8. Right As Rain – Adele
Cause when hard work don't pay off and I'm tired
There ain't no room in my bed
9. Make You Feel My Love – Adele
I know you haven't made your mind up yet,
But I will never do you wrong.
10. My Same – Adele
You said I'm stubborn and I never give in
I think you're stubborn 'cept you're always softening
You say I'm selfish, I agree with you on that
I think you're giving out way too much in fact
11. Tired – Adele
Where'd you go when you stay behind
I looked up and inside down and outside only to find
A double taking punching hard and laughing at my smile
I get closer you obviously prefer her
12. Hometown Glory – Adele
I've been walking in the same way as I did
Missing out the cracks in the pavement
Bonus Tracks:
13. That's It, I Quit, I'm Movin' On – Adele
You made me want you
You made me leave you
You made me tumble
And fall
But if I
Can't have you the way
I want you
I don't want you at all
14. Now And Then – Adele
Every now and then my memories ache
With the empty ideas of the ones we'd made
15. Painting Pictures – Adele
I can feel the pressure pushing onto my heart
And it's teasing me
So scratch my itch and beat my drum
So i can start to begin what's begun
16. Many Shades Of Black – Adele
Everybody sees and everyone agrees
That you and I are old
And it's been that way too long
Take it as it comes, and be thankful when it's done
Bonus:
This awesome ADELE 2016 Playlist
AND this excellent Adele Documentary from 60 minutes
What are your favorite Adele songs or lyrics? Did we miss any? Let us know in the comments
You May Also Like:
Image via: CHRISTOPHER MACSURAK