If you're like us, Halloween is a sad day. For one, gone are the days when you ran home with excitement to get into your costume and find the largest treat bag you could find. You would then spend hours begging collecting enough candy to last you the next few months. It was the Christmas before Christmas. Ah, to be a kid again.
And it's all gone.
We're consoled by the fact that our local supermarket will soon have all it's halloween candy on sale. Which means a fair amount of money will be spent on bite sized Reese's pieces very, very soon.
So, I guess the universe does have a way of making things work out. If only we could put an end to the Halloween puns. There are few things worse than a lame, holiday pun.
Sayings like:
Where do fashionable ghosts shop for sheets? (Boo-tiques)
What do you call someone who puts poison in a person's corn flakes? (A cereal killer)
What does a skeleton order at a restaurant? (Spare ribs)
What do you call a witch in the desert? (A sandwitch)
What kind of streets do zombies like the best? (Dead ends)
Who does Dracula get letters from? (His fang club)
The. Worst.
While we may not be able to right this particular wrong, we've got something better up our wizard sleeves.
If you're headed out for a drink, en route to a costume party, or you're spending a quiet night in–with said halloween candy you won't be handing out, fear not. We've compiled some of our favorite and funniest Halloween quotes to put a smile on your costumed face.
Top 20 Funny Halloween Quotes & Puns
On Slutty Costumes:
Halloween is the one night a year when girls can dress like a total slut and no other girls can say anything about it. – Lindsay Lohan
On Miley Cyrus:
"Here's to Miley Cyrus for somehow making all Halloween costumes prior to 2013 look shockingly unslutty." – Anonymous
On Halloween Hookups:
"It's Halloween and hopefully you people that partied last night didn't wake next to something scary this morning." – Anonymous
On Aging:
"The older you get, the harder it is to find someone willing to share a horse costume with you." – Anonymous
On Costume Ideas:
I'd dress up as Siri for Halloween if my life didn't already entail being asked stupid questions all day. – Unknown
On Costume Choices:
"Halloween is for dressing as something you're not. That's why most girls go as sexy."
On An Arnold Schwarzenegger Themed:
"This Halloween the most popular mask is the Arnold Schwarzenegger mask. And the best part? With a mouth full of candy you will sound just like him."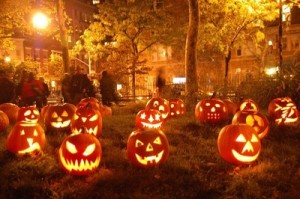 http://everydayhalloween.tumblr.com/
On The Less Fortunate:
"I'll bet living in a nudist colony takes all the fun out of Halloween."
On Fame:
"I would love if gay men responded to me. All I want is for many gay men to dress up as me for Halloween." – Mindy Kaling
On Being Fearless:
"I have friends who wear Star Wars costumes and act like the characters all day. I may not be that deep into it, but there's something great about loving what you love and not caring if it's unpopular." – Kristen Bell
On The Perfect Costume:
"I put the costume on and said 'It's not very comfortable, but it looks amazing,' so it's all good." – Chris Hemsworth
On Extra Curricular Activities:
"Women: You can't live with them, and you can't get them to dress up in a skimpy little Nazi costume and beat you with a warm squash or something." – Emo Philips
On Costumes The Other 364 Days Of The Year:
"Who made the rule that everybody has to dress like sheep 364 days of the year? Think of all the people you'd meet if they were in costume every day. People would be so much easier to talk to – like talking to dogs. "
― Douglas Coupland
Do you have any humorous Halloween puns or quotes we may have missed? Let us know in the comments!
header image via: Zombie Normal, lobo235