Sadly Philip Seymour Hoffman was found dead this morning. Various reports have confirmed the cause of death as a drug overdose, and Hoffman was confirmed to have had a needle in his arm when he was found.
He was 46, leaving behind his long term partner and their 3 children.
Hoffman's struggles with addiction have been lengthy and fairly well documented. He was once quoted as saying:
"I got sober when I was 22 years old."
Hoffman, was one of the most talented actors of his generation winning the Best Actor Oscar in 2005, for his portrayal of Truman Capote in Capote. Prior to that win, he was nominated four times for roles including   The Master, Doubt and Charlie Wilson's War. He most recently appeared in the film A Most Wanted Man. The film adapted from a novel by John le Carré and directed by Anton Corbijn.
Hoffman was a classically trained actor and a student at both the New York State Summer School of the Arts and the Circle in the Square Theatre. He then majored in drama at New York University's Tisch School of the Arts.
On Broadway, he starred in revivals of True West, Long Day's Journey Into Night and The Seagull.
His most memorable performance coming more recently in remake of Death of Salesman.
Not only was he revered for the way he played iconic characters, he also delivered some incredibly memorable lines.
One of the most memorable being from Almost Famous:
"The only true currency in this bankrupt world is what you share with someone else when you're uncool"
Below, we've gathered some of his most memorable and famous quotes, to honor one of the most gifted actors and artists of our time.
Phillip Seymour Hoffman Quotes: 10 Famous Lines In Tribute
1) On Concealing Our True Feelings:
"People actually live with their ID exposed they're not good at concealing what's going on inside"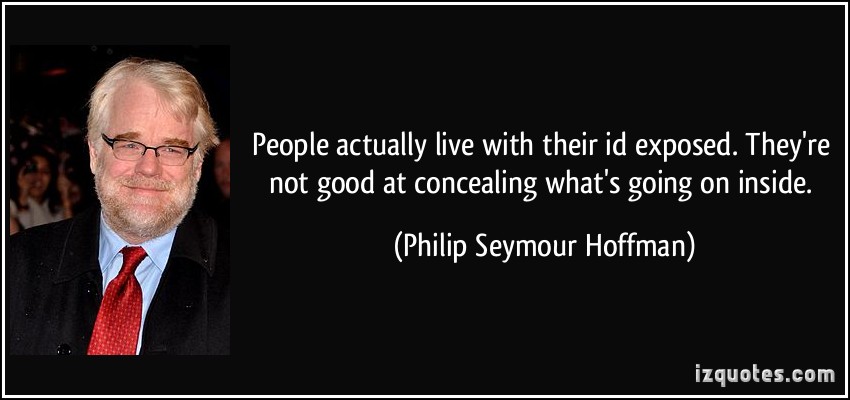 http://izquotes.com/quote/86449
2) On The Complexity of Directing:
"Directing is a really kind of amazing thing, because you're helping others and, in the middle of that, you have to worry about yourself."
3) On Being Creative:
4) On Great Work:
"Good work is the only thing that would make me feel jealous or envious."
5) On The Responsibility Actors Have To Their Subject:
"Actors are responsible to the people we play."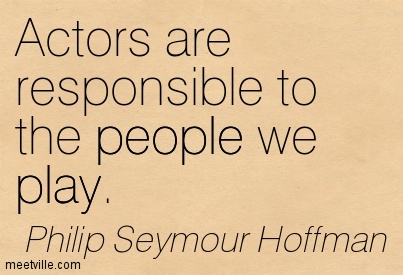 http://meetville.com/quotes/author/philip-seymour-hoffman/page2
5) On Playing Challenging Characters:
"I didn't go out looking for negative characters; I went out looking for people who have a struggle and a fight to tackle. That's what interests me."
6) On Not Looking Like The Typical Leading Man:
"I know I wasn't as handsome as some other guys, but I was OK with that."
7) On Taking Your Profession Seriously:
"I think you should be serious about what you do because this is it. This is the only life you've got."
8) On Family:
"It's hard for anybody who works a lot and has children. But I wouldn't trade it for anything."
9) On Commitment:
"I do understand what it is to not want to commit to someone, knowing that might bring pain or commit to a life that has to do with being responsible to people other than myself. These things, I think, are normal things."
10) On Doing It For The Love: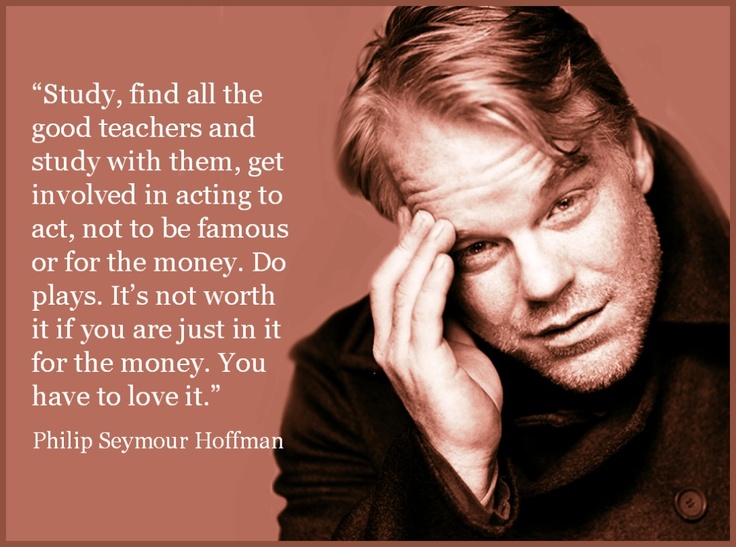 header image via:  justinhoch
Do you have any Philip Seymour Hoffman movie quotes we might have missed? Let us know in the comments