[quote]Don't worry about the bitches in school — that could be a good motto, because you come across people like that throughout your life.[/quote]
It's hard for us to not to have a crush on Jennifer Lawrence. She's sexy, funny and extremely talented – she won an Oscar at 22 for god's sake!
As an actor, she also keeps us guessing.  Her roles have covered everything from critically acclaimed films like Silver Linings Playbook and American Hustle to box-office mega-hits like the X-Men and the Hunger Games series. And with an estimated net worth of 34 million, she's been pretty successful at it.
We're not the only ones who are crazy about her either. In an interview with Vulture about the Hunger Games: Mockingjay, Francis Lawrence summed it up perfectly saying:
You give her a script, and she's really incredible and amazing to watch. I learn something new from her every day. But what's really interesting to see is when she's unscripted. There's a blunt, almost awkward honesty that comes from her that is really charming.
If you haven't seen it yet, grab a copy here: [easyazon_link identifier="B00PYLT4YI" locale="US" tag="quotezine02-20″]The Hunger Games: Mockingjay – Part 1 [Blu-ray + DVD + Digital HD][/easyazon_link]
So without further ado, we bring you the most hilarious, humble and outright inspiring Jennifer Lawrence quotes of all time.
1. On having man crush on John Stamos
"He was at a party, and I turned into a perverted guy. I was like following him into rooms and staring at his ass… He asked me if I was on mushrooms and I said, 'No. I'm dead sober. This is just me."
2. On her not so secret talent
"I'm the fastest pee-er ever," "I'm famous for it."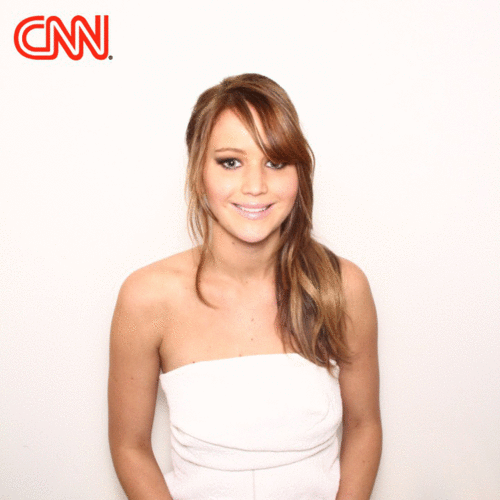 More: Birthday Quotes – 30 Wise and Funny Ways To Say Happy Birthday
3. On watching herself on screen
"Don't go see the movies, I'm a troll. I think the movie was great, but their biggest mistake was me."
4. On still being nervous
"It's so scary. And then I end up getting so nervous that I get like [I am] now. I get really hyper. [Squeals.] So then I go in interviews and I'm like, 'I'm like a chihuahua! I'm shaking and peeing!' And then afterwards, I'm like, 'I just talked about peeing on the red carpet.'"
5. On having an ego
"Not to sound rude, but [acting] is stupid. Everybody's like, 'How can you remain with a level head?' And I'm like, 'Why would I ever get cocky? I'm not saving anybody's life. There are doctors who save lives and firemen who run into burning buildings. I'm making movies. It's stupid.'"
6. And still being nice to everyone
"Why can't we just be nice?" "It's like, we grow up, and then we get right back into high school."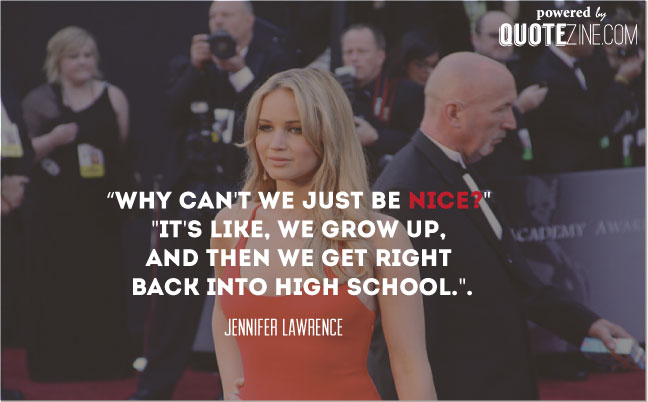 7. On Winning an Oscar
"This isn't like an auction, right? You guys aren't going to take it away?"
8. On becoming Katniss Everdeen for the Hunger Games Series
"I had to have running training because I'm not a very good runner. I run weird. The hardest stunt is probably basic running. And trying not to hit myself in the face with my bow, are my two greatest challenges."
9. On still being a fan of other actors
"Helena Bonham Carter and Jeff Bridges waved at me. And, of course, it would be absurd if they were waving at me, so I just stared at them. I stared at both of them. And they were like, 'Alright, fine.'
10. And being obsessed with Meryl Streep
"Once I'm obsessed with somebody, I'm terrified of them instantly. I'm not scared of them – I'm scared of me and how I will react. Like, for instance, one time someone was introducing me to Bill Maher, and I saw Meryl Streep walk into the room, and I literally put my hand right in Bill Maher's face and said, 'Not now, Bill!' and I just stared at Meryl Streep. I just creepily stared at her
11. On her weight
"I'd rather look chubby on screen and like a person in real life."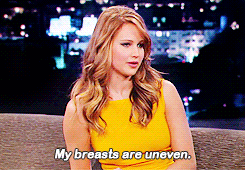 12. On being called fat
"If anybody even tries to whisper the word 'diet,' I'm like, 'You can go f-yourself"
13. On the pressure to look thin
"You look how you look," "Be comfortable. What are you going to do? Be hungry every single day to make other people happy? That's just dumb."
14. And why she won't listen to criticism about her weight
"I'm never going to starve myself for a part," "I don't want little girls to be like, 'Oh, I want to look like Katniss, so I'm going to skip dinner.' That's something I was really conscious of during training, when you're trying to get your body to look exactly right. I was trying to get my body to look fit and strong—not thin and underfed."
15. On hating exercise as much as everyone else
"I hate saying, 'I like exercising' – I want to punch people who say that."
16. On being a fashion icon
"I really would not call myself a fashion icon. I would call myself somebody who gets dressed by professionals. [It's like], 'Dance, monkey, dance' right on the red carpet.' I would call me more of a monkey."
17. On her concept of free time
"If I don't have anything to do all day, I might not even put my pants on."
18. And the weird things that happen to famous people
"If I were just your average 23-year-old girl, and I called the police to say that there were strange men sleeping on my lawn and following me to Starbucks, they would leap into action. But because I am a famous person, well, sorry, ma'am, there's nothing we can do. It makes no sense."
19. On being able to fly first class
"I always feel like an idiot every time I fly first class because I'm a kid. And I just sit there, and everyone's got their newspapers and they're on the computer, and I'm like, 'Can I get a coloring book, please? Can I get some crayons?'"
20. On avoiding the "party girl" tag
I don't like going out that much. I'm kind of an old lady. After it's 11, I'm like, 'Don't these kids ever get tired?' When I'm out, I think about my couch. Like, 'It would be awesome to be on it right now. I bet there's an episode of Dance Moms on."
21. On never accepting failure
"Even as far back as when I started acting at 14, I never considered failure."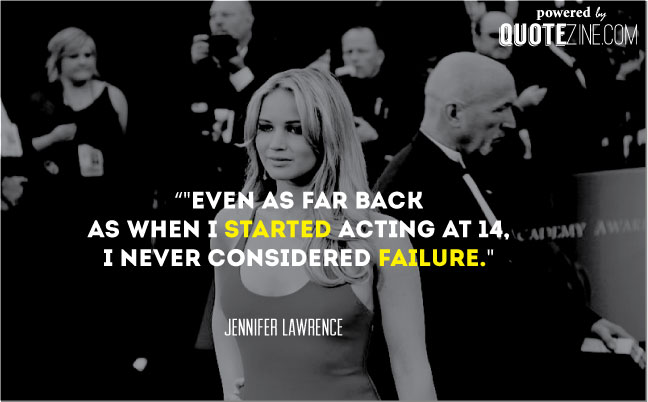 22. On being made fun of for the fall
"Anybody that makes fun of me, I'm like, 'Yeah, and then I got touched by Hugh Jackman,'
23. On being a dishonest child
"I was just like a pathological liar when I was a kid. I think I just wanted to one-up somebody. Somebody would be like, 'Oh, God, my legs hurt.' I'd be like, 'Your legs hurt? I'm getting mine amputated next week.' And that's actually how my mother found out. She came to school and somebody was like, 'God, that's such a shame about Jennifer's legs.' She made me purge. I had to spill out all of my lies. I was like, 'I said that Dad drove a barge, and we were millionaires, and you were pregnant, I had to get my legs amputated, and I spayed cats and dogs on the weekends.' Now I can't lie.
24. On working with director Francis Lawrence
"Our first conversation was on the phone. I was in the bathtub, and I had to tell him that I was in the bathtub because I was afraid he would think I was, like, playing in the toilet when he heard water swishing around. […] Then we had breakfast in Santa Monica, and I spit egg inside of his mouth when I was talking.
25. On winning a Golden Globes Award
"Oh, what does it say? 'I Beat Meryl'!"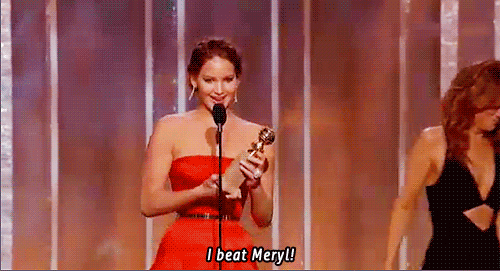 26. On having children
"I think all mothers are a nightmare – i don't think you can have children and not lose your goddamn mind."
27. On her high school days in Kentucky
"I was a weirdo. I wasn't picked on or anything. And I wasn't smarter than the other kids; that's not why I didn't fit in. I've always had this weird anxiety. I hated recess. I didn't like field trips. Parties really stressed me out. And I had a very different sense of humour."
27. On being a strange kid in middle school as well
"My family went on a cruise, and I got a terrible haircut. FYI: Never get your hair cut on a cruise. And I had, like, this blonde curly 'fro, and I walked into the gym the first day back in seventh grade and everyone was staring at me, and for some reason I thought, I know what I need to do! And I just started sprinting from one end of the gym to the other, and I thought it was hilarious. But nobody else at that age really did. It was genuinely weird"
28. On being forced to eat sashimi
"They kept saying 'It's sushi-grade!' And I'm like… 'Put some soy sauce on this. Get me some rice. And cook it. And then get me out of here."
29. On falling when she accepted her Oscar
"You guys are just standing up because I fell, and it's so embarrassing."
Did we miss any hilarious or inspiring quotes from Jennifer Lawrence in this collection? Do you love her as much as we do? Let us know in the comments.
More:
More: 25 Insanely Funny George Carlin Quotes
Rumi Quotes – 25 Sayings That Could Change Your Life
Drake Quotes: The 28 Best Lines & Lyrics On Life, Love and Success
Image via wikimedia commons/mingletv
gifs via giphy