Derek Jeter has had one heck of a career. And for a man who has achieved so many individual accomplishments, the end of his story couldn't have been scripted any better. In the bottom of the 9th at Yankee stadium, with one out and a man in scoring position, he did what has earned him the title of Mr. November: hit a line drive straight to left field giving the Yankees the win.
Unbelievable. But also further proof that he will inevitably become a first-ballot hall of famer.
All this while Andy Pettitte,  Jorge Posada, Bernie Williams,  Mariano Rivera, Tino Martinez and of course, legendary manager Joe Torre looked on from the sidelines.
Even Jeter's young nephew Jalen, couldn't help but give the signature hat tip to his uncle.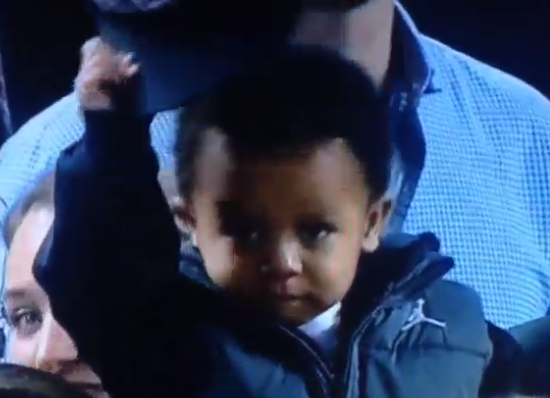 If you missed it, here it is via: mlb.com
Here you can catch the emotional post game interview.
Yet another incredible moment from one of the greatest athletes the world of sports has ever seen.
Below, we celebrate some of the most memorable moments as we count down the best quotes of his incredible 20 year baseball career.
The 30 Best Derek Jeter Quotes On Success and Winning:
1. On Hard Work:
There may be people who have more talent than you, but there's no excuse for anyone to work harder than you do – and I believe that. – Derek Jeter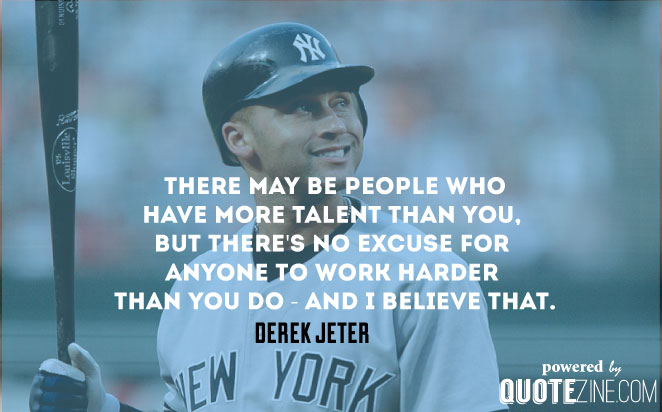 2. On Doubt:
I love it when people doubt me. It makes me work harder to prove them wrong. – Derek Jeter
3. On Surrounding Yourself With Good People:
Surround yourself with good people. People who are going to be honest with you and look out for your best interests. – Derek Jeter
4. On Character:
Your image isn't your character. Character is what you are as a person. – Derek Jeter
5. On Celebrity:
Obviously, you're known for what you do. But you still want to be known as a good person. You're a person a lot longer before and after you're a professional athlete. – Derek Jeter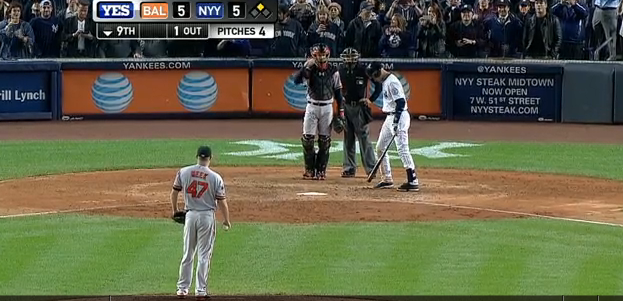 via: mlb.com
6. On Mistakes:
I'm not perfect; no one is perfect. Everyone makes mistakes. I think you try to learn from those mistakes. – Derek Jeter
7. On Wishes:
The last thing you want to do is finish playing or doing anything and wish you would have worked harder. – Derek Jeter
8. On Hating To Lose:
If you're going to play at all, you're out to win. Baseball, board games, playing Jeopardy, I hate to lose. – Derek Jeter
9. On Hard Work:
When you put a lot of hard work into one goal and you achieve it, that's a really good feeling. – Derek Jeter
10. On Having The Greatest Job:
I have the greatest job in the world. Only one person can have it. You have shortstops on other teams – I'm not knocking other teams – but there's only one shortstop on the Yankees. – Derek Jeter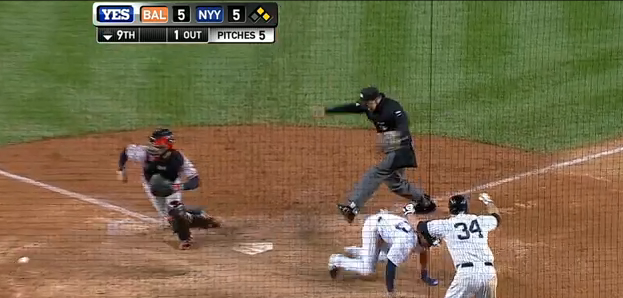 11. On Volunteering:
For me, when I was a kid, volunteering was the last thing I was thinking about. When I see kids doing it now, it amazes me. It's very impressive, it gives them something productive to do as opposed to getting in trouble. For them to take time out at such a young age is remarkable. I think all kids should take a little time out to volunteer. – Derek Jeter
12. On Having Fun:
You gotta have fun. Regardless of how you look at it, we're playing a game. It's a business, it's our job, but I don't think you can do well unless you're having fun. – Derek Jeter
13. On Hereoes:
My heroes, my dreams, and my future lay in Yankee Stadium. And they can't take that away from me. – Derek Jeter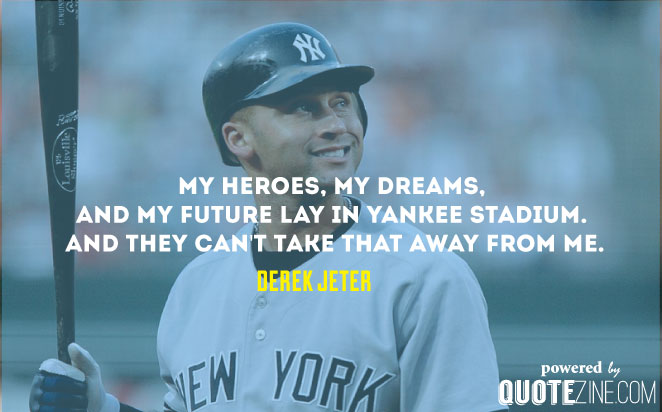 14. On Winning:
We just want to win. That's the bottom line. I think a lot of times people may become content with one championship or a little bit of success, but we don't really reflect on what we've done in the past. We focus on the present. – Derek Jeter
15.On Yankee Stadium:
My office is at Yankee stadium. Yes, dreams do come true. – Derek Jeter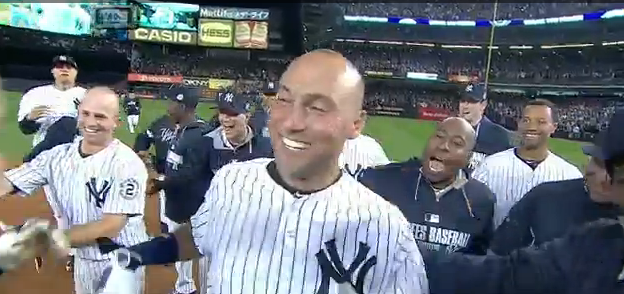 16. On Dedication:
So many people are insanely busy nowadays, and it's easy to say, 'Ah, I'll workout tomorrow.' But you have to set aside a time and stick to that schedule. – Derek Jeter
17. On Being A Good Person:
You're a person a lot longer before and after you're a professional athlete. People always say to me, 'Your image is this, your image is that.' Your image isn't your character. Character is what you are as a person. That's what I worry about. – Derek Jeter
18. On Pressure:
You're playing a game, whether it's Little League or Game 7 of the Word Series. It's impossible to do well unless you're having a good time. People talk about pressure. Yeah, there's pressure. But I just look at it as fun. – Derek Jeter
19. On It Being Over:
It's never over. You don't want to be in the position to be down four runs in the ninth inning, but it's not over until the last out. – Derek Jeter
20. On Being Prepared:
You don't just accidentally show up in the World Series. – Derek Jeter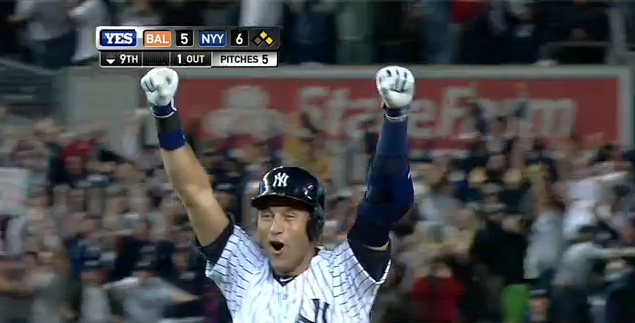 21. On Working Out Early:
I like to hit the gym early in the morning. I feel better throughout the day when I get in a workout first thing in the morning. – Derek Jeter
22. On Beating Anyone:
My grandmother asks me to race down the street, I'm going to try to beat her. And I'll probably enjoy it. Competitive to a fault, sometimes. – Derek Jeter
23. On Being A Yankee:
God, I hope I wear this jersey forever. – Derek Jeter
24. On Autographs:
I try to sign for as many kids as possible. Kids come first, and I'll always sign for a kid before an adult. It's funny, because I was never big into autographs as a kid. The only player who I ever wanted an autograph from was Dave Winfield. – Derek Jeter
25. On Excuses:
When I was younger, I was always taught not to make excuses. – Derek Jeter
26. On Role Models:
I looked up to my parents because they were very successful in what they wanted to do. I was lucky; I didn't have to look far for role models.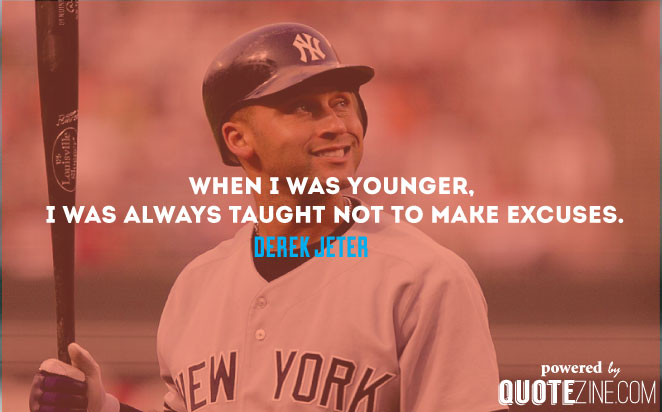 27. On Vacations:
My best vacation is somewhere I could hide, somewhere warm and not a lot of people around. – Derek Jeter
28. On Having Fun:
I can have fun anywhere, as long as I'm with good people. But in the offseason, I like to go somewhere warm, a nice spot in the Caribbean. – Derek Jeter
29. On Being Competitive:
I think there's something wrong with me – I like to win in everything I do, regardless of what it is. You want to race down the street, I want to beat you. If we're playing checkers, I want to win. You beat me, it's going to bother me. I just enjoy competition. – Derek Jeter
30. On Critics:
I always take criticism as a challenge. It's the way I've always looked at it. – Derek Jeter
Below is the essential list of highlights from Derek Jeter's incredible 20 year career.
via: mlb.com
Enjoy this retrospective of great Derek Jeter moments captured on video.
SportsCenter Top 10 Plays of Derek Jeter's Career (HD)
Derek Jeter's Farewell Tour in a New York Minute
This Incredible Gatorade Commercial
This unbelievable Nike Re2pect Ad
Header image via: Keith Allison