16. On Picking Yourself Up:
"Do not worry if you feel low; the sun has a sinking spell every night, but rises again all right the next morning." — Author Unknown
17. On Letting Go.
"Letting go isn't the end of the world; it's the beginning of a new life. – Unknown
18. On Listening To Yourself Only:
"Just keep moving forward and don't give a shit about what anybody thinks. Do what you have to do for you." — Johnny Depp
19. On Taking The First Step:
"Take the first step in faith. You don't have to see the whole staircase, just take the first step." — Martin Luther King Jr.
20. On Starting Over:
"Fall down 7 times. Stand up 8." – Chinese Proverb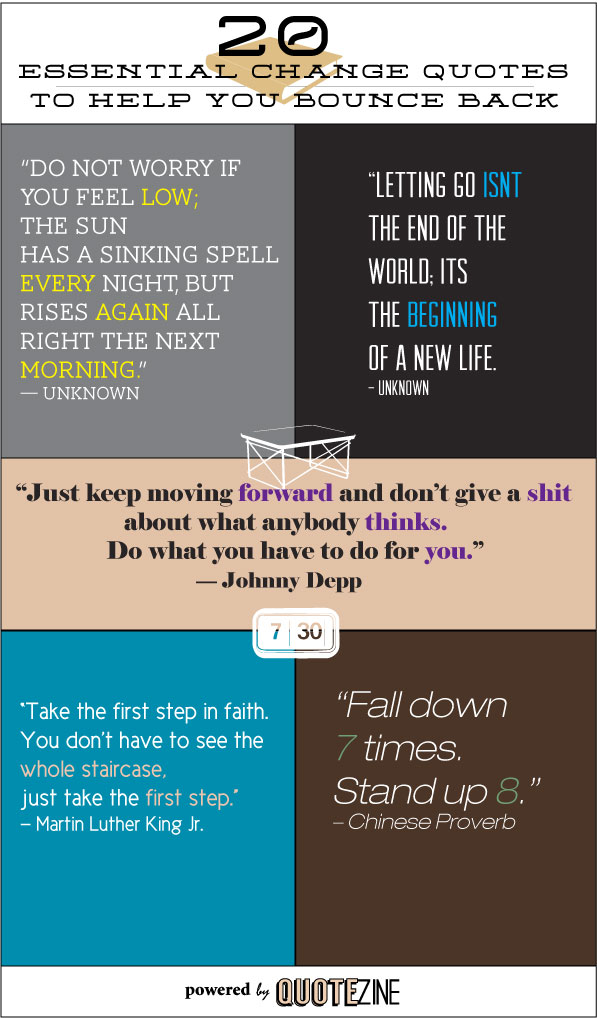 So there you have it. The tools you need to work through the difficult changes you may face in your life. Whether it's a change in the people around you or something more life changing, we hope this collection gave you the strength to face it head on.
Do you have any quotations about change or moving on we might have missed? Let us know in the comments.
Related Posts: