On September 21st 1966, a black musician named James Marshall "Jimi" Hendrix, flew discreetly from New York to London. He was then an unknown 24 year old guitarist, looking to get some gigs under his belt with his manager in tow. Within a week, he was at a Cream concert asking to play alongside Eric Clapton whom many considered to be the God of Guitar.
Somehow that wish was granted, and by the end of that first performance, he would be befriended by Clapton himself.
When asked about that first show, Clapton remembers telling Jimi's manager:
"You never told me he was that good" – Eric Clapton
Within 4 years, he would be dead. The result of a lethal mix of pills and alcohol.
During that 4 year period prior to his death, he would go on to have 4 children, play the most memorable show at Woodstock, and create a string of hits that would change the world of rock forever.
Eerily before his death, he would also leave us with one of the most profound quotes about the way in wish we worship dead celebrities:
  "It's funny the way most people love the dead. Once you are dead, you are made for life. You have to die before they think you are worth anything."
If Jimi Hendrix were alive today, he would have turned 70. And more importantly, he would have given us several decades more of incredible music.
Below, we celebrate his life with some of the most powerful Jimi Hendrix quotes of all time.
Jimi Hendrix Quotes: The 20 Best (Of All Time)
1) On Life:
"With the power of soul, anything is possible." – Jimi Hendrix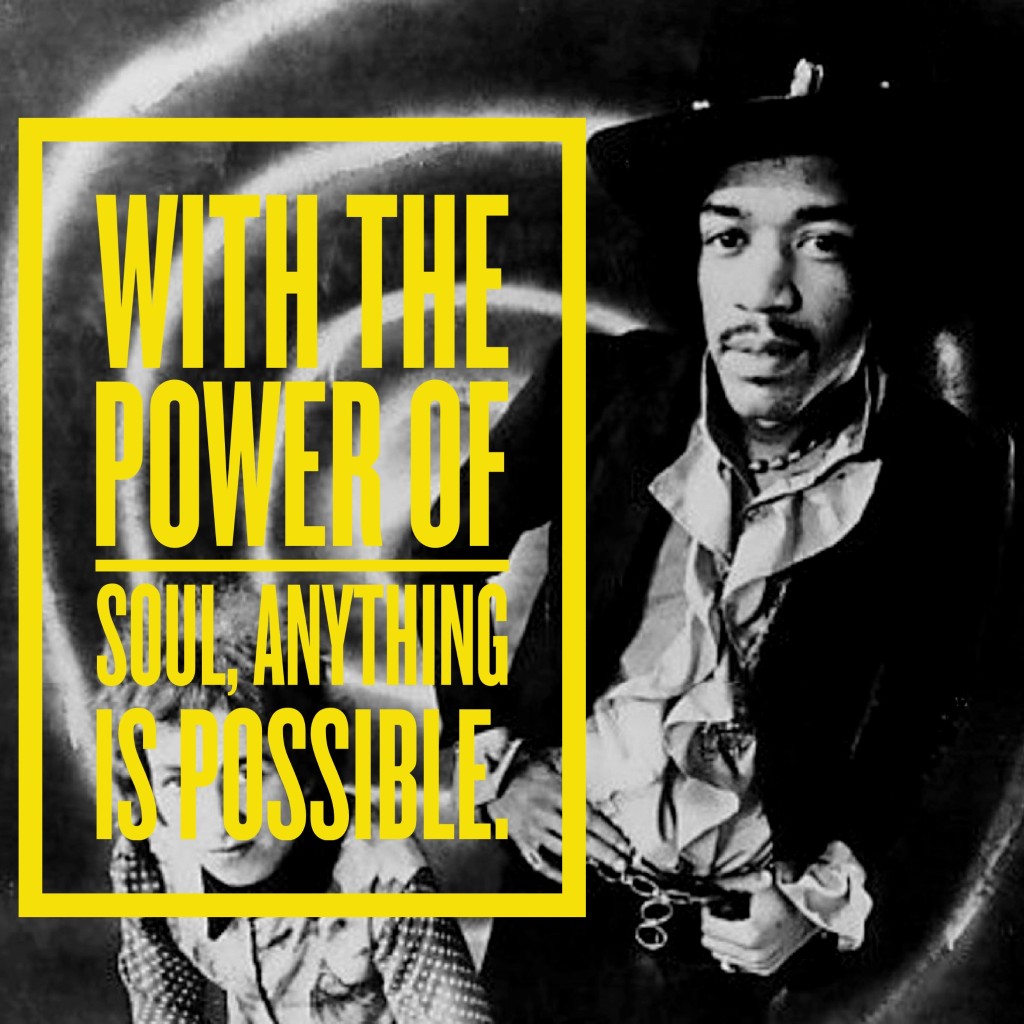 2) On True Wisdom:
"Knowledge speaks, but wisdom listens." – Jimi Hendrix
3) On The Sincerest Form Of Flattery:
"I've been imitated so well I've heard people copy my mistakes. – Jimi Hendrix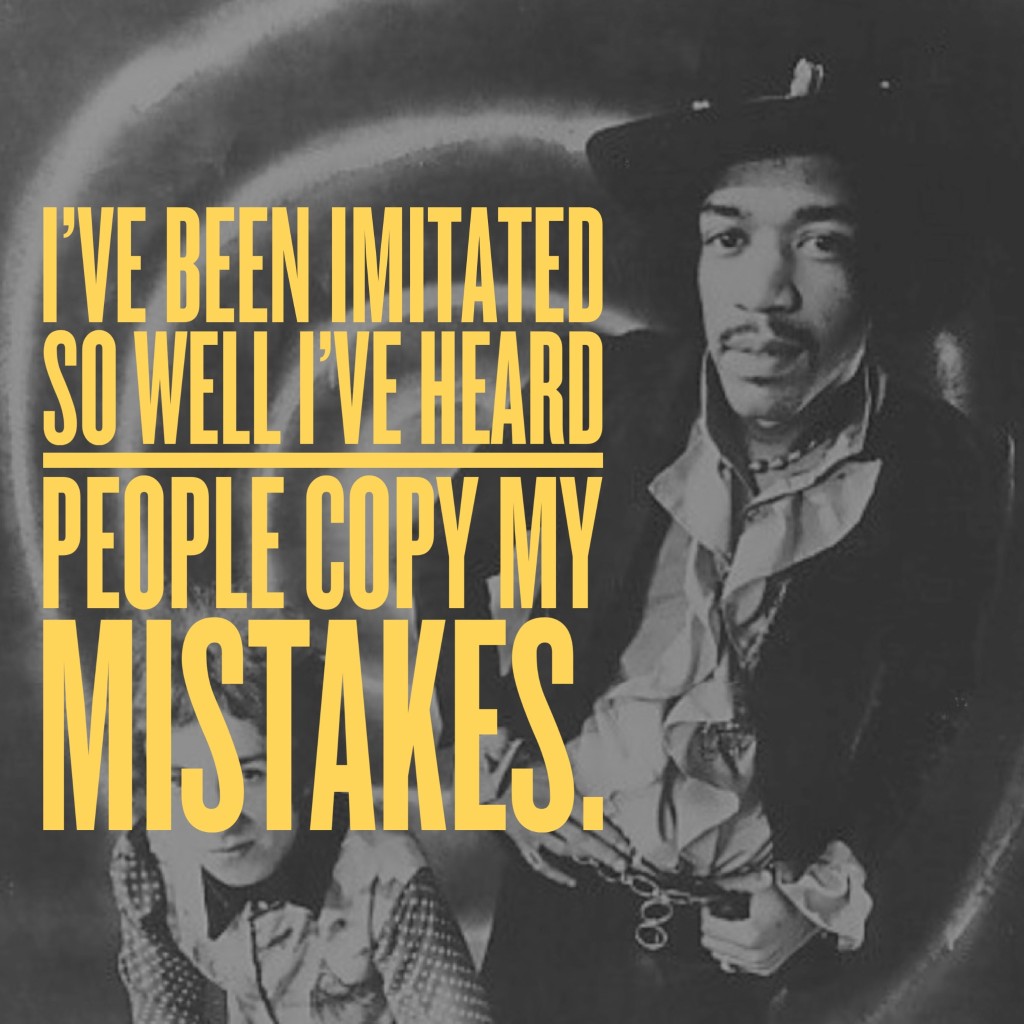 4) On Music:
"Music is a safe kind of high." – Jimi Hendrix
5) On Freedom:
If I'm free, it's because I'm always running. – Jimi Hendrix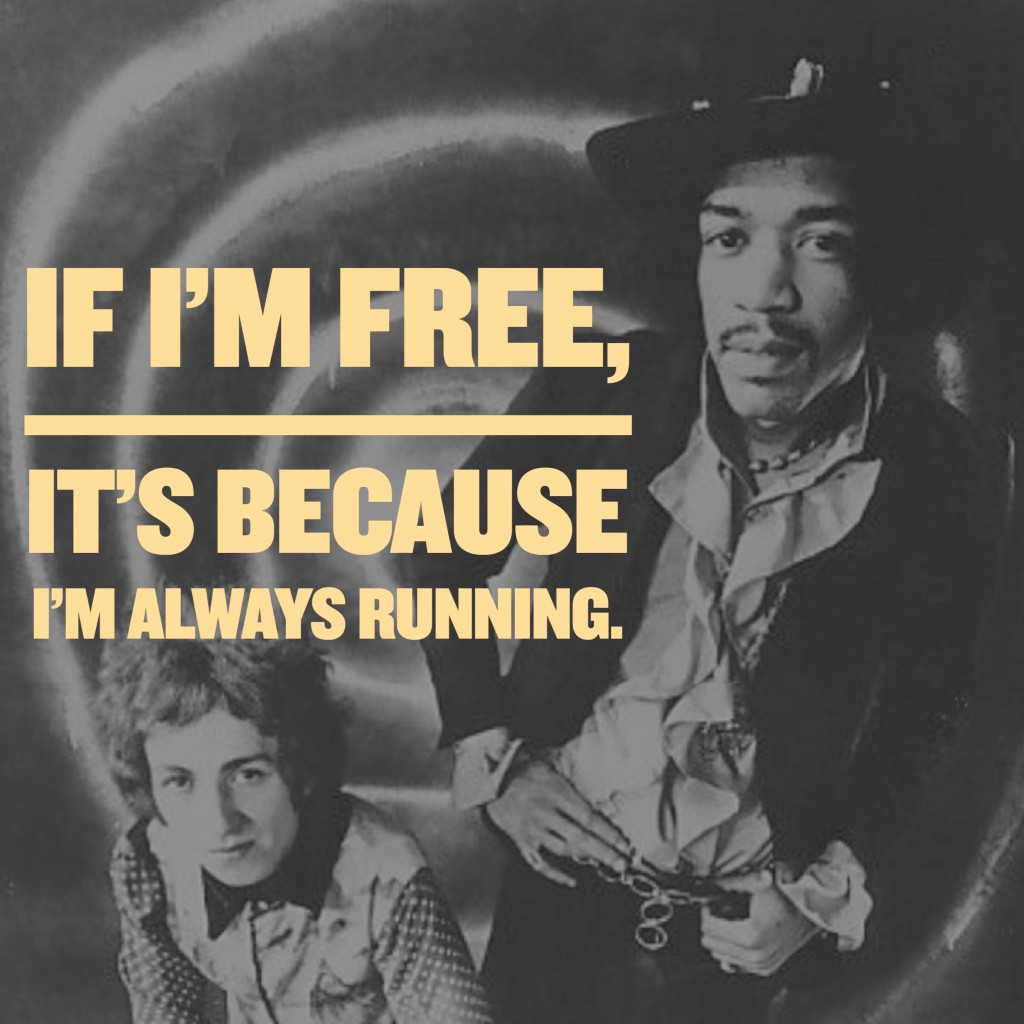 6) On The Power Of Music:
"Music doesn't lie. If there is something to be changed in this world, then it can only happen through music." – Jimi Hendrix
7) On The Message:
"I will be dead in five years' time, but while I am here, I will travel many highways and I will, of necessity, die at a time when my message of love, peace, and freedom can be shared with people all over the world." – Jimi Hendrix
8) On Life:
"The story of life is quicker than the wink of an eye, the story of love is hello and goodbye…until we meet again" – Jimi Hendrix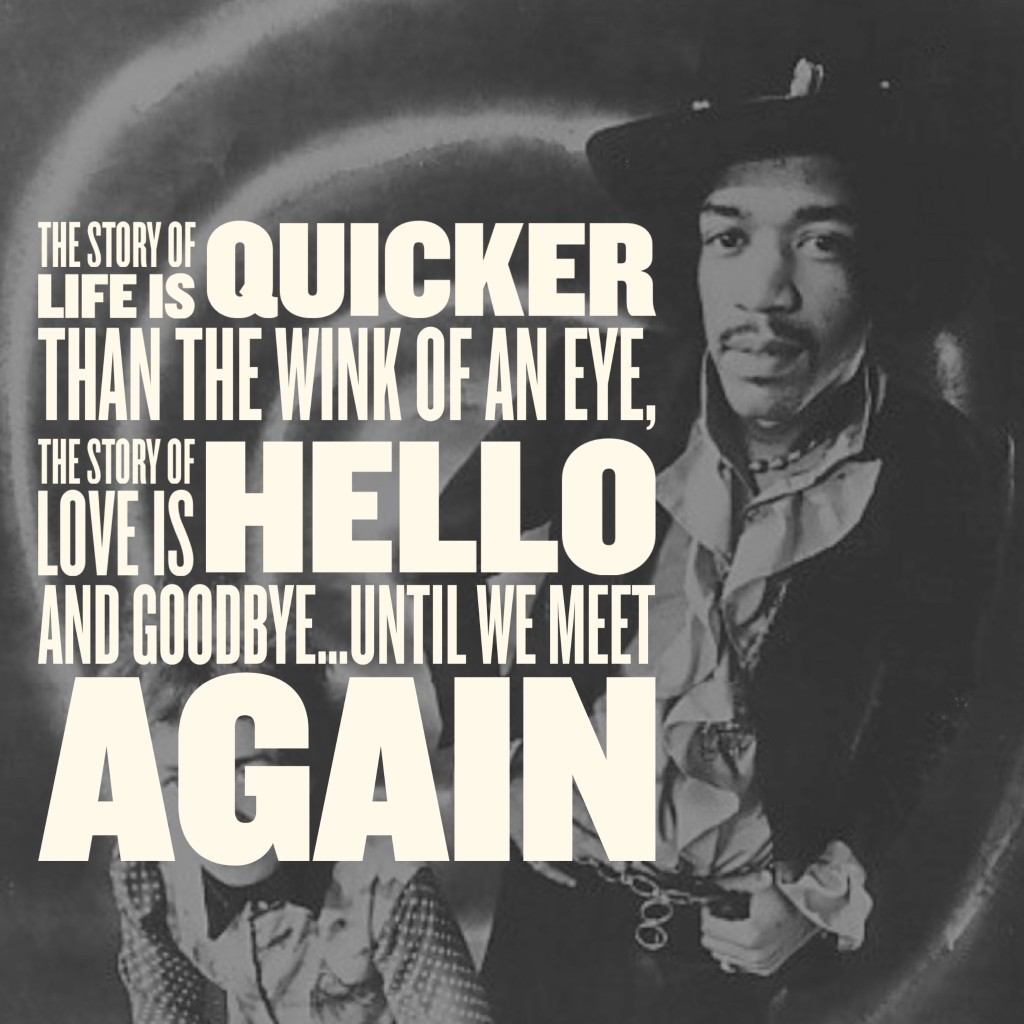 9) On Breaking Barriers:
"I used to live in a room full of mirrors; all I could see was me. I take my spirit and I crash my mirrors, now the whole world is here for me to see." – Jimi Hendrix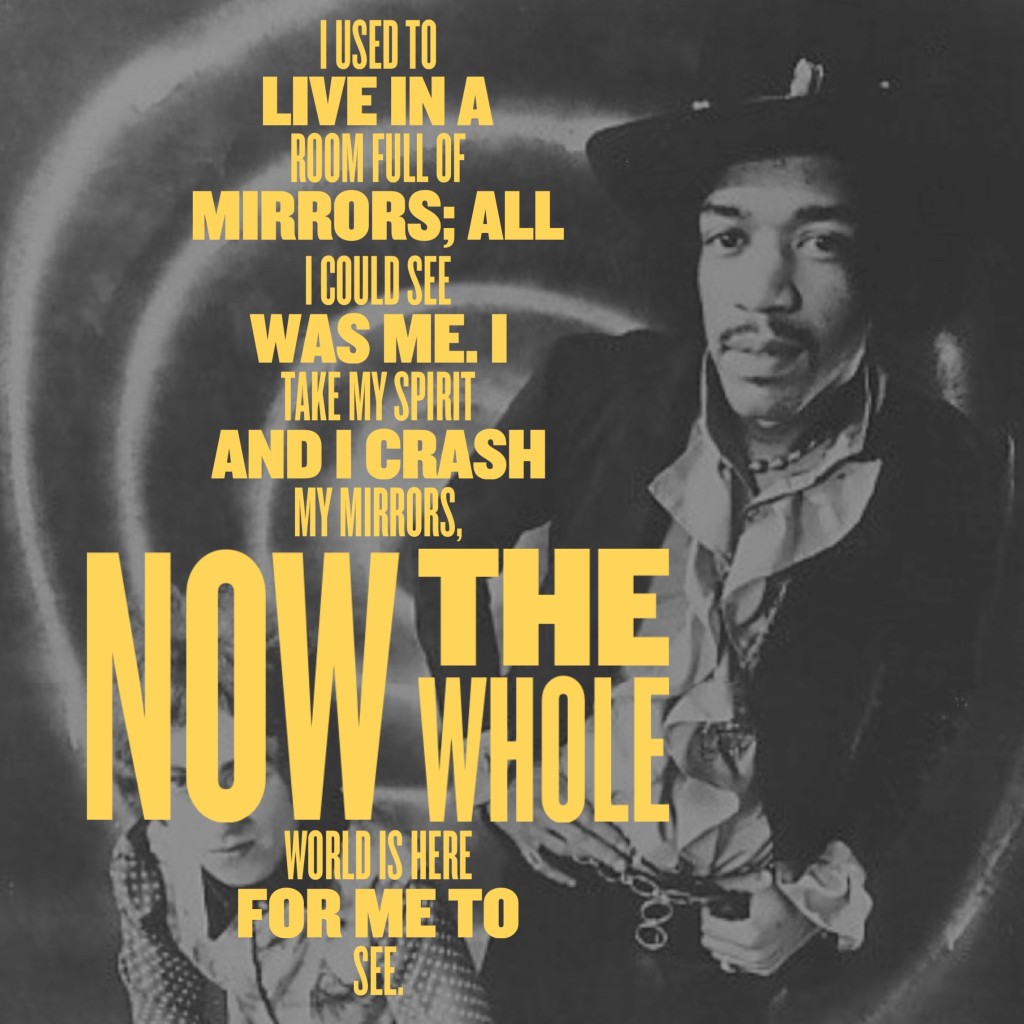 10) On The Finiteness of All Things:
"Even castles made of sand, fall into the sea, eventually." – Jimi Hendrix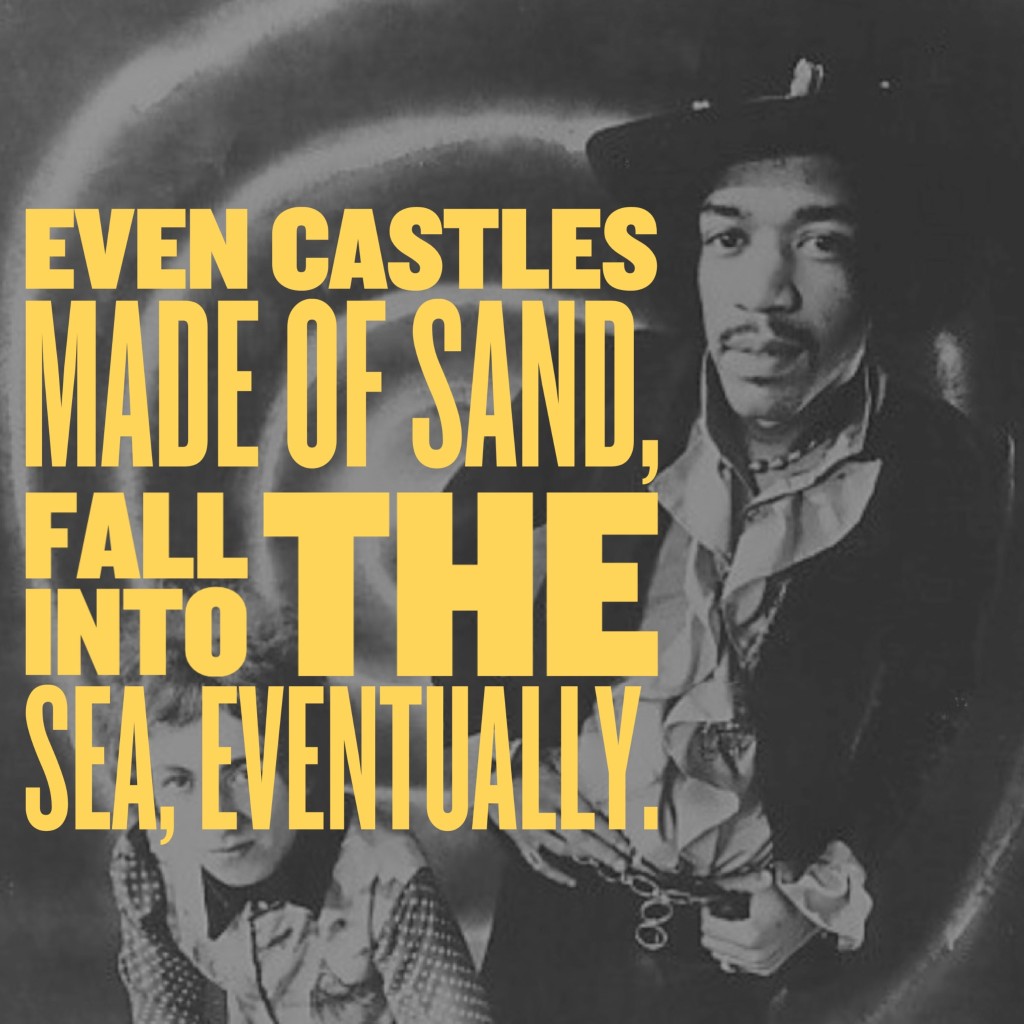 11) On Being A "Minority":
"Music is stronger than politics. I feel sorry for the minorities, but I don't feel a part of one." – Jimi Hendrix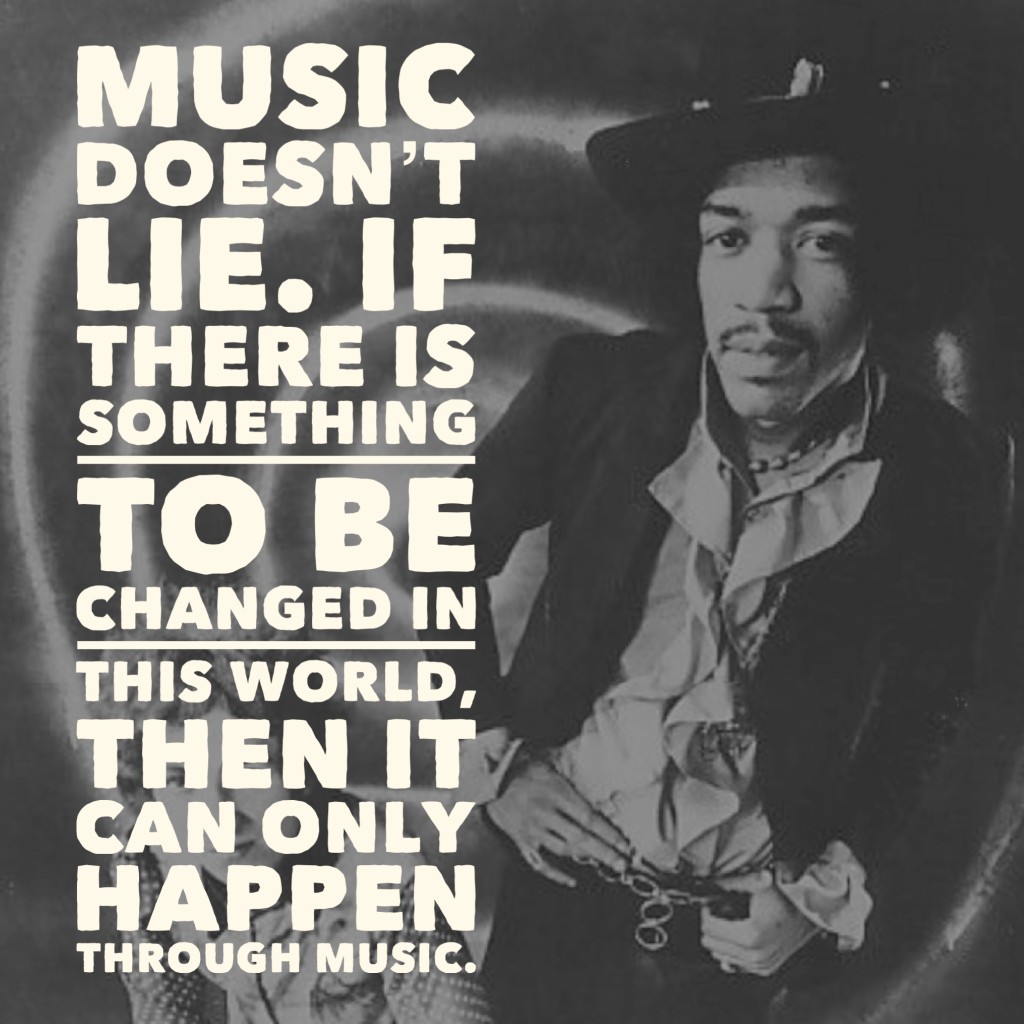 12) On The Blues:
"Blues is easy to play, but hard to feel." – Jimi Hendrix
13) On Coping With Fame:
"I don't want to be a clown anymore. I don't want to be a 'rock and roll star." – Jimi Hendrix
14) On Being An Outsider:
"To be with the others, you have to have your hair short and wear ties. So we're trying to make a third world happen, you know what I mean?" – Jimi Hendrix
15) On Death:
"I'm the one that has to die when it's time for me to die, so let me live my life, the way I want to." – Jimi Hendrix
16) On Complacency:
"I don't really live on compliments. As a matter of fact, they have a way of distracting me. I know a whole lot of musicians, artists out there who hears the compliments and thinks "wow, I must have been really great" and so they get fat and satisfied and they get lost and forget about their actual talent and start living in another world." – Jimi Hendrix
17) On His Shift To Rock & Roll
"You get tired of playing top 40 R&B. I had other ideas." – Jimi Hendrix
18) On Religion:
"Music is my religion." – Jimi Hendrix
19 ) On Being Crazy:
"You have to go on and be crazy. Craziness is like heaven." – Jimi Hendrix
20) On Reaching The Top:
"Excuse me while I kiss the sky." – Jimi Hendrix
And as a bonus, this quote that is attributed to Jimi but apparently not said by him: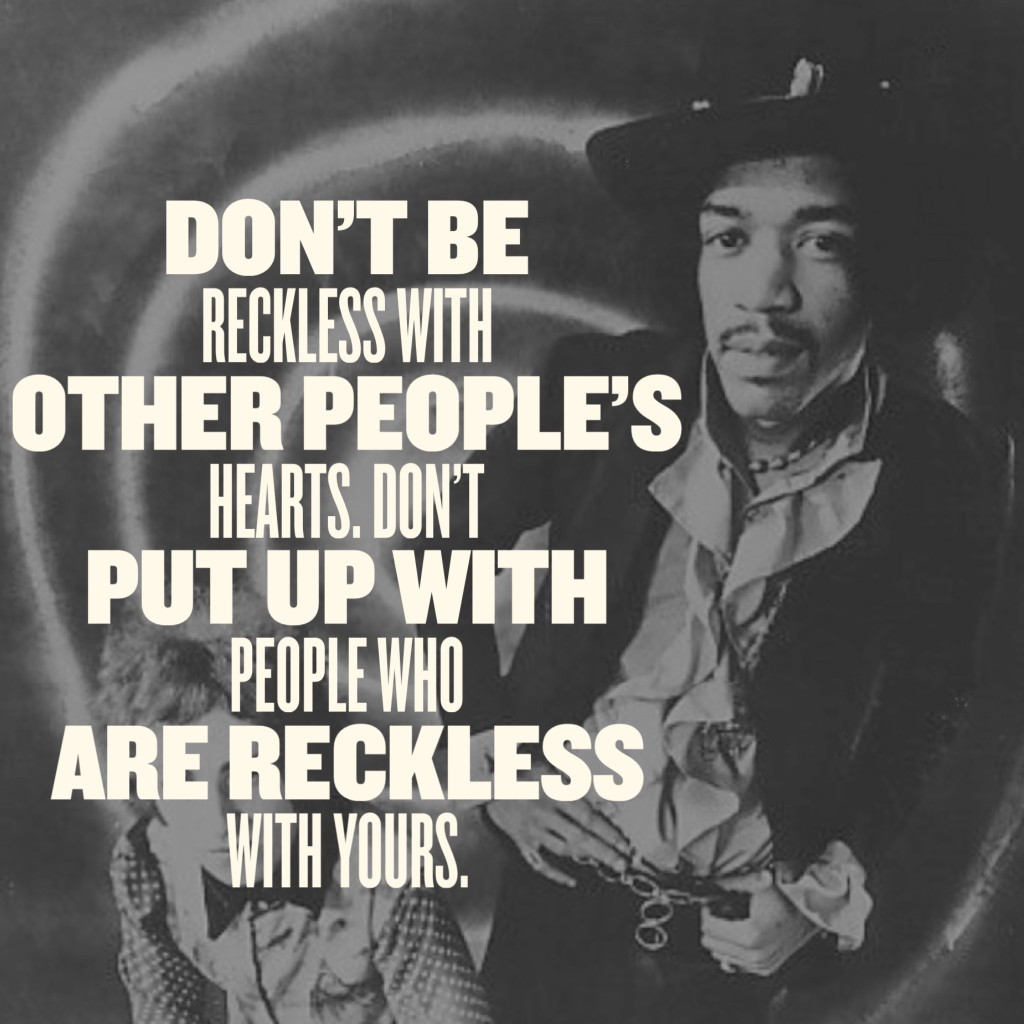 As an additional bonus, we've also included this classic interview from the Dick Cavett show. Here Jimi touches on his nervous breakdown, the back lash after playing the National Anthem, the perils of success and more.
Do you have any inspiring Jimi Hendrix life quotes we may have missed? Let us know in the comments.
images via flickr users : 

roland

,  

jmf1007